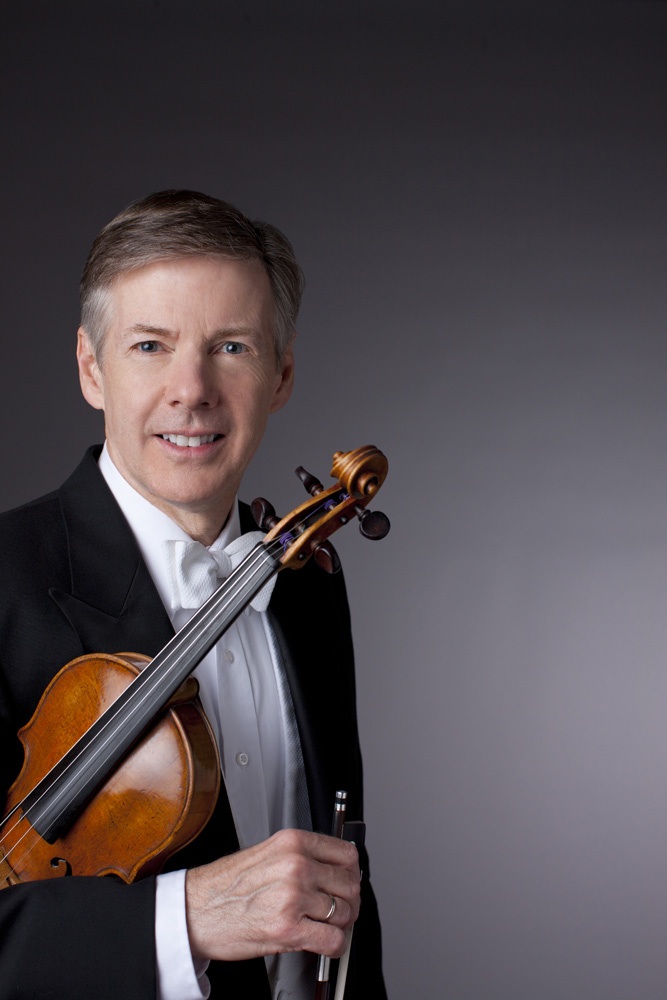 Blair Milton is an editor at Ovation Press, an accomplished violinist, and a professor of violin at Northwestern University. After two seasons with the St. Louis Symphony, Mr. Milton joined the Chicago Symphony Orchestra in 1975. He is a founding member of the Evanston Chamber Ensemble, which began in 1979. As the originator of the Winter Chamber Music Festival that takes place each January at Northwestern University's Pick-Staiger Hall, he has performed with such artists as Daniel Barenboim, Gil Shaham, Menahem Pressler, Yo Yo Ma, Pinchas Zukerman and Lynn Harrell.
In part 1 of this interview, Mr. Milton shares with us his thoughts on auditioning and orchestral excerpts.
String Visions: Preparing for an audition is often a nerve-wracking process that requires years of tweaking and experimentation. As someone who has successfully experienced all aspects of an audition, what would you say are the most important components to a successful audition?
Milton: It is important to define what constitutes a "successful" audition. The obvious definition of success, of course, is to win a job. Most of us would tend to regard anything less as a failure, but there are often many factors that contribute to whether or not any particular candidate is chosen. For one, there are issues of musical style and taste that will vary from place to place.
I would rather measure success in terms of whether or not the candidate performed to the best of his or her ability. If we consider this the benchmark, then we can channel our efforts to make that outcome possible.
Since there are a great many variables–one never knows exactly what music will be asked, and in what order, the temperature and acoustics of the hall, and so on-–being able to stay in the present and remain focused will lead to the most successful results.
The road to the preparation can often seem mysterious, but in order to develop a specific strategy for success, there must be an awareness of one's individual strengths and weaknesses. From there you can begin to concentrate on improving the weaker areas, and to capitalize on your strengths.
First: Know the music well–not just the line of the music being prepared, but the entire score. One needs to have the sound of the orchestra in your inner ear, in order to be able to play the single line in a convincing manner. We need to hear and feel the music as we imagine the composer heard it, in order to express our individual voice in a convincing manner.
Second: Learn to play your part well and with ease. Beautiful intonation and beautiful sound quality are expected as a starting point. From there, we have to breathe life into the music.
Practice playing for others. Perform for your peers and friends. Play with enough frequency that you discover the hidden trouble spots, the passages that are less reliable in front of an audience than in the practice room. Explore what factors contribute to those passages being less than reliable.
Surround yourself with the music. Think of preparing for an audition the way you might prepare for a marathon race. It takes months of thorough preparation to be able to step up to the start line with confidence.
String Visions: Obviously, the most important part of an audition is the work that precedes it. However, the logistics of audition day can generate more nerves than the audition itself. Could you offer any day-of-audition advice? For example, how early should a student arrive at the audition? How should a student warm up before an audition, and does this differ at all from performance warm-up? Are there important things a player can do that may only occur during the audition, and at no other time?
Milton: Once you arrive at the audition and have been escorted to a warm-up room, you may find that that there are many distractions. Do not permit yourself to be unnerved by other candidates, noisy warm-up facilities or other unexpected factors. If necessary, sit in a separate room to stay focused and to calm your breathing and your mind.
Warm up carefully. You are seeking a state in which your mind is alert and your muscles are warm and flexible, but not fatigued. Playing madly through the excerpts one last time probably won't contribute anything positive to the outcome once you have reached this point. It is much better to sit quietly and stage in you mind how you will begin each excerpt, how you will breathe and how you will choose the tempo as you go from one excerpt to the next.
String Visions: Are there habits you feel a player should avoid prior to or during an audition?
Milton: Things to avoid fall mostly into the common sense arena. Don't arrive tired, hungry or dehydrated. Avoid excess coffee or sugary foods that might lead to a state of overexcitement in the heat of the moment. Try not to engage in a backstage competition with other candidates. Boiler-room warm up facilities are sometimes unavoidable, but one doesn't need to practice what your neighbor is practicing in order to "keep up."
String Visions: Do people taking auditions ever play for players in the orchestra before the audition? Is this a common or acceptable practice? Does the Chicago Symphony have a policy or standard practice for its audition committee?
Milton: I frequently get requests from potential candidates for lessons prior to audition. However, I will only coach someone if I am not serving as a member of the audition committee.
String Visions: I think everyone can think of at least one audition story: good, bad, and both. Do you have any audition success or horror stories, or amusing anecdotes about your experiences in an audition setting?
Milton: My experience auditioning here in Chicago began with a late night flight into O'Hare in a snowstorm. I was leaving for Chicago after a Saturday night St. Louis Symphony concert and didn't arrive until quite late, with the final audition scheduled for 9:30 the next morning. I was unfamiliar with the train system, and didn't realize that train service on Sunday mornings would be infrequent. My poor calculation caused me to arrive at Orchestra Hall much later than I had planned. Of course, as luck would have it, I drew number 1 in the order of playing, and only had ten minutes to warm up.
I managed a pretty good first round, though, and was informed that Solti had asked to hear one other candidate and me play a second time. He didn't want to wait to compare us, so he asked us to both be on stage together, each with a stand and set of parts. What ensued amounted to a sudden-death play-off, with the two of us alternately playing excerpts one after the other. After what seemed an eternity we were ushered off stage. Apparently my nerves had held out better than the colleague with whom I shared this experience, and I was offered the position. While it must have been an efficient way for Solti to compare us, it was quite stressful from our point of view.
String Visions: I understand that you have spent many years teaching orchestral excerpts to students. What are some of the most important points of your teaching that you try to convey to your students?
Milton: Many students have a misconception about how thoroughly they need to prepare music for a professional orchestra. In the course of the Orchestra Repertoire class, I like to stress that orchestra music should be approached with the same care and thoughtfulness as solo music. After all, in an audition you will be performing "solo."
A typical CSO violin audition will attract several hundred candidates. It would be fair to say that probably at least half [of them] play decent concerto performances, and many play exceptionally well. Yet it is rare to have more than 5 or 6 finalists. This usually boils down to the fact that the other candidates didn't prepare the excerpts with the same care and attention to detail that was devoted to the concerto.
Check back at the end of the week for part 2 of our interview with Blair Milton. You can also read a previous inspirational interview that we conducted with Mr. Milton