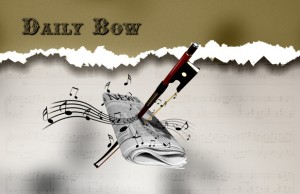 For all of the talk that goes on about performance, practicing, playing, and teaching, one might get the idea that the music world is a self-sustaining one–a world that is populated only by dedicated instrumentalists who venture out of the practice room only to perform. It seems that often the people who are so integral to the survival of music as an art form and an institution are overlooked, whether they are behind-the-scenes administrators or artistic leaders. For every super-star performer we know, there are hundreds of non-performing musicians who are just as important to the health of the music scene as the latest prodigy is. One such man is Aaron Dworkin, the Detroit-based violinist who founded the now-famous Sphinx Organization. Dworkin, a man with a vision for the world and a vision for how classical music can fit into that world, has not only been named a MacArthur fellow (and thereby a recipient of the coveted "MacArthur genius grant"), he was confirmed in August by the Senate as the newest member of the National Coucil on the Arts, an advisory body to the National Endowment for the Arts.
A recent interview published on the NEA's website profiles Dworkin and discusses his many accomplishments. The resulting article is an inspiring one, and it challenges the traditional performing musician's vision of what a career in music can be. Dworkin's vision, as expressed through the Sphinx Organization's website, is this:
We envision a world in which classical music reflects cultural diversity and plays a role in the everyday lives of youth.
The Sphinx Organization, which is widely known now, aims to promote the advancement of Latino and African-American classical performers and is currently in the process of promoting its 15th annual competition. The organization is perhaps best known for its competition, but the goal of the Detroit-based not-for-profit is much larger in scope than that. Dworkin, speaking of vision and of his own experience as a musician, makes it clear that music is not a cookie-cutter, one-size-fits-all business.
Speaking of the Sphinx Organization, he says that it is an organization
which strives to breakdown cultural stereotypes, provide unprecedented opportunities for underserved youth, and infuse classical music repertoire with incredible works that are little known and rarely performed constitutes a creative challenge. Every challenge is an opportunity for artistic creativity, and I feel lucky to be able to address it as an artist-citizen, a life-long violinist who has a passion for equity and diversity.
Dworkin speaks at length in the interview about his decision to veer away from a career as a full-time performing violinist, electing instead to further his vision of musical education, unity, and diversity. For many young (and not so young) musicians, the feeling of being torn between furthering a community-oriented goal and the commitment to a very demanding personal career is a familiar one. Of his decision to follow the Sphinx Organiztion–and of his view on the role of an artist in the community– Dworkin says:
First and foremost, I believe, the artist is an ambassador into the community. It is the duty of an artist to serve the community through their art and to engage their community in the art that they practice. Arts have the power to heal, transform, inspire, challenge, motivate, and build understanding across differences. At a time when the potential risks of divisiveness are at a significantly increased level, our communities need this now more than ever, and it falls upon the artists to serve that purpose.
There's no one best way to serve a community as an artist. Dworkin's interview makes it clear that each person has a unique vision and a unique set of talents, and it is up to each of us to determine how best to live as part of this artistic community that we have all built.
To read more of Dworkin's inspiring and boundary-breaking interview, visit the NEA interview.