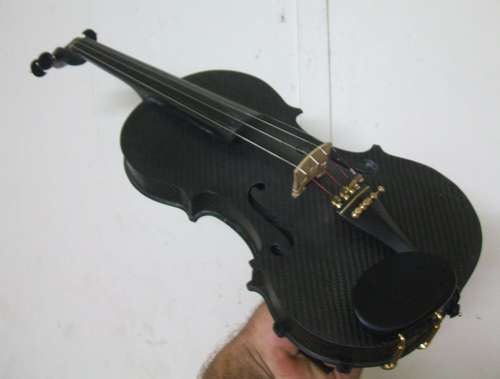 This morning we looked a little bit at some of the cool new violins that have been coming out lately: including the recent Stradivarius copy built with the aid of CT imaging and the aptly-named "fungus violins" which are challenging the former's supposed instrumental dominance.
However, something caught my eye the other day on the website Instructables, an imaginative venue for user-created and uploaded do-it-yourself projects, which other users can comment on and rate for quality. One of the website's members built his own carbon-fiber violin from scratch, and he also provided the documentation and tutorial online.
This is quite a unique treat in the realm of do-it-yourself luthiery!
Last year i made a carbon fibre violin , I started out by drawing a violin on paper , working out the curve heights , plotting the lot on paper.

Once i had my plans drawn it was time to start making moulds , the violin plate moulds started as block of plaster , that i routed out and fine carved to produce a "plug" , the 1st mould was taken off that , then fine finishing the top and bottom plate mould took about 1 month , and i still had a lot of fibreglass moulds to make , rib mould , neck mould , finger board mould, they all take time…

All up it took me 10 months of Sundays , from the time i decided to start to finished product , i had never made a violin before , and my carbon fibre skills were below basic , it was a huge learning curve but between the info on the net and getting your hands dirty and " givin it a go" , anything is possible.
Check out the original article to read step-by-step instructions for building your very own carbon-fiber violin!