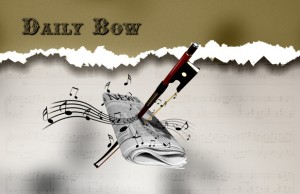 Detroit Chamber Winds and Strings Thrives through Innovation
Despite tough times for orchestras recently, chamber music organization have seen a lot of success lately. There's something about the versatility and the freshness that these organizations offer to concertgoers that keeps filling the seats. The Detroit Chamber Winds and Strings (DCWS) is one prime example. Many musical organizations have tried the suggested approach of playing in unusual venues. For most, this meant going to coffee shops or bars, looking to engage listener in their turf rather than trying to lure them to the concert. DCWS, however, is creatively building on this concept with its new series "Structurally Sound," which presents concerts in architecturally significant buildings around the Detroit area. The first in the series is the Ford  Piquette Plant, where the first Model T cars were built.
Innovation has always been at the heart of what DCWS does. The chamber music society, which has been giving concerts for 30 years, gives a subscriptions series with numerous other special concerts (like "Structurally Sound"), commissions composers, engages in educational outreach, and makes recordings. But what really sets this organization apart is how it balances its artistic and business needs. The main success of DCWS has been through collaboration. Through administrative partnerships with the Great Lakes Chamber Music Festival and the Eisenhower Dance Company, executive director Maury Okun took the group of musicians who started out with a $4,000 budget to an $800,000 chamber music powerhouse. Here's how they do it:
In practice, the three main partners — DCWS, the Great Lakes festival and Eisenhower Dance — retain their own boards of directors but share administrative staffs with Okun at the top of the pyramid. Nearly 30% of DCWS's budget comes from the fees partners and clients pay for services — a revenue stream foreign to most arts groups. Another 30% comes from grants, mostly from local foundations that support the collaborative model.
The Detroit Chamber Winds and Strings is an excellent example of a musical visionary. Instead of dragging out the same pieces in the same instrumentation in the same venue for years while relying on large donations to keep the organization afloat, the DCWS sustains audiences through creative programming, audience interaction, and a progressive business model. What's particularly effective about this organization is that the musicians are so deeply involved in the administrative process. Instead of the constant fighting we often see between the people trying to run an organization and the musicians performing the music, DCWS concerts are curated and run by the musicians. That's what makes a group like this so special: the concerts are driven by the musicians' love of what they do and a desire to connect audience members with the music they find affecting. With that concept as the backbone of both the administrative and artistic planning, concertgoers can be sure that the future of the DCWS is structurally sound.