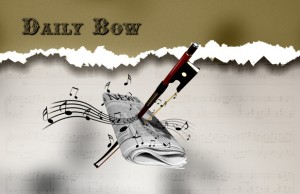 Late in Life Amateur Musicians Find New Joy in their Instruments
Learning an instrument as a child can be a daunting task for some. Whether a violin was thrust into your hands at the tender age of four or you decided to tag along with your friends in fourth grade to try the cello out, picking up an instrument when you're young comes with a lot of hurdles. Young string players have to balance school work and often other activities like sports while learning the very complex skill set required to play the violin. Some of these kids eventually choose their instruments as their main interest and go on to study music in depth at a conservatory or a university; many others (unfortunately!) decide to follow other paths.
But who says that you can never look back? An article in the New York Times recently showcased middle-aged instrumentalists who have taken up old instruments or have started playing for the first time, defying the idea that an old dog can't learn new tricks. One adult beginner, Cassandra Gordon, of Massachusetts, started taking cello lessons for the first time 11 years ago. Now at the age of 73, she says that picking up the instrument was one of the most rewarding experiences a retiree could have:
…for those who stick it out, the rewards can be enormous. Adult musicians can find whole new social networks, a sense of meaning in midlife and a creative outlet they did not have before. The sense of accomplishment can be powerful.

"It's been a wonderful trip,' she said. "I hope that I will continue to play long into the sunset, as often as I can." She added, "I only wish I had started 30 years ago."
Not only is starting and instrument or picking up one you left behind as a kid a rewarding experience, it's also relatively easy to do. There are many places to find teachers, including local music stores, music schools (both local and elite), private instruction from professionals, and even group glass options. While the subtleties of technique may not solidify as quickly as it might have when you were younger, experts advise you not to despair. There are many teachers out there who specialize in late beginners who understand not only barriers to learning, but also the conditions of life such as family and work that may prevent regular practice.
Like other adult students, [Ms. Stettler] has a warning for would-be music students. Progress may be slow. Frustrations will arise. Doggedness is king.
Don't be intimidated though! Examples such as Cassandra Gordon prove that the hard work can foster rewarding results. Have you thought about taking up an old instrument recently? Or have you always wanted to try a string instrument but never thought you had the time? Now is the best time to start!