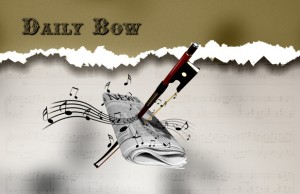 In a field that has altogether too few big surprises due to the centuries-old nature of its material, the recent announcement that a new work by none other than the great Antonio Vivaldi comes as bombshell. Comparatively swiftly on the heels of the news of a newly-discovered Vivaldi concerto comes the news of a newly-discovered version of Vivaldi's already-published opera Orlando Furioso. Although it is dated 1714 (making it a full 13 years older than the known, published version, this is hardly just an earlier draft of a familiar work. Instead, this version of Orlando Furioso contains twenty new, never-before-heard arias, all composed around the same time at which the Italian composer was working on The Four Seasons. The discovery has the Baroque opera scene all aglow: says Vivaldi expert Susan Orlando, "It's a gift from heaven." Federico Maria Sardelli, the Vivaldi scholar who initially identified the master's hand, elaborated further: "The music is completely new for everybody. It's very exciting."
This newly discovered manuscript languished without notice for some time, despite having been found among vast numbers of Vivaldi papers in an Italian library. It was largely ignored–almost unbelievably–because the manuscript did not bear a composer's name. Even more unbelievably, this opera was actually performed in public to great public acclaim in 1714. This version of Orlando had a 40-performance run in Venice at the Teatro San Angelo and was even directed by Vivaldi and his father (also a musician). Somehow, in a weird twist of historical preservation or lack thereof, the fact that the music was written by Vivaldi managed to elude posterity. According to The Guardian, musicologists have several theories that offer explanations for how this earlier version of Orlando escaped previous association with Vivalid's oeuvre, including an theory that speculates that Vivaldi's position as a priest would have made him reluctant to have his name associated with a frivolous endeavor like this opera–or that Vivaldi would have sought to avoid the appearance of a monopoly on the theater, having had several operas performed there directly before his first Orlando's run.
Nevertheless, the manuscript did make its way to the light. It was discovered at Biblioteca Nazionale in Turin in Vivaldi's personal library. It had been filed previously as a revision of an existing version of Orlando Furioso by Bolognese composer Giovanni Alberto Ristori. The manuscript drew further scrutiny from Sardelli, who couldn't explain what it was doing filed among the great composer's personal papers. Analysis of the composer's hand finally placed the work squarely in the Vivaldi canon–despite the fact that the only area of overlap between the composer's first and later versions of the opera is the libretto.
Based on the epic poem by Ludovico Ariosto, Grazio Braccioli's dramatic libretto inspired Vivaldi with its tales of love, black magic, and madness…enough to inspire two musically different operas.  The role of Orlando, for example, is sung by a baritone in the 1714 work and a mezzo-soprano in the 1727 version.  Says Susan Orlando, "Not only is it amazing in the world of Baroque opera to suddenly find that Vivaldi wrote two Orlando Furiosos, but also what it says about him as a composer – taking a libretto and working it, and then going back to it and working it again. Nobody expected anything like this." The "new" Orlando will be given its world premiere at the Festival de Beaune on 20 July and recorded for release in November by the French label Naïve, for its Vivaldi Edition series.