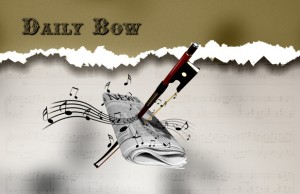 In this week's Monday Daily Bow, this exciting press release comes to us through one of the former students of co-founder Hans Jensen. It's been a while since we've at looked the innovations in the musical brain, but what we've presented here has always confirmed a correlation between studying classical music and some positive impact on cognitive abilities.
Here's the latest:
A recent study conducted by Brenda Hanna-Pladdy, a clinical neuropsychologist in Emory University School of Medicine's Department of Neurology, offers additional evidence that musical instrumental training, when compared to other activities, may reduce the effects of memory decline and cognitive aging.

This is the second study published by Hanna-Pladdy, which confirms and refines findings from an original study published in Neuropsychology in 2011 that revealed that musicians with at least 10 years of instrumental musical training remained cognitively sharp in advanced age. The findings were published in the July issue of Frontiers in Human Neuroscience.

"The study confirms that musical activity preserves cognition as we age, by comparing variability in cognitive outcomes of older adults active in musical instrumental and other leisure activities," says Hanna-Pladdy. "A range of cognitive benefits, including memory, was sustained for musicians between the ages of 60-80 if they played for at least 10 years throughout their life, confirming that maintenance of advantages is not reliant on continued activity. In other words, you don't use it or lose it. Nonetheless, the study highlighted the critical importance of the timing of musical activity, which may optimize cognitive benefits."
Read the full story – Music has big brain benefits.
Latest from the "Classical Olympics"
Latest from the "Nazi-Tatooed" Opera Singer
The controversy surrounding Russian bass-baritone Evgeny Nikitin, who as we covered last week resigned from the Bayreuth Festival over his "body art," continues. Nikitin is expressing his own side of the story. Apparently, what appeared to be a swastika tattooed on his chest was just the first stage of a star with a heraldic crest that he designed himself
This somewhat conflicts with his previous statement that the tattos were youthful and regrettable indiscretions. Still, many feel that the issue wasn't a good reason to cause Nikitin's departure from the festival.
Latest from the "Mystery Vivaldi" Score
Lately we've reported two major "Vivaldi" finds – a violin concerto and a version of an existing opera. However, The Strad now reports that the violin concerto is 'almost certainly' not by Vivaldi.
This report comes following testimony by Baroque expert Michael Talbot. It appears that the composition may actually belong to Francesco Maria Cattaneo, a lesser-known Italian composer. Now scholars are exploring the possible relationships (musical and biographical) between Cattaneo and Vivaldi, given the strong Vivaldian influences present in the work.
As of now, there are no concrete plans for a modern premier of this concerto.
Latest from the "Improvisation of Hilary Hahn"
We covered Hilary Hahn's collaboration with Hauschka, and her musical broadening into the field of improvisation before. Recently a new story discussed more details on Ms. Hahn's current project.
Hauschka's forte is the "prepared" piano. Altered with duct tape, felt mutes, bottle caps, and bits of junk, his instrument produces radically different timbres and rhythmic elements… the "perfect" complement to Hilary Hahn's singing violin.
Listen to the audio below for more on this story and read the full piece – classical music star Hilary Hahn branching out into improv pieces with Hauschka.