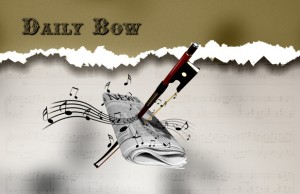 The headlining events in classical news have been grim lately: the Minnesota Orchestra and the St. Paul Chamber Orchestra are in the midst of tough contract negotiations, and the Atlanta Symphony musicians have been locked out, as yesterday's Daily Bow detailed. The way things are going, it's hard not to feel that there is a veritable epidemic of bad luck with major symphony orchestras. Luck or not, things are far from stable in today's economy. So, for a break from the doom and gloom of the current situations across the country, let's take a minute for a quick celebration of cities facing happier classical music times. The city of St. Louis is one such city, and the end of this month presents a "microcosm" of three different season openers for the city's classical music organizations.
While many cities' papers have little to report on as far as classical goings-on about town go, the St. Louis Post-Dispatch has released an article detailing the various seasons of classical ensembles around St. Louis. The weekend of September 28 – 30 sees the season premieres of the St. Louis Symphony, the St. Louis Classical Guitar Society, and the St. Louis Chamber Chorus. Each premiere is jam-packed and heralds the start of a brand-new, equally jam-packed season–welcome news in a scary time for classical organizations. The Symphony in particular, which is just coming off of its summer tour of Europe, has maintained a full schedule, offering a "Rally Concert" ahead of its regular season opener and using some of its tour program blended with some pops offerings to draw in new ears.
The seasons of the various arts ensembles around St. Louis are, as the Post-Dispatch article illustrates, bustling with activity and familiar faces (and tunes). The SLSO opener kicks off with Emanuel Ax as a soloist and pushes the orchestra with the programming of Lutoslawski's Concerto for Orchestra, and the season goes on to include performances of Mahler 3 with Susan Graham (the first performance of Mahler 3 for the SLSO in a decade) and a gala ball featuring Wynton Marsalis. Recitals in the city include Matt Haimovitz and Olga Kern, among others, and the various ensembles across the city have lined up a big year.
For those of you who live in St. Louis, check out the classical offerings on tap in your city. For the rest of us who don't, take a look at the variety and take heart in the fact that classical music is, really, alive and well.