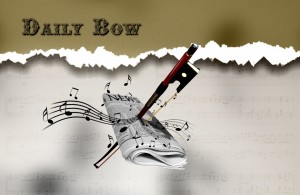 A Legacy Century for American and Contemporary Music
Today we mark what would have been the 100th birthday of John Cage if he were still alive today. But while Cage, who passed away 20 years ago, is no longer with us in life, his musical influence has extended far beyond the time he was living. To quote one author:
"What Jean-Luc Godard is to film and Marcel Duchamp was to the visual arts, John Cage was to music — a radical experimentalist who constantly sought to reinvent the art form. Boldly conceptual — and to many, frustratingly impenetrable — his pieces stand among the most important works of music created in the 20th century.
On Monday (Labor Day) we looked at an interesting article exploring Cage's place in music history and among audiences. Whatever your opinion of him, today and this week are a celebration of the amazing accomplishments he achieved as a composer and innovator.
Cage was born 100 years ago Wednesday in Los Angeles. His father, John, was an inventor, and his mother, Lucretia, held an editing job at the Los Angeles Times. The young Cage studied at UCLA under Arnold Schoenberg and later embarked on an international career, settling eventually in New York.

His formidable body of work can often seem forbidding. His output was broad and deep; his music was never meant to be accessible in the populist sense.

…

It seemed that Cage, who died in 1992, never stopped composing, or at least creating in some way. He made excursions into the visual arts and theater. He had a long professional and personal association with choreographer Merce Cunningham. Their intertwined lives served as a further testament to Cage's interest in the blurring of artistic boundaries.

Cage, it has been said, was a composer's composer — which is to say that he was influential while at the same time being somewhat esoteric for the casual music listener. His imprint can be felt in the music of numerous composers, ranging from pop to modern classical to avant-garde.
Read the full article – John Cage: A multimedia appreciation on his 100th birthday
One only need count the seemingly uncountable number of festivals, concerts, and various performances being held in his name to see the impact he had. In addition to the John Cage Centennial Festival in Washington DC (which we talked about on Monday) there are a great many more in cities across the country and globe. Here are just a few:
Celebrations of 100 Years of John Cage
Seattle, where Cage came up with some of his key musical innovations in the late 1930s, is hosting a number of events this week.
Tonight the Pacific Rims Percussion Quartet presents "Dear John," a pairing of two percussion works: "Credo in Us," from 1942, and "Four4," written in 1991.
On Friday the Esoterics will start a three-night run of choral works by Cage, including excerpts from his "Song Books."
For more information see John Cage's 100th birthday is happening all over Seattle
In Atlanta a four-day event titled "The Ten Thousand Things" celebrates the "cacophony of John Cage" in a mashup of chance music, composition, and dance. Several local performing groups will present their take on Cage's most experimental works. See The Ten Thousand Things: A 100th birthday tribute to John Cage.
Ann Arbor is holding its own "John Cage Centennial Birthday Celebration" with the Screening of "From Zero-19 Questions for John Cage." The event includes a panel discussion with U-M faculty on Cage's life, artistry, and legacy, as well as a look at his interests beyond music. See Take a bridge walk without traveling to Mackinac, celebrate John Cage's centennial birthday.
For more check out this rather exhaustive listing of events occurring around the globe, from Portland to Montreal and more: Events honoring John Cage at 100.
Happy Birthday Mr. Cage!