It my pleasure to present the second article from Tamara Holsinger, a cellist and native of Sri Lanka. After expressing an interest in our sheet music for cello ensemble, Tamara was generous enough to provide us with a fantastic insight into her experiences with Western classical music in her homeland. She continues her story here.
–Michael Buck, President, Ovation Press
The Cantando Cello Ensemble has been together for nearly 10 years now. We have a core membership of 8-10 players, though students returning from university in the UK or US for the summer vacation usually swell our ranks for our main concert in July.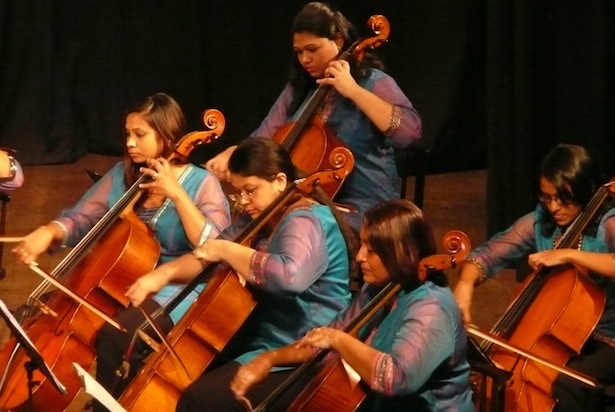 It is unusual in a country like ours, where so much importance is placed on academic achievement, to find students willing to sacrifice their time for music. I have first-hand experience of it as a teacher who finds students going missing for weeks at a time when term examinations come up in school. The fact that the cellists of the ensemble show up at twice-weekly practices (which are quite grueling) having practiced, in the midst of examinations is a testament to their dedication. Commitment is the one thing demanded of any new member of the ensemble, perhaps even more than technical ability.
Most of the members of the Cantando Ensemble are also members of the cello section of the Symphony Orchestra of Sri Lanka (SOSL). The SOSL is now in its 55th year, and is one of the oldest orchestras in the South Asian region. However, we are still an amateur orchestra. None of our musicians are professional, because it is impossible to make a living on music alone. A piano teacher might be able to do it, as there is a demand for it, but as for the rest of us—if you are not willing to play at weddings and in hotel lobbies—you have to find a paying job! My "real job" is actually teaching drama and speech, and one of our conductors is a professor of chemistry.
Until very recently we had no music schools that taught Western music exclusively, and finding opportunities to study it can still be challenging. If you want to learn an instrument, you have to find a teacher and take private lessons. Even so, finding someone to teach a wind instrument is not easy, and most of the wind players in our orchestra are self taught. Even finding a good instrument is hard—and prohibitively expensive most of the time.
As I mentioned in the previous article, live orchestral music is something that most people who live outside major urban areas are never exposed to. In recent years, the Norwegian embassy in Sri Lanka has funded an outreach program organized by the SOSL, which aims to take music to the more remote areas of the island.
Last year, members of the SOSL—in groups made up of string, brass and woodwind players—took a trip up north to a part of the country that was most ravaged by the recently ended civil war. We played for halls packed with school children—all of whom, it is safe to say, would never have seen a cello, a double bass or bassoon in their lives. The "concerts" were in the form of lectures, where each player spoke in the simplest terms about his instrument, its role in the ensemble and how sound was produced. The group then performed a couple of pieces together, to demonstrate the combined effect.
It is not an experience I'm likely to ever forget. Most of the kids there had walked for miles or come on bicycles, because they cannot afford any other form of transportation. They were so excited to see us that they started cheering and clapping before we even got to the stage. I don't think even Colombo (Sri Lanka's capital) audiences have ever listened to us with such attention, or appreciated us as much!
We have repeated similar programs in other parts of the country with much success, simply creating awareness. Setting up facilities for instruction and obtaining funds for instruments, etc., is still a project that will take years to get underway. Apart from this outreach program, the SOSL regularly pays for bus-loads of children learning music in schools to be brought into Colombo for our concerts. This Christmas, the Norwegian embassy funded us in a project where children from schools in Jaffna (the northernmost city, and one cut off from the rest of the country for decades) were brought to Colombo for a weekend to attend our annual Christmas concert.
On a different level, the SOSL has an annual "Young Soloists" concert, where young musicians who are serious about music are encouraged to audition with a concerto. If they pass the audition, they perform as soloist with the orchestra. This event is quite popular with both audiences and young musicians, and the competition gets quite hot on occasion.
The SOSL is not state funded. We have four or five concerts a year, and these are made possible because our governing body is able to procure sponsorship for each concert—a task that is becoming more and more difficult. It is quite a feat finding funds just to keep the orchestra running, so you can imagine what it is like to find people willing to fund our "extra" activities such as the outreach program.
I can honestly say that for the musicians of the SOSL and Cantando Cello Ensemble, it's all about the music, because money certainly doesn't come into the picture!