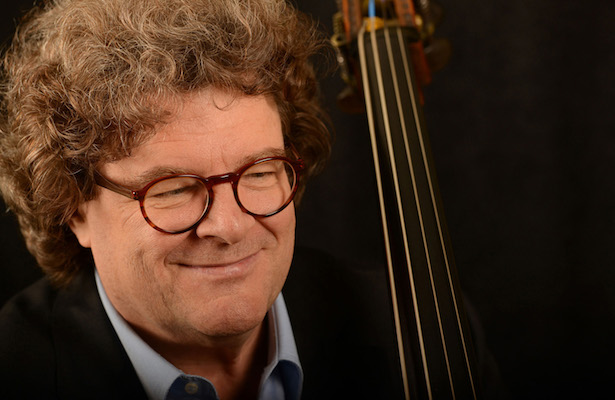 Hans Jensen interviewed Joel Quarrington last summer during his stay at the Young Artists Institute organized by The National Arts Center.
String Visions: Two years ago, I heard your recording "Brothers in Brahms" and was so impressed with your ability to overcome all technical limitations of the Bass and just have the music come out in the most beautiful natural musical way. Now, a few years later with this new recording – "An Die Musik" – nothing could be more appropriate to use as a title. "An Die Music (To Music)" is one of the best-known songs by Schubert, so it's fitting that this album should be all Schubert music. It's greatness and popularity are generally attributed to its harmonic simplicity, sweeping melody, and a strong bass line that effectively underpins the vocals.
Gerald Moore played the accompaniment of "An die Musik" at the end of his farewell concert in London in 1967. During that concert, he had accompanied three of the singers with whom he was long associated: Dietrich Fischer-Dieskau, Victoria de los Angeles, and Elisabeth Schwarzkopf. But what's fascinating is that he chose to play the accompaniment alone. It's also the music that opens your recording, and you play it in such a simple and beautiful way that just absolutely captures the essence of the music. Knowing you, it's definitely not your farewell recording.
What inspired you for this Schubert recording? What was the inspiration behind it?
Joel Quarrington: Well, I think I'm like a lot of other bassists and cellists in that I've spent so many years working on the Arpeggione Sonata. I've worked on it for over 40 years. And, I think I'm starting to get somewhere with it. It's quite a tough piece. It's very difficult.
String Visions: Yes, it is the same for the cello!
Joel Quarrington: But I have to say honestly… I probably worked on that more than anything else, and I am happy with some of my results with it. I love playing with the pianist David Jalbert.
String Visions: The collaborator on your CD?
Joel Quarrington: Yeah. He's a professor of piano here in the School of Music at the University of Ottawa. He's an absolutely wonderful young artist. He also did the Brahms recording with me. He's a concert artist in his own right. I first heard him I think five years ago when he put out a recording of the Goldberg Variations. I heard it on the radio before buying it. It's beautiful and really something special.
String Visions: So, radio might be the perfect way to meet?
Joel Quarrington: Yes. After that I got in touch with him and asked if we could play some pieces together. We did a performance of the Arpeggione Sonata at the University of Ottawa. It was a great relationship right away so I said: "Oh, we should record the Schubert!"
String Visions: What was it that really made you want to make a whole recording with Schubert's music?
Joel Quarrington: You actually want to know?
String Visions: Yes, tell us the real reason behind this.
Joel Quarrington: I have a recording of Schubert's piano sonatas by Paul Lewis
String Visions: Oh yes, he is a wonderful pianist.
Joel Quarrington: He's wonderful for sure, and I drive around listening to that recording all the time because it's so peaceful. You know, I get road rage when I drive…
String Visions: Oh no are you kidding me [laughs]…
Joel Quarrington: …except if I listen to that, then I can stay cool.
String Visions: That's a great idea!
Joel Quarrington: Yeah. I don't do stupid things in the car [laughs]. Time doesn't seem to pass when I listen to it. One day I thought: "wouldn't that be great to make a peaceful, Zen recording just with Schubert's music."
String Visions: I really like how the recording starts with "An die Musik," then "Du bist die Ruh", and then the Arpeggione sonata.
Joel Quarrington: Yes we didn't want to make it just about the Arpeggione. We wanted all these beautiful songs to weave the whole recording together. And then, the Sonatina at the very end is like a light throwaway thing.
String Visions: Did you transcribe the Sonatina yourself?
Joel Quarrington: No, I'm using the Goltermann arrangement of it for cello, and it's nice because I do it in the same register as the cello.
String Visions: Yes, it is so great the way you can move around on the bass. Hardly any cellists can even do it like that. It's just fantastic. Additionally, you have this warm vocal quality on the bass that's really so touching and beautiful.
Joel Quarrington: Thank you.

String Visions: Going back some years what was [learning music] like when you grew up? I think you started music school in Toronto when you were 13?
Joel Quarrington: Yes, but I really started playing music when I was 7. I played a lot of music with my brothers, but I played by ear and it was a good amount of folk music.
String Visions: Was that on the bass?
Joel Quarrington: No, no, no. On many other instruments. I could play guitar, piano, and a little banjo. In fact, the only instrument I didn't play was the bass.
String Visions: That's fantastic; the absolutely best way to start learning music. Really knowing and feeling music in your heart, body, and soul before starting to study your favorite instrument.
Joel Quarrington: Yes, you see we were three brothers and we played all this stuff together by ear. My oldest brother was also teaching us to sing in three-part harmony and accompany ourselves, and that's what we were doing. Then after a while my brother started to bring home a double bass from the high school. He would play it and sounded very good.
String Visions: So, it was your brother playing the Bass. But how did you start the bass?
Joel Quarrington: When I was 12 years old I was put into a string class and they said, "Choose your instrument." I had skipped a bunch of grades so I was very short, just 3 feet tall, and I said I wanted to play the bass because then I could be the one bringing home the bass on the weekends.
String Visions: And being the one in charge of laying down the bass line.
Joel Quarrington: Yes exactly, but I had to convince the teacher even though I was so small that I really wanted to play the bass
String Visions: So in the beginning it was still folk music?
Joel Quarrington: Yes, and a lot of jazz. My father was a great jazz player he played the trumpet and he actually tried to make a living as a jazz trumpeter. In fact, all the men on his side of the family, starting with his grandfather, were all working musicians of Toronto. They would all play in the movie theaters where they were playing light classics and popular music.
String Visions: Then, how did you end up going to the conservatory?
Joel Quarrington: Well, because the string class teacher thought that I had a lot of potential on the bass and said that I should go study this guy Tom Monohan, who was the principal bass player in the Toronto Symphony. I went to a summer music camp, and one day they brought up all the principal string players from the Toronto Symphony and so there I met Tom Monohan. And he was a very impressive guy. He weighed about 400 pounds, chain-smoked, wore sunglasses, and was very intimidating. He wanted us just to do long tones, and he would just snap his fingers. We were trying to do like eight beats per bow just playing a slow scale. He chain-smoked unfiltered cigarettes so his voice was very low and raspy. We just couldn't understand him.
String Visions: But snapping he could! And that was something you could all understand [laughs].
Joel Quarrington: Yes, and there I was, like 3 feet tall. My hair went all the way down to my shoulders…
String Visions: So you were a Beatles fan?
Joel Quarrington: That's right. So, at any rate, I went back to school and I said, "Well, I think he would be a good teacher." So, although he didn't usually teach people my age, I started with him when I turned 13.
String Visions: That must have been the beginning of your interest in playing the classical bass. And, now for almost 30 years you've been the principal bass player of so many ensembles including: the Canadian Opera, the Toronto Symphony, and now the National Arts Centre Orchestra. Two years ago you were the principal bass in the London Symphony Orchestra.
Joel Quarrington: Correct.
String Visions: Fortunately for the Canadians here and for us when we are here in Ottawa in the summertime, you came back to Canada. I think you are a true Canadian, so you belong here.
This is the first part of the Interview with Joel Quarrington the other parts will follow here on String Visions over the next few weeks.
Born in Toronto, Joel Quarrington began his formal studies of the double bass when he was thirteen. Upon graduation from the University of Toronto, he was awarded the "Eaton Scholarship" as the school's most outstanding graduate. Joel is a winner of the Geneva International Competition and the CBC Talent Competition, and has made solo appearances across Canada, the United States, Europe and China. Joel teaches in the summers at the Orford Arts Centre in Quebec's beautiful Eastern Townships where his master classes have attracted players from around the world. He also teaches at the University of Ottawa and at the Royal Academy of Music in London where he is a "Visiting Artist". You can learn more about him on his website at https://joelquarrington.com/.
---
Joel Quarrington will be performing at two upcoming events:
1. Northwestern University Master Class (February 6th) and Recital (February 7th)
Master Class at Northwestern University McClintock Hall 4:30-6:30 February 6.
Wednesday, February 7, 7:30 p.m.
Galvin Recital Hall, $8/5
2. Recital in New York
Baruch Performing Arts Center
25th Street between 3rd and Lexington Avenues
New York NY United States
March 27, 2018
7:30pm