1. HOW WOULD YOU DEFINE IMPROVISATION?
Improvisation is essentially spontaneous composition. The act of creating an expressive musical statement in real time adhering to some pre-ordained structures.
2. WHY IS IMPROVISATION IMPORTANT FOR CLASSICALLY TRAINED STRING PLAYERS?
Many classically trained string players have a deep fear of improvisation. Rather than welcoming a chance to be free and express oneself, they are overwhelmed with the specter of wrong notes, mistakes, and ridicule. We have been subject to a set of rules based on mastering our instruments, with a clearly defined pedagogy. In our rapidly evolving musical world (2018) string players need to be able to find a voice that reflects our time. The emphasis is often "How well am I playing my instrument?" rather than "What am I expressing?" It's true that technical standards of string playing are extremely high, but I feel often the personal content of a performance is forgotten, or at least becomes a very low priority. This is something professional string players need in their toolbox. Studying improvisation informs and energizes one's approach to the classical repertoire.
3. HOW DOES ONE BEGIN LEARNING TO IMPROVISE?
By doing it- playing with someone who already improvises- and it may not be a string player! A pianist, guitarist, flutist, saxophonist, etc. etc. Find a friend, colleague who will spend time with you. It's interesting that so many other instruments have improvisation as an expectation built in, unless you are a "classical-only" instrumentalist. Why should string playing be an exception? Of course, most bass players already live in the world of improvisation, to a greater or lesser degree.
There are many books available for self-study: Jamey Aebersold's Jazz Improvisation series of over 100 volumes, Martin Norgaard's Jazz and Gypsy Swing methods, and one of my favorites, Eugene Friesen's "Improvisation for Classical Musicians". However, a book alone can't substitute for the process of learning from and with other humans in real time. When we study with a teacher, the oral (and aural) tradition of string playing is transmitted. Improvisation is part of that process, and studying with a string player who improvises is as important as studying with a teacher who teaches the standard repertoire.
4. WHAT ARE THE MAIN ELEMENTS OF IMPROVISATION?
To improvise in any style, a string player needs to quickly get beyond thinking only of one's technique (How's my bow hold? Did that shift work? and on and on). A good improviser is aware of the following elements:
The melody
The bass line
The harmony (chord changes)
The rhythmic language (the groove)
A good improviser is responsible for all these elements at the same time, and shapes one's creation with real understanding, spontaneously. All solos have a beginning, middle and end, or in other words, an exposition, development and recapitulation.
Traditionally, string players are melodists- we are taught to shape a tune with great skill, coloring with the bow and vibrato and stretching the time with sophisticated rubato. As an improviser, in jazz and many other styles, rhythm and chords are much more important. I would say that playing with a consistent rhythm is the weakest aspect of many fine classical string player's skill set. To be able to hang with the groove of a solid rhythm section is an entry-level skill, and goes far beyond simple metronome work. The rhythmic language of swing music is a beginning, then there are the polyrhythmic aspects of African, Latin American and Indian music influences which many of us find fascinating.
5. WHAT BROUGHT YOU TO IMPROVISATION?
My environment. The world I lived in in the late 1960s. I give much credit to the Beatles for creating that world. I grew up in Northern California, and there was a lot of social and political unrest. I felt the need to create something new in a changing world. Not being a serious cellist at the time, I taught myself guitar in order to play in a garage band with my friends. Those early teen years of pretending to be 'cool' in a band with my buddies, to be uninhibited, finding a way to release that teenage restlessness without critiquing or judging from adult, that was an incredible part of my growing up. Which included how to figure out music from the inside. I had the good fortune of living close enough to go to San Francisco with easy access to live concerts by the Grateful Dead and all the other local bands, as well as the Who, Eric Clapton, Ravi Shankar, Miles Davis, the list goes on. I always loved classical music, but creating my own in a small group was what I did in those teenage years.
When I went to college and started really pursuing the cello I saw the connection between playing in a string quartet and improvising in a band.
The communication is really the same. Except in a quartet you are playing the ideas of Beethoven, Debussy, Bartok, instead of your own. So I have to say I was an improviser first, in my formative years. It wasn't until my early 20's, when I found Margaret Rowell in Berkeley, that I became on track as a cellist. After that I studied with George Sopkin, founding member of the Fine Arts Quartet, in Milwaukee, one of the great quartet cellists. I remember him saying that when performing with his quartet was the best, it felt like improvising.
6. IS THERE A TRADITION OF STRING IMPROVISATION?
Of course- as long as there have been these instruments- 400 years! Improvisation is so important in Baroque music, and Classical period solo cadenzas give the soloist great room for personal ideas. My thinking is that as the art of composition became more developed and specific with regard to tempos, articulations, expressive markings, there became less room for musicians to add their own ideas, for better or worse. If you couple that with the increased pedagogical systemization of violin study especially, improvisation became less and less necessary to the skill set of a professional string player.
So from the 19th Century onward, where did the tradition go? I'd say in Europe it went underground- or at least into the folk music and Gypsy music genres. The violin is a deep part of Romany (Gypsy) culture, and everyone from Haydn to Brahms heard gypsy music, and referenced it in their works. In North America, improvisation grew out of the call and response of slave life in the African diaspora, which developed into what we call blues and jazz in the 20th Century. Many of the earliest African-American musical ensembles were string bands- banjo, violin, guitar, double bass. This music is rhythmic, syncopated, and improvisational.
When American jazz hit Europe in the early 20th Century, a fascinating synthesis occurred between jazz and gypsy music, personified by guitarist Django Reinhardt and violinist Stéphane Grappelli. Improvised solos in the syncopated language of early swing style infused with the colors of Gypsy melodic and harmonic styles gave rise to Gypsy Jazz, or "Le Jazz Hot".
In other forms of folk music, string playing keeps a strong tradition of improvising in what we call Bluegrass, another hybrid of British Isles folk tunes and North American jazz influences.
7. WHAT IS THE CONNECTION BETWEEN AUDIENCES AND IMPROVISING MUSICIANS?
For improvising musicians there is a strong collaborative energy, a spontaneous relationship with the audience. Improvisational music welcomes audience participation, a kind of call and response, often missing in classical performances, due to "respect for the composer." I understand and respect the reason for this, but how often does a classical concert fall into the category of "church sermon sleepiness"? No performer wants that! Improvisation quickly establishes a symbiotic relationship with the audience, where performer and audience both benefit equally. How many classical performers complain of not having a connection with their audience? We all want the same connection, no matter what style we are performing. Music accesses all parts of the brain: the reflexes; the part that integrates the internal organs; our memories; our emotions; our balance; it even inhibits the flight-or-fight response allowing us momentarily escape from our stresses, to relax and experience higher mental states. Music truly soothes the savage beast.
8. WHAT IS CLAZZ?
CLAZZ is a unique festival designed to bridge the gap between jazz improvisation and classical string playing. The four-week festival in the medieval Tuscan hill town of Arcidosso is the brain child of the contemporary Swiss composer Thomas Fortmann, who was very active on the European popular music scene in the 70th and 80th, as well as the violinists Matt Pickart and Helmut Lipsky, based on the concept that improvisation is entirely compatible with being a professional string player or any other classical instrumentalist.
The first two weeks are a traditional chamber music festival featuring distinguished teachers and performers such as violinists Helmut Lipsky, Gwendolyn Masin and Mara Milkis and cellists Adam Liu, Michael Haber and Uri Vardi. This session features already an introductory course in improvisation and non-classical repertory, such as
Tango, Crossover Music, but also new contemporary music is already being integrated into the concert programs.
The Jazz session features improvising violinists Jeremy Cohen, Helmut Lipsky, violist Matt Pickart, and cellists Crispin Campbell and Andres Vera. Bridging the gap between Old World classicism and New World inventiveness, CLAZZ features concerts by faculty and students, private lessons, small ensemble coachings and a chance to focus on learning in the culturally rich environment of a timeless Italian village.
9. IS JAZZ THE ONLY FORM OF IMPROVISATION?
Not at all. Almost all forms of "art music" have improvisation as an integral aspect. Indian music has no repertoire, only ragas and talas. Arabic music is loaded with melodic ornamentation. Latin American music such as Tango, Samba, Bossa Nova and Choro is rife with opportunities to improvise. The CLAZZ Jazz Session provides the opportunity to familiarize oneself with a variety of these styles and languages.
10. WHAT IS THE DIRECTION OF IMPROVISATION MOVING FORWARD?
Improvisation uses what's available in our culture, and since every form of music in the world is available with a few clicks on the internet, we now have no limits. To me, the action, the interest in music is always in the edges of styles, the rubbing shoulders of different cultures and traditions.
Improvisation gives musicians a chance to explore whatever intrigues them, captures their imagination. The most exciting music is what happens live with an audience. From the CLAZZ web page comes the quote from Jascha Heifetz: "I have discovered three things which know no geographical borders: classical music, American jazz, and applause as the sign of the public's favor." This kind of says it all!
---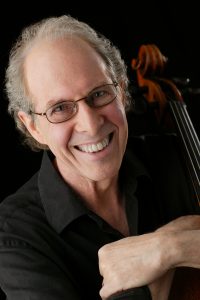 Crispin Campbell's musical style reflects his individuality. In a typical performance he makes seamless transitions from Bach to Frank Zappa to Django Reinhardt, earning him the label: "A musician who defies categories."
Crispin is involved with the the developing art of improvisation for string players. He is a member of the CLAZZ International Music Festival in Tuscany, Italy, whose purpose is to incorporate improvisation into the life of classical string players. Campbell's latest improvisational efforts involve concerts with his own group, and with Eugene Friesen (cellist at Berklee College of Music), violinist Jeremy Cohen (Quartet San Francisco), violinist Helmut Lipsky (Montreal Conservatory), the Neptune Quartet and fiddler Jeremy Kittle, among others. He continues to perform chamber music with his Interlochen colleagues.
Campbell is a faculty member at Interlochen Arts Academy. A student of Margaret Rowell (Berkeley, CA) and George Sopkin (Fine Arts Quartet), he is well known as a performer and teacher throughout North and South America. He teaches at the annual Interlochen Cello institute in June, and has taught at the NHSMI summer program at Northwestern University, Evanston Illinois, and many other summer programs. He is also a frequent guest artist for the Fundacion Batuta, a national music program based in Bogota, Colombia. He was the founder and Artistic Director of the Manitou Music Festival in Michigan, a chamber music and jazz festival. His recordings with the Neptune Quartet and Christian Matjias have been featured on NPR's "All Things Considered".