Hailed as "an intense player who connects to the music naturally, without artifice, and [who] brings a singing line to the cello" (The Oregonian), cellist Gabriel Cabezas is one of America's most sought after young musicians. A former student of Hans Jørgen Jensen, Mr. Cabezas is featured as a soloist on the Northwestern University Cello Ensemble's album Shadow, Echo, Memory (which will be released by Sono Luminus on July 29) and recently took the time to answer some questions about his career and involvement in the CD. Gabriel graduated from Curtis Institute and was a student of Carter Brey.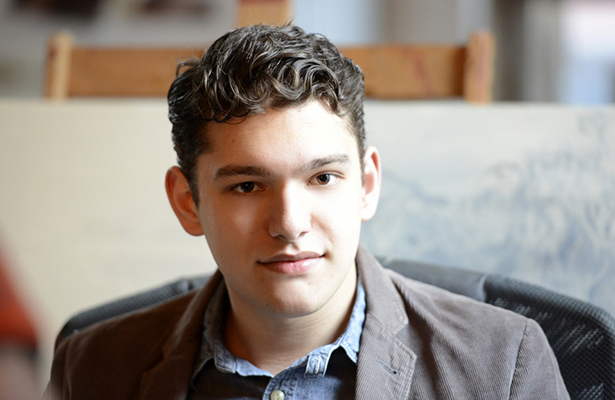 Q. In your young career, you have been involved in musical activities ranging from performing concertos with orchestras to cross-overs with song-writers and visual artists. What is the most exciting aspect for you in all these projects?
A. Really I see a lot of these things as being really similar – I find that the experience of doing one project starts to inform how I start to interpret music in a completely different context. Ultimately everything for me points to that overshared Duke Ellington quote: "There are two kinds of music. Good music, and the other kind." I want to try to find how all the good stuff relates to each other.
Q. It is amazing all of the orchestras that you have performed with as a soloist, including: The New York Philharmonic, Los Angeles Philharmonic, Cleveland, Chicago and Philadelphia Orchestras. Can you tell us something about those experiences?
A. It has been amazing to get to play with some of the country's best orchestras – I grew up with their recordings and seeing them in person, so it has been a great honor to be on stage with them! Three of these performances stand out to me sentimentally. First, getting to play with the Chicago Symphony as a Chicago native was obviously great, and I ended up being surprised at dinner later that night by Yo-Yo Ma, who is a big inspiration for me and most cellists! When I was at Curtis, I was able to play with the NY Philharmonic with my teacher, principal cellist Carter Brey, in the audience. Thinking back on it, I'm thankful for my nerves he wasn't on stage. Finally, playing with the Philadelphia Orchestra, filled with Curtis faculty, graduates, and a few of my classmates, was a pretty cathartic celebration of one of the great musical traditions I'm lucky enough to be a part of.
Q. Describe your involvement with yMusic.
A. So, yMusic is a contemporary sextet made up of a string trio, a clarinetist, a flutist, and a trumpet player. To make it slightly more confusing, the trumpet player also plays horn while the violinist doubles on guitar. We commission all of our work and have two albums released of all of our own music and another in the works. The group sort of formed when the same people that kept showing up for more non-classical recording sessions decided that they had an interesting sound and wanted to get some music of their own! We also do a bit of work with singer-songwriters – the group has toured with the Dirty Projectors, Jose Gonzalez, and Ben Folds (who we made an album with that came out last fall), and appears pretty regularly with a bunch of other groups around the country.
Q. What are some future projects you wish to explore?
A. I can get a little ADD in trying to explore a lot of different ideas, so it's hard to try and come up with a concise answer to this. I can say that I have a couple of recording projects in the works that I'm excited about, and am working with a few composer friends of mine on some exciting new work. I'm always looking forward to the next project with yMusic and also with a music and dance series I help run in Philadelphia, Duende. Hopefully in the future I'll have a chance to work a little bit in series and festival curation across the Americas – I'm very interested in all the interesting music you can find from Alaska to Argentina.
Q. What are some of your interests outside of music?
A. I've always been really into cooking, and traveling a lot has gotten me into spending too much time thinking about restaurants, wine, beer, and coffee. In a three-week tour, finding good coffee can really be one of the most important things! I love a good movie, and have been making time to read more on airplanes and busses. I have also been known to wake up at very strange hours to watch soccer.
Q. On the Shadow, Echo, Memory album, you play the solo part in the 8-celli arrangement of Gabriel Fauré's Après un Rêve. Given its origin as a vocal piece, how did you approach the music? Did the text influence your interpretation?
A. You do have to consider the text, of course, to think about emotional content and to think about different articulations and phrasings. On the other hand, it's definitely freeing to not have to breathe, so you're able, if you want, to take a couple of phrasing and tempo liberties that, while not necessarily authentic to the original version, create something interesting on its own. It's an arrangement, after all, so I try not to get too caught up in needing to copy the voice exactly.
Q. What is it like to play in an ensemble comprised solely of cellists? How does it differ from more conventional instrumentations?
A. It's so fun. It's a great collection of colors to be able to play with, and a huge range, so for me it's one of the better ensembles to only be composed of one instrument. You're able to space the voices out into different registers and still able to blend really naturally. That's part of what made me excited about this project! That and of course how cellists are always the most fun to be around.
Q. What instrument do you play on? How long have you been performing with it and how did you acquire it?
A. I play on a 1934 Carl Becker cello that I actually got in high school almost 10 years ago (while I was studying with Hans Jensen). I remember getting a call from a local shop on the ride home from a concert asking if I wanted to try it, and it hasn't left my side since.
Q. Do you have any favorite musicians? What are some things that have influenced your work?
A. So many! I feel irresponsible trying to name a few, or to isolate specific influences on my own career, so I'll try to just list some things I like. In cello, I admire the incredible range, versatility, and impact of Yo-Yo Ma's career. I have also been listening to Steven Isserlis' complete Faure basically on repeat for a while now. Other people and things I've been listening to recently have been some Bill Evans, David Bowie, Jordi Savall, Judee Sill, and the Akademie fur Alte Musik Berlin's Brandenburg Concertos. I would also be lying to not count my yMusic colleagues as daily inspirations.
To learn more about Gabriel Cabezas, please visit his website: http://www.gabrielcabezas.com/
The Northwestern University Cello Ensemble is currently working on their album Shadow, Echo, Memory, which will be released by Sono Luminus on July 29. Please enjoy this sneak peek below, and be sure to become a fan on Facebook and follow them on Twitter.