Internationally renowned cellist and pedagogue Hans Jørgen Jensen is currently Professor of Cello at Northwestern University and artistic director of the Northwestern University Cello Ensemble. As the founder of the ensemble and visionary behind its first album, Shadow, Echo, Memory album (which will be released by Sono Luminus on July 29), he graciously took the time to tell us about the ensemble, his experiences, and his teaching. , he took the time to answer some questions of ours and share some of his thoughts about his life as a musician.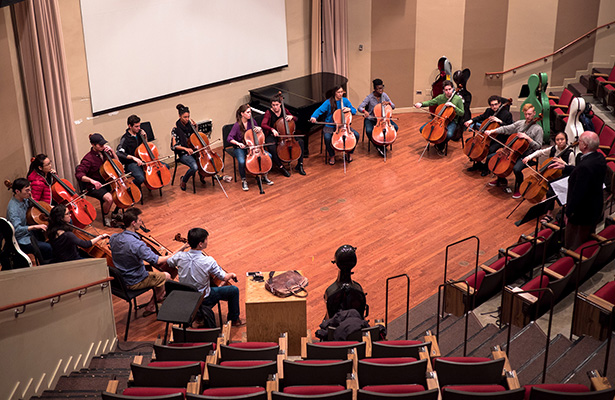 Q. Where did the idea for this project originate?
A. It had always been a dream of mine to bring present and former students together to perform something. It is exciting and inspiring for the younger students to perform together with older, successful cellists who are out in the real music world making a living, and it gives the younger students a really clear vision for what is also possible for them in the future. In May 2013, my dream became a reality. A big group of present Northwestern students, a number of talented Chicago area high school students, and 21 highly successful Northwestern alumni all came together to perform and record. At that occasion we recorded the Mahler Adagietto (from Symphony No. 5), Canticles of the Sky by John Luther Adams, Rachmaninov's Vocalise and Après un Rêve by Gabriel Fauré. This unique and memorable event inspired the continuation of the project and the decision to record this debut album. With artistic contributions from all members of the ensemble, and intensive rehearsals and sectionals for a full year, the album became a truly collaborative effort with tremendous initiative and leadership from the students themselves.
Q. The CD has an interesting blend of modern and classical music. Are there any common threads in these pieces, and do you feel this creates an effective balance? How did the CD end up with this combination?
A. We (the students and I) did a lot of brainstorming to come up with a combination of both new and older music that really would focus on- and highlight the melodic, vocal element of the cello. I listened to a vast amount of choral music that we could perform with the cello ensemble, and tried to listen to most of the works composed for cello ensemble in this century. In the beginning we had selected more than 30 works, but as we moved forward 4 newer works stood out and seemed to share a common thread. These works were:
-Ballad, for 8 celli, by the great Pulitzer Prize-winning composer Aaron Jay Kernis. A very touching and highly emotional work which is extremely difficult and challenging.
-Three Lacquer Prints by the young and extremely gifted composer Zachary Wadsworth. This work was originally written for The Esoterics (a vocal ensemble) but after we asked him to perform and record this work, Dr. Wadsworth transcribed it himself for the Northwestern Cello Ensemble.
-Intermezzo (from Fremd) by the powerful, imaginative, German composer Hans Thomalla – based in Chicago. This work was the intermezzo from Dr. Thomalla's opera, Fremd, and was originally scored for chamber orchestra. We performed the whole work as written, so for some very high passages we had to use harmonics in order to play it on the cello. For the very low notes we were grateful to have some Northwestern bass players join our team.
-The last of these 4 works is the famous Lux Aeterna by György Ligeti. We felt very grateful when – after a long wait – we finally received permission from the Ligeti estate to record this work for our album. This work took a lot of practice in order to line all the pitches up and blend all the sounds.
To balance these 4 works we selected 3 of the most beautiful vocal works written for strings: Vocalise by Rachmaninov, Après un Rêve by Gabriel Fauré and the Adagietto from Symphony No. 5 by Mahler. The Rachmaninov and Fauré are both wonderfully arranged for cello ensemble by French cellist Roland Pidoux, and the Mahler Adagietto was performed as written without any changes in registers. That of course required the cellists playing the violin parts to practice a lot, due to the fact that they had to play up very high on the fingerboard. Here we were also graciously joined by some fine Northwestern bass players, led by the talented Jarrett Bastow.
With these 7 works in mind, we all felt that one thing was missing to balance the album. Fortunately, we had right here in in our midst the wonderful cellist and talented composer Michael van der Sloot. When I asked Michael to write a piece for us for the album he immediately agreed. Michael thought about it for one or two weeks and then he very excitedly told me that he knew what the inspiration for his piece would be and also how he thought that his piece could help unify the whole album. The inspirations for Mike's piece Shadow, Echo, Memory were the 30,000-40,000 years old cave paintings (also known as parietal art) of prehistoric origins. In this work, Mike has managed to bring us all back in time to his imagination of these fantastic works of art and what took place in these caves so long ago.
Somehow, having a feeling of connecting all these wonderful works of music with these Paleolithic cave paintings created so long ago seems to imbue a sense of awe for the artistic talents of humans.
Q. You've been teaching professionally for over 40 years. In your remarkable career, how do you think you've grown as a teacher? As an individual? What continues to motivate you?
A. Actually, during my second or third year teaching here at Northwestern years ago, I remember a very specific lesson that changed my concepts about teaching forever. Before that lesson, I always had a feeling of wanting to see results all the time and was never totally satisfied with the process of teaching. It was like I was waiting for something to happen – like a result of the student winning a job or competition – before I could be satisfied with my work as a teacher.
In that lesson, the student that I was teaching was so eager and hungry to learn, the exchange between us went back and forth with incredible speed, and both of us had very open, excited, and focused minds. Right in the middle of that lesson a light went off in my brain, and it said loud and clear:
"This is it! This is what it is all about! There is nothing more to wait for! "
In a fraction of a second, I suddenly realized that the excitement and satisfaction of teaching is the magical process of the teaching process itself. From that lesson on, I never again waited for future results but simply have learned to focus myself into the teaching moment. I have to admit that, over the years, if a student is totally unprepared or unfocused in a lesson, I have learned to take a few steps back and look at the bigger picture for a few seconds to detach myself from the moment.
Also, as one gets older, one gets more patient but it is also possible to be too relaxed and patient. In order to help students achieve and reach their full potential, it is necessary to help them set high realistic goals and that often requires taking it to the edge.
My goal as a teacher is to combine the knowledge and wisdom of an older experienced person with the hopeful naivety and excitement of a younger person, and I am still working on that.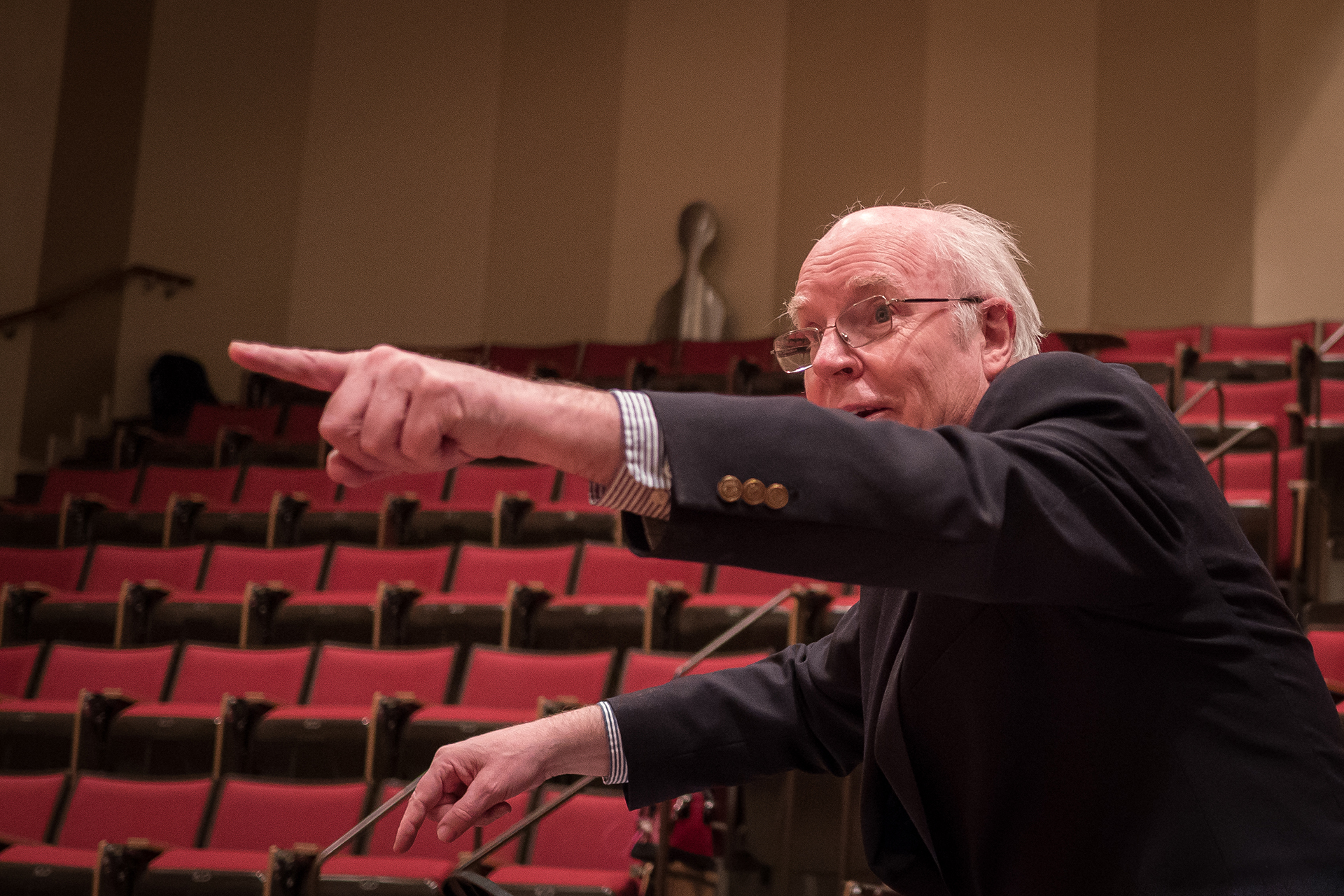 Q. What were some of the challenges of this project?
A. One of the goals of the ensemble was to make the rehearsals collaborative by allowing everybody to come up with ideas about the artistic goals. At times this process took longer and resulted in heated discussions. However, it ultimately brought everybody much closer together and, in the end, created a much more exciting artistic result.
One of my ideas for the Northwestern University Cello Ensemble was to create a platform for the students to learn in new ways. From my perspective and years of experience, having them participate actively in the creative process would make them much more involved and would surely challenge them to think much more creatively, and they would learn a lot more in the long term. In my mind, it was never only about the quality of the performances but just as much about what the students would come away with after it was over.
However, students often think short-term, want to see immediate results, and get very critical and frustrated very fast. As we got closer to each recording session, they simply asked me to act like a real conductor and to please tell them exactly what to do.
Also, I purposefully did not study the scores very hard beforehand but instead wanted to learn each piece together with the students. Perhaps that was my excuse for not preparing enough before each rehearsal. But, if I would have already had a strongly-formed opinion about every detail in each work, it would have been difficult for me to be patient and wait for them to figure it out.
For future projects, the students want me to prepare the scores 100% and act like a real conductor. I will do the preparation, but I still want the students
to be free to come up with their own ideas and be part of the creative aspect. Together we will figure out a plan where we can do that in the most efficient way, so less time is wasted.
Q. What was your favorite part of the project?
A. My three favourite parts of this project were:
Seeing all the older professional cellists together with the present students and feeling the power, focus, and energy when we all met and played the Mahler together for the first time. Due to the fact that present students had prepared very hard, when the professional players joined us at the first play through of the Mahler, it felt like we had all been playing together for a very long time.
Equally important is the way everybody has been willing to give of themselves to help with all aspects of this project from: planning, organizing, cheerleading us all, rehearsing, recording, writing e-mails, liner notes, contacting recording companies, managing social media, etc.
Lastly, one of the most exciting events was when Collin J. Rae (CEO of Sono Luminus) – after having listened to our recording – told me that they would be willing to produce this album on the Sono Luminus label.
It has been amazing working together with all these wonderful people.
Actually having a career as a teacher and musician is like winning the lottery.
The Northwestern University Cello Ensemble is currently working on their album Shadow, Echo, Memory, which will be released by Sono Luminus on July 29. Please enjoy this sneak peek below, and be sure to become a fan on Facebook and follow them on Twitter.