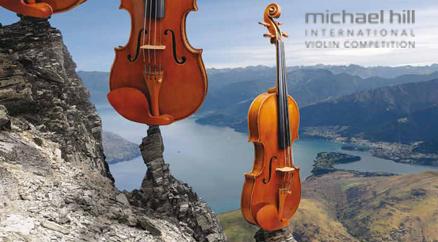 Friday June 3, the Michael Hill International Violin Competition in Queensland, New Zealand kicked off with an opening event and concert. Among veterans of violin competitions, Michael Hill is regarded as prestigious and unique. This year is the sixth of the biannual event.
The music world is changing in ever more dramatic fashion and the demands on emerging young musicians are increasing apace.  The modern virtuoso violinist must not only play to a level of technical perfection that in previous generations was thought to be extraordinary and is nowadays relatively commonplace, but also be expert in a wide variety of musical styles and genres. Nor is a successful career solely based on musical achievements as presentation and an understanding of the music business generally have become increasingly important factors in achieving this goal.

The Michael Hill International Violin Competition is mindful of what is required to be a successful artist at the top of the profession and the past prize winners in this competition have exhibited just those distinctive qualities necessary for a long and fruitful career.
New Zealand is 18 hours ahead so we're currently in the first round of the semi-finals (Saturday, June 4). The 18 semi-finalists were selected from a substantial pool of applicants which saw a 50% increase from the last competition in 2009.
It took the preliminary panel twenty very intense hours of listening to select the 2011 semi-finalists.  Dmitri Atannasov, Justine Cormack, Vesa-Matti Leppänen, Goetz Richter and Wilma Smith judged 136 recordings of Paganini, Bach, and Romantic-era sonatas to determine the eighteen young violinists invited to compete live in the Michael Hill International Violin Competition next June.
Another way to look at this is that the average caliber of musician is higher. Sir Michael Hill commented that "In the past we've been very fortunate because we've struck someone that's turned out to be a star. This time they're all stars – it's the Olympics of violin playing."
Check out profiles of all 18 semi-finalists
The semi-finalists were present by May 31 and spent the next couple days getting settled in and gearing up for the big event. Now in the middle of their first round, the competitors are testing their mettle with the Bach unaccompanied sonatas and partitas, along with first movements from Mozart concertos 3-5. This first round is designed for musicians to demonstrate "technical clarity and transparent delicacy." It's certainly hard to hide behind Bach and Mozart, as their music is much more "naked" than the later classical and romantic era works.
Opening Day Videos
Recital by 2009 winner Joseph Spacek (1 hour, 10 minutes)
Insiders look at the competition, parts 1-3
Stay tuned for coverage on round I. Round II of the semi-finals is June 5-6. Check the website for more information on the program.