Ovation Press is excited to present a two-part interview with one of our editors: acclaimed violinist and former concertmaster of the Philadelphia Orchestra Norman Carol. This interview was featured previously on our main site but now updated and moved over here to String Visions
Norman Carol is a native of Philadelphia and a 1947 graduate of the Curtis Institute of Music, where he studied with Efrem Zimbalist. He legendary status was cemented in his multi-decade tenure as concertmaster of the Philadelphia Orchestra from 1966 to 1994 when he retired.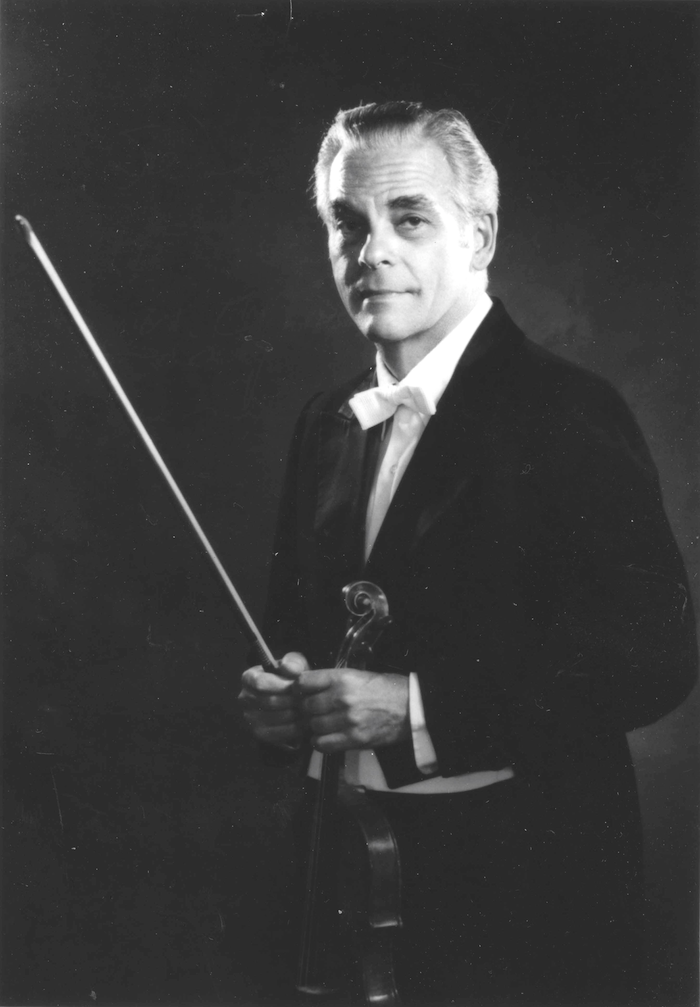 String Visions: Thank you for sitting down with me today. How did you first come to the violin?
Norman Carol: My older sister played violin, and in those early days there was no such thing as a babysitter, so my mother used to take me along to the lessons. My sister's violin teachers saw another 'victim' in me. Thus, I played the violin.
String Visions: Were your parents involved in your musical education?
Norman Carol: They were very much involved. There are some musicians far back in the family, but my father and mother were not musicians. Although my father didn't play nor read music, his whole life was centered around music. He went to all kinds of concerts, and eventually he took my sister and me to concerts. Music was a very important part of his life.
String Visions: How did your musical career begin?
Norman Carol: I started playing at the age of nine, although I don't remember much of it. I did quite a bit of solo playing. I guess everybody has aspirations of a solo career, and I did for a while. However, I soon got married and found out that, if you want to eat and do other things in life, solo careers aren't always as wonderful as they look. From there I decided to audition for an orchestra… eventually I became concertmaster.
String Visions: What are some important responsibilities of being a concertmaster of an orchestra?
Norman Carol: There are so many important aspects to the concertmaster position in the orchestra. I think what is very important is to make sure the bowings you choose are something everybody in the section can play. It doesn't do very much good if only the concertmaster and a few other musicians can play the parts, unless everybody in the section is able to do it. I know in my case I happened to get "struck by lightning" on five different occasions when either a soloist was not able to play or something happened in their family which caused him or her not to play. I was asked to fill in: one time with just a few hours notice. That's part of the excitement of that particular position. In general, I also think the concertmaster has to establish a certain musical regimen in the orchestra which extends to all of its players.
String Visions: How does a concertmaster establish a regimen in an orchestra?
Norman Carol: It is done mainly by how you yourself perform. I don't happen to believe that you actually have to turn around or get up and make a speech to the rest of the section or to the orchestra. I think that leading by example works a lot better–at least I always thought it did. In a major orchestra, as in my case the Philadelphia Orchestra, I think the standard of playing is so high that there is really very little you have to say or do. Occasionally you may want to demonstrate where on the bow something should be played when you see that it is not being played correctly. In that circumstance, you do not even need to turn around, just lift your violin rather high and people catch on fairly quickly.
String Visions: Why are excellent bowings so important?
Norman Carol: I think bowings not only help phrasing in a particular piece, but they also help the sound of the music. In the case of Brahms or Wagner, where there are huge phrase marks which would be impossible to play with just one bow for phrases that long, it is important to bring out the phrase and its quality. It is the concertmaster's responsibility to divide up bowings so that the phrase remains intact while finding better ways of expressing that phrase. Of course, every concertmaster has his/her own ideas of what the bowings should be. In that sense, each phrase is both right and wrong.
String Visions: Did you have a special ritual or warm-up routine before concerts? Did it change over the years?
Norman Carol: I've been retired for a while, but I do remember a certain routine I had. Unlike many of today's young musicians in the orchestra, I always believed in getting to a concert at least an hour before the performance. This was not only to give myself a chance to warm up but to have some leeway in case anything unexpected happened: for example, if someone was sick or couldn't show up for a performance and I had to make adjustments and so forth.
I also have my own routine about playing scales, and all that sort of thing, which I usually do at home before I even go to a concert. It's a routine I started when I was very young, and I still do it today even when I pick up the violin for the first time during the day. It is really too involved to go through here but it has to do with playing scales and listening to the sound, etc.
String Visions: What do you feel conductors and orchestras can learn from each other?
Norman Carol: I think that if musicians are willing to approach every conductor with an open mind, you can learn quite a bit from them, no matter what their caliber. Over a long career, I've played under many very, very good and very, very bad ones. I think – in the case of conductors – if they are really smart themselves they can learn an awful lot from the orchestra too. Especially young conductors who come through and conduct in front of a major orchestra for the first time. They are astounded at the quality of sound that comes out… and some conductors are even smart enough to mention that.
Generally speaking, I think it's a give and take. I think it's a matter of courtesy on the part of the musicians and conductor. As far as the conductor is concerned, most good conductors learn rather quickly that they don't have to talk to an orchestra as much as some of them do. How conductors demonstrate with their hands and body movement is certainly enough for a good orchestra.
String Visions: Can you speak about highlights in your experience with Ormandy and Muti in particular?
Norman Carol: There is a series of what we call "Ormandy-isms" that have made the rounds over the years. He very innocently came up with some rather strange and very funny remarks from time to time like: "who's sitting on that empty chair?" Over the years we've collected these things… However, one of Ormandy's really outstanding skills was his ability to accompany a soloist, whether the soloist was standing in front or sitting within the orchestra. For instance, in my own experience, during all the numerous times we played Ein Heldenleben or other works with huge concertmaster solos, Ormandy was always willing to adjust if I played a little differently one night. Occasionally if a player did something a little tricky, he would even turn around and give you one of his "you thought you could fool me?" stares. But, he was always, always there with you.
In the case of Muti, I really don't know of any other conductor from whom I learned more (and this was at a later stage in my career)… not only about music but also philosophy, history, politics, you name it. He was quite an inspiration on almost every level: musically, because we were able to do a number of concert opera performances with him and he truly understood the meaning of opera, especially Verdi, Puccini, the Italian repertoire. He was quite astounding in his knowledge and how he made even the orchestra rehearsals for opera extremely interesting.
String Visions: What do you think have been the biggest changes in orchestras over the years?
Norman Carol: There is a much greater knowledge of the repertoire today. Young people just generally receive a better and more thorough orchestral experience while they attend school. For example, I teach at the Curtis Institute of Music and not only do we have an orchestra, but also orchestral repertoire classes for strings and woodwind and brass. Usually these are directed by either the concertmaster of the orchestra; in my case it was me, or the leading wind player. Students have a chance to play through orchestral repertoire and study carefully with someone who has been there and played through these pieces a million times. A lot of people who come and audition for orchestral openings are extremely well prepared simply because they were fortunate enough to have thorough instruction and advice.
I often say to young string players who are working on a particular piece that they'd better know this or that specific passage inside and out because this could well be the difference between earning a living or not. When I was younger, it was during the war years and for a time we didn't even have an orchestra because many people were away. I speak for my own background here, but I don't think too many people at that time were fortunate enough to have studied orchestral repertoire and some of the solos that have to be played like Ein Heldenleben, Scheherazade, Le Bourgeois Gentilhomme, etc. When I teach today I insist that my students learn the orchestral solo repertoire along with the regular repertoire of concerti and sonatas, etc. Not only is it a matter of learning something that is extremely difficult, and in a number of cases even more difficult than any concerto, but it is learning something musically interesting as well.
Keep your eyes posted for part 2 of this interview, in which Mr. Carol will discuss more about becoming a professional musician and a concertmaster. Also, to see a complete listing of his music with Ovation Press visit Norman Carol's editor rofile