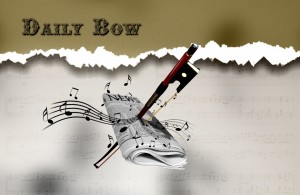 Last week there was gloom about in Minnesota, faced with the Minnesota Orchestra lockout. But while this continues to plague the Twin Cities, the lockout wasn't the only story out there. This one also made some headlines, and is far more what we need to see in times like this.
The article details the efforts of entrepreneur and musical visionary Matt Peiken, who launched a new website last month called MNuet.com, a one-stop shared resource for the Twin Cities' classical music scene. Matt has described this as "the community of classical music online."
The model works like this:
The website functions as an online magazine
Partner organizations – the classical music institutions of the Twin Cities – pay for membership
Their content comprises the core of the website
Matt Peiken works to produce video content to supplement the information from MNuet.com's partner organizations
There is a live performance showcase every month featuring MNuet.com members
An example of a video created for and promoted on MNuet.com

Matt Peiken views this as the best way to bring together all forms of classical musical organizations in the area: from large symphonies like the Minnesota Orchestra to smaller and lesser-known community ensembles.
One of the things I like about MNuet is that the design is such that all the headlines are the same size, all the text is the same size, and all the photos are the same size, so there's no sense of heirarchy. Now because the SPCO has a full season, they're going to have more stories – just by virtue of the fact that their calendar is fuller – but no story has a higher placement on a page because of the size of the orchestra.
Matt, who was a regional editor at Patch.com, has an extensive understanding of the classical beat's coverage in current times. Most media organizations no longer have a dedicated staff write to cover the classical music scene in area. Rather, they outsource this task to freelancers… and it doesn't always get picked up. When it does, the standard of the coverage may not be up to par. While you might see a broadcast of an occasional concert or hear about what the major players are doing, the editorial coverage lacks a deeper understanding of the context in which things are happening within the classical music scene.
That's why Matt Peiken wanted to create a community around classical music in which the members would have a vested interest in working to develop it as well.
Moreover, since many classical music organizations lack a strong online presence, MNuet.com functions as a portal and resource to bring all of their content and information together in a single place, making it easier to access. Through social media and online PR, MNuet.com helps them to expand their audiences.
MNuet.com launched on September 4th last month. Read the full story – MNuet: creating a digital home for classical music
Also check out the website at http://www.mnuet.com/
Other stories from the classical music world