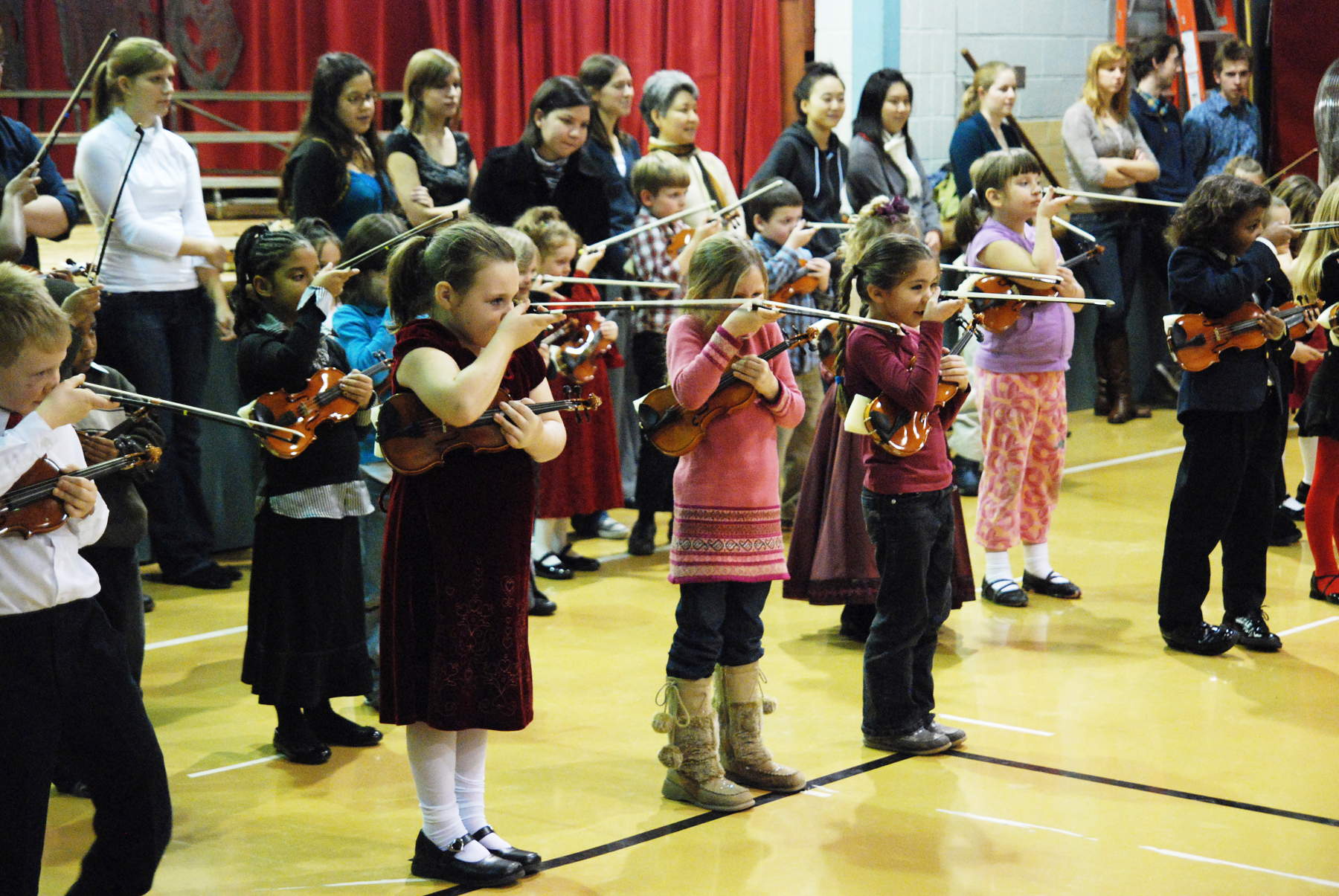 One of the common advocacy arguments used to justify keeping music education classes in the public school curriculum is that children who study music are smarter. Students with four or more years of music study, score significantly higher on the SAT College Board test,[1] with string players having the highest scores among the music students. In addition, research indicates that music students have highly developed skills in collaborative learning, creative problem solving, and the ability to apply learning across various disciplines.[2] The American String Teachers Association reports that a high percentage of string players are typically leaders in classes and activities, members of academic honor groups, in the upper 10 percent of their graduating classes, and are less likely to abuse alcohol, tobacco, and illicit drugs.[3]
As a long-time faculty member in the Indiana University String Academy, a pre-college program for violinists and cellists, I have worked with legions of string students. The children in this program are typically from middle-class families with highly involved and supportive parents. A large number of String Academy students excel academically. Many have been high school valedictorians and recipients of high-profile academic scholarships at prestigious universities.
Observing this trend over many years has made me wonder about the correlation between music and academic achievement. Are string players more likely to achieve academically as a result of playing their instrument, or are brighter students simply drawn to string playing? Does the multi-dimensional learning unique to string playing, develop the brain in such a way that it makes it easier for these students to achieve academically? Or does the process of practicing and problem solving–necessary to succeed on a string instrument–transfer to the classroom? Or is it that most string players come from a socio-economic background that is comfortable enough to allow them to afford an instrument and lessons, and typically includes a supportive parent figure with high educational and musical expectations? Or is it a combination of all of the above elements?
While pondering these questions I began to wonder what would happen if, instead of measuring the level of success of children who had chosen to study string instruments, we researched the cognitive and academic effects of early instrumental study on a group of children who would normally not participate in string education. My suspicion has always been that those who are successful in strings and academics come from families that have high expectations and that provide support for both endeavors. What if we taught the children in a structure in which everyone had the same experience – the same number of classes, same amount of time to practice the instrument, and where socio-economic status or parent involvement would not be a factor in success?
It is with this in mind that I began the Fairview Violin Project in 2008. This project is a collaboration between the Indiana University Jacobs School of Music, the Monroe County Community School Corporation, and Fairview Elementary School. With higher than 90% of the Fairview population living below poverty level, this urban school includes students living in federally subsidized housing projects, trailer courts, and a protective shelter for homeless and abused families. Due to poor attendance rates and low performance on the standardized testing prescribed by the federal government through the No Child Left Behind Act, Fairview had not met Adequate Yearly Progress (AYP) for several years. No children enrolled at Fairview were participating in IU pre-college music classes, making this school an ideal venue to investigate the questions regarding the cognitive/academic effects of string study on children. In addition to providing violin lessons to underserved children, the Fairview Project would also create a lab program for IU music students to become engaged and active teachers. In essence, this collaboration would create a community between the "town" and "gown" population in Bloomington, with music as the glue that binds us together.
[1] College Board SAT, 2008 College-bound Seniors: Total Group Profile Report.
[2] Neuroeducation: Learning, Arts, and the Brain. Dana Press, 2009.
[3] See the advocacy link at astaweb.com.
Next: The Fairview Project –  An Overview
The overview will be a brief description of the organization and its growth in the first three years. This will also set up a regular installment that will follow this year's kids. I will write about the class structure, who the teachers are, and some basic answers to the research questions we have gained, so far.