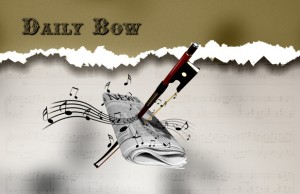 Violinist William de Pasquale dies at 78
String Visions notes the passing of an important figure in classical music last week. William de Pasquale, the former co-concertmaster of the Philadelphia Orchestra, died last week at the age of 78. He was a member of the Philadelphia's violin section for over forty years, serving as concertmaster of the New Orleans Philharmonic before that.
Born in Philadelphia, William de Pasquale was a student of Vena Reynolds at the Curtis Institute of Music. In 1958 he traveled to Salzburg as a Fulbright Scholar to study and play concerts. He returned and eventually joined the Philadelphia Orchestra in 1963. De Pasquale also taught violin at the Esther Boyer College of Music at Temple University and served as a string coach for the Philadelphia Youth Orchestra.
Of all the musical accomplishments William de Pasquale achieved over his lifetime, the most interesting is his chamber music affiliates. William's three brothers were also members of the Philadelphia Orchestra, and the four of them constituted a successful string quartet. The de Pasquale brothers were the sons of a Germantown violinist who wanted nothing more than for all of his sons to one day become members of the Philadelphia Orchestra. That dream finally came true, as can be seen in this short documentary about the brothers that includes interviews with William and one our Ovation Press editors Joseph de Pasquale:
William de Pasquale is survived by his wife, Gloria, a cellist in the Philadelphia Orchestra, their daughter Francesca, a violinist, and his brothers.