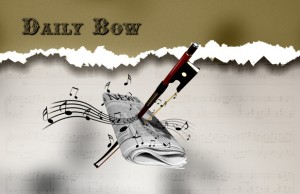 Composer Ben Houge Stages Opera Based on Consumption of Asparagus
At a restaurant, music is usually an indicator of how much you'll be paying for the meal. If you're hearing the radio blasted overhead, you're probably getting a casual bite to eat. If a violinist is walking around serenading you while you dine, there's probably caviar on the table as well. In both cases, however, music is just in the background. It helps create an atmosphere rather than serving as the focal point of the meal.
But what if the music and the menu could be combined into one experience? That's what composer Ben Houge attempted to do last week, when he staged a one-night-only performance of his Food Opera: Four Asparagus Compositions. Collaborating with Boston based chef Jason Bond, Houge wanted to explore the possible relationships between food and music by writing a piece that would describe what the listener was eating.
One number, for example, described super-caramelized white asparagus, bran ash, sesame jelly, lemon mousseline, and ginger cake. The short composition has hints of sweetness in it, with an overall woodiness that suggests the toughness of the jelly. In order to complement the meal completely, Houge wrote all four pieces with an algorithm. Rather than a piece written within a certain time period, the algorithm allows the music to evolve as the dinner progresses, ending when the diners have finished eating.
While Houge's Food Opera is not likely to become standard dining practice anytime soon, it does suggest an interesting idea. Why should music sit in the background while we eat? Just as cooking is a celebration of our sense of taste, music can be a feast for the ears. Pairing asparagus with music changes the public's perception about what abstract, wordless music can be. It's not just about dead composers and lavish concert halls. Music is a living thing that can affect our daily lives, and combining it with eating—something we do every day—can remind us of that. While listening to Houge's composition on super-caramelized white asparagus, I was surprised at how unusual it didn't feel. The piece didn't remind me of any specific elements of asparagus; however, I could definitely imagine eating while listening to it. There was a certain mood that the music put me in, and I felt as if the sounds I was hearing could have awakened my tastebuds to possibilities I might not have noticed before in asparagus. Check out some clips and take a listen for yourself!