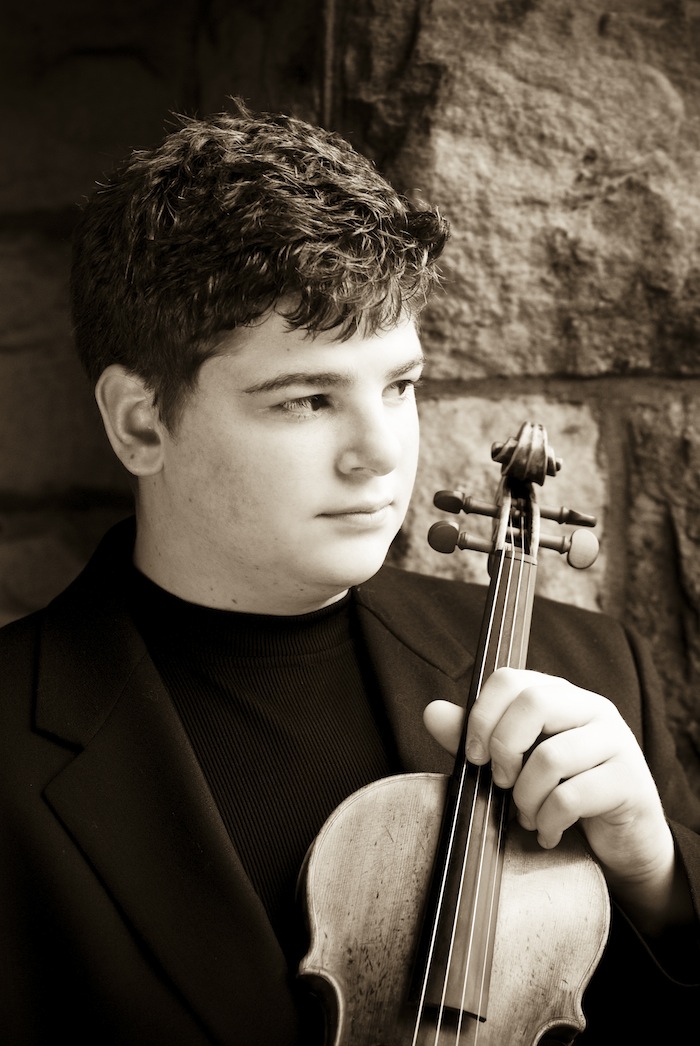 At age 16, Chad Hoopes already possesses the kind of technical mastery, ease of expression and joyful talent that come along only once in a generation. He has performed with numerous ensembles throughout the world including the Cleveland Orchestra, Minnesota Orchestra, Pittsburgh Symphony, San Francisco Symphony, Brussels Chamber Orchestra, Orchestra of the Welsh National Opera and Trondheim Symphony.
During the 2010-11 season, Chad performs with orchestras throughout North America, including a re-engagement with the San Francisco Symphony and a gala concert with the National Arts Centre Orchestra under Pinchas Zukerman. Recent European appearances include Vivaldi's Four Seasons at the Tuscan Sun Festival in Cortona, Italy, and recitals in Italy and Germany. Following his debut at the Menuhin Festival in Gstaad in August 2009, Chad received an immediate re-invitation and appeared again this past summer. He was subsequently re-engaged and will make his third appearance there in Summer 2012.
Beyond the concert hall, Chad's virtuosity and exuberant personality have been featured on the CBS Early Show, NBC affiliate station WKYC (Cleveland), NPR station WCLV in Ohio, ABC affiliate station KSTP Twin Cities Live, and on PBS's From the Top: Live at Carnegie Hall. He was the soloist in the Emmy Award-winning June 2007 television commercial for the Cleveland Indians Major League Baseball team produced by SportsTime Ohio Network, which aired on NBC, SportsTime Ohio and ESPN. Chad was one of the featured artists in the Cincinnati Pops Telarc recording released in 2009, a collaboration with NPR's From the Top.
Chad began his violin studies at the age of four in Minneapolis with Nancy Lokken and continued with Sally O'Reilly at the University of Minnesota, and later David Russell and David Cerone at the Cleveland Institute of Music. He currently studies with Joel Smirnoff and William Preucil at the Cleveland Institute of Music. He was a student in the ENCORE School for Strings for four summers and has also studied at the Kent/Blossom Festival, the Bravo School for Strings, the Meadowmount School for Music, and with Pinchas Zukerman at Ottawa's NAC Young Artists Program. In April 2008, he won first prize in the Young Artists Division of the Yehudi Menuhin International Violin Competition.
In addition to his solo engagements, Chad performs in a trio with his two sisters; they appeared live on From the Top in 2007 and have been featured twice on The Early Show, on WCLV radio, and on WVIZ TV in Cleveland. Chad is also active in the Boy Scouts of America, having advanced to the rank of Eagle Scout. He plays the 1713 Antonio Stradivari Cooper; Hakkert; ex Ceci violin, courtesy of Jonathan Moulds.
Watch Chad's feature segment on CBS News
Watch Chad's feature segment on The Early Show
String Visions: How do you think we can help inspire people to go to classical music concerts?
Chad Hoopes: In my opinion, classical music is slowing fading out of this new generation. These days, it seems that only elderly people attend classical music concerts. I want classical music to sustain through time and in order for this to happen, we need to get the current generation involved and interested in classical music. I am a strong advocate for outreach programs and I always visit local schools wherever my concerts are. In addition, I always give free tickets to all the kids who attend.
String Visions: What role do you see classical music playing in the world, and what role do you see yourself playing into the future?
Chad Hoopes: I want this new generation to be aware of the importance of classical music and the positive effect the arts have on the community. In the midst of natural catastrophes, wars, and contention, classical music is a positive and uplifting thing. It is a constant thing that anyone can rely on for comfort and joy. Classical music replenishes the mind and soul. Pablo Casals even once remarked, "Perhaps it is music that will save the world."
String Visions: What do you think we classical musicians can do to help broaden the appeal of classical music?
Chad Hoopes: I think it would be an incredible thing if we could bridge the classical music world with the pop world. Connecting these two worlds would broaden the appeal of classical music, because it would make classical music seem more "cool." Also, I just think it would be loads of fun to collaborate with pop stars.
String Visions: I'm very impressed with how someone at your age is able to keep 3 to 4 concerti under your belt at any given time. How do you do this?
Chad Hoopes: I have to say, this can be very challenging at times, but it is definitely possible! I have a review system in which I am constantly reviewing upcoming concert repertoire and bringing back old repertoire.
String Visions: If I may ask a personal question now, how many hours a day would you say you practice on average?
Chad Hoopes: Of course, it depends on the day, but on average I practice four to six hours. If I include lessons, rehearsals with my pianist, chamber music, and performance class, it can be up to eight hours of playing a day.
String Visions: It's amazing to me that you are able to maintain a concert career and still go to high school. How does this work?
Chad Hoopes: This is definitely the hardest part of my career. I have attended an incredibly flexible school which allows me to work one on one with my teachers. I also have a tutor that helps me stay up on everything that I miss.
String Visions: What would you say have been the biggest factors in how you developed your virtuostic technique?
Chad Hoopes: I give so much credit to my mentor and teacher David Cerone. He helped me develop my technique by making me do tons of Etudes when I was younger. I continue to practice Paganini, but most of my Etude work is done. Mr. Cerone was always extremely generous with his time and is somebody who truly cared about me not only as a violinist, but as a person. I will always remember him as the pivotal teacher in my career.
String Visions: What is the very first thing you do when you are first given the music to a piece?
Chad Hoopes: The first thing I always try and do is find a great recording of the piece (preferably, Heifetz, Milstein, or Rabin). I go through the piece slowly and then I make sure I know what style the piece should be played in. I always look forward to getting advice and help from my teachers. Most importantly, I try and make every piece I play, my own.
String Visions: When you are practicing how do you master difficult spots in a piece?
Chad Hoopes: Slow and steady wins the race.
String Visions: How often do you practice with a metronome?
Chad Hoopes: On average, I use the metronome 2 to 3 times a week.
String Visions: How would you say that you prepare the week before a concert?
Chad Hoopes: I play through the concert repertoire at least once a day for either my family or friends. I work slowly through the repertoire. In addition, I focus on other repertoire at the same time so my concert repertoire stays fresh. I make sure I know exactly what the orchestra is doing. Also, when I am playing through a concerto, I pretend that the conductor is right next to me so I can practice cueing and watching.
String Visions: How do you prepare the day of a concert?
Chad Hoopes: I make sure I have plenty of sleep, and I never eat a meal before I perform. I feel like I focus better on an empty stomach. I eat bananas before a concert and drink water and Green Machine Naked juice.
String Visions: What are some goals of yours in the future?
Chad Hoopes: Of course I want to continue my concert career on a more intense level. I also look forward to recording repertoire. One of my biggest goals however, is to always be a motivation and inspiration to my audience.
String Visions: Have you experienced any funny or humorous incidents in your music studied or when rehearsing and performing.
Chad Hoopes: I am very blessed to be able to say that my mom is my travel partner. I could not ask for a funnier person to accompany me. Last summer we were traveling throughout Europe and we had just landed in Geneva, Switzerland on route to Gstaad. When we got to baggage claim, my mom realized that our passports were missing. My mom was absolutely frantic. She thought that they might have fallen out of her bag on the airplane, so she called security in hopes that they might be able to look for them on the plane. Sure enough, she had left them on the airplane, and we were quickly reunited with our passports. Of course, I have many stories, but I would be writing all day if I were to mention them all.