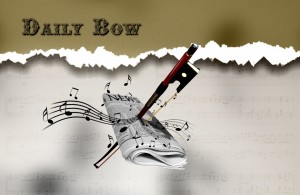 Today the Cazenovia Counterpoint music festival begins. Presented by the Society for New Music, this annual event runs through Saturday July 23 and features the "creative energies of regional poets, artists, composers, and musicians." Performances during the festival showcase a variety of different talents and art forms.
Cazenovia Counterpoint has chosen as its theme "arts in the natural world, ear to the ground and eyes toward heaven." says Pilgrim. The organizers of the event hope that the community artists will remain in the area to continue uplifting and empowering others.
Fest organizers are ready to introduce the premiere of a children's musical, sound and video installations, art exhibitions and poets. Rising Stars, a regular festival program, features the works of young composers and performers. It continues to be an important cornerstone of the fest.

The works of sound artist Douglas Quin and electro-acoustic artist Samuel Pellman will be representative of this theme. Quin will present "Austral Soundscapes," with its focus on stories and soundscapes of Antarctica. Pellman will premiere "Selected Nebulae," a surround sound and video installation inspired by images from the Hubble and Spitzer telescopes.
During the week and a half of the festival, a variety of musical perspectives will converge. For example, composer Paola Marquez brings her own very unique perspective to participants and audiences:
The Colombian born composer says jazz supplied her with chords, colors, chromatism and rhythms, "especially funny and funky a little bit."

This is Marquez's second involvement with Cazenovia Counterpoint's Rising Stars program. She is busy throughout the year teaching at Syracuse University's Setnor School of Music and will be involved in the start of the Young Musicians Project at Cathedral Academy at Pompei.
In keeping with the festival's theme, Chris Kaufman another composer immerses his listeners through the sounds of nature.
Kaufman has composed music, used nature sounds and invited artists to splash images on screen to accompany the piece's four movements, "Oceans," "Transition Into Night," "Industrial Storm" and "And the Earth Is Our Spiritual House."

Whales, wind, shorebirds, bats, bear growls, pile drivers will be heard.

"These are specific sounds that I grabbed, took out, cleaned and then put into my (computer) program like a giant loom where you weave these sounds, tapestries of sounds. You wouldn't hear these in nature," says Kaufman. "Those sounds act as backdrops for the musicians."

Kaufman, who received his doctorate in musical arts from Cornell, harvested some of those natural sounds from the university's Lab of Ornithology.
String Visions is excited to follow this event and we encourage you to check out more about the festival!