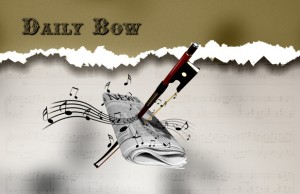 Master Instruments Fall Short in Blind Test with Modern Counterparts
As we saw last week, one does not simply acquire a multi-million dollar Stradivarius cello. Only the privileged few will be able to perform on such instruments, and only the lucky will be able to keep them for their entire lives . Unfortunately, the opportunity to acquire an expensive instrument through an outside donor is a wild fantasy for most of us. And while there are many high quality instruments out there that do not bare the names of great Italian masters, string players are still faced with a difficult dilemma as they approach the beginnings of their careers: do I need an old instrument in order to compete with other players?
Emerging research is saying, rather emphatically, "No." In an article recently published in the New York Times, violinists in a blind test presented with six violins—a Guarnerius, two Strads, and three modern instruments—were asked to pick which instrument they preferred by sound alone. Of the 21 violinists present, only 8 picked the master instruments. While this doesn't mean that a Guarnerius  violin is a worthless pile of garbage, it shows that they are not really in a class of their own.
Scientific advances in the understanding of instrument structure and composition have fostered great leaps forward in the quality of modern string instruments. One of the many successful luthiers out there today whose violins compete with Strads and Guarneris is Sam Zygmuntowicz. Based in Brooklyn, this modern maker's new instruments sell for about $55,000 each. That price is nothing to scoff at, but it's certainly easier to swallow than $6,000,000. When addressed with issues of whether to search for an 0ld instrument or stay more current, Zygmuntowicz had this to say:
"Don't ask the question 'What makes a Strad great?' " he said. "Ask the question 'What are the attributes of great violins, and what makes this violin different than another?' "

"The thing about believers is they just believe," he said. "For those who are privileged enough to be selling them or own them or buy them, there's no incentive to disbelieve it."
The master instruments that we hear being played by soloists like Itzhak Perlman and Yo-Yo Ma didn't become renowned by name alone; their incredible sound played a significant role in their rise to prominence. The point is that these instruments are not frauds robbing us of our hard-earned money, yet we don't need go deep into debt to acquire a high quality instrument. There are so many luthiers out there who put their lives into making instruments, and as the techniques these makers use become more and more advanced through the use of modern technologies, you might be doing yourself a favor by investing in the Stradivarius of the future. So don't assume you have to sell your soul to sound like a pro. Listen carefully and pick the violin that truly fits you as a player, and you'll have a long and happy career.