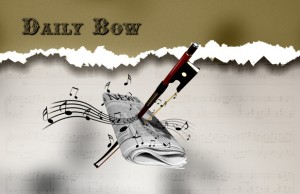 Classical music is serious business.
It's serious music played by serious people in serious places. Even when the music is fun, it's serious. The most levity concerts often get is that familiar "oh-how-clever" chuckle from the audience after a piece ends with some cute pizzicato. Otherwise, by and large, the genre is a pretty straight-laced one. Classical music organizations all over the globe are looking to break out of that "dead-white-men" role: they're getting edgy, hip, flashy, and even sexy, all in the name of casting off the dark mantle of stuffiness and reeling in hot new audiences. In an age in which image and packaging can make the difference between artistic life and death, classical music is playing the game. But–and this is where it's still losing people–it's all still serious. Instead of being tuxedo-and-country-club serious, it's now television-drama serious. Everybody's still taking themselves pretty seriously, but in a hip, trendy, and too-cool-for-school kind of way.
Not everybody has always taken it so seriously.
If you're a musician like me, you probably grew up in a household that involved at least one or two of the great classical music comedians of the past half-century or so. I grew up watching Victor Borge's PBS television special and had them memorized from practically the cradle, and my family listened to British comedienne Anna Russell's classic introduction to Wagner's Ring Cycle (along with her "How to Write Your Own Gilbert and Sullivan Opera") on long car trips. We listened to Dudley Moore's old sketches and watched PDQ Bach videos til our faces hurt from laughing, and the more we learned about music as we progressed, the funnier it all was. It seems that, when it comes to classical music and comedy, most of the best mixes of the two happened a generation or two ago, and it's all golden memories now. There are a few great acts out there right now (Igudesman and Joo are completely hilarious), but the sillier side of classical music–and the people who were willing to take themselves a bit less seriously–seems to have given way to all of this dramatic, slick new packaging. So why are we all so serious, when we'd all have a better time (and get better press) if we could laugh a little?
In my time as an undergraduate performance major at Rice University, I made sure to go to the annual Halloween concert, which was put on by students in honor of PDQ Bach. While it was probably not the best concert in terms of musical content (the ad-hoc kazoo choir performing quite a few too many minutes of Strauss's "Also Sprach Zarathustra" comes to mind), it was by far the best time we all had as a community, because it gave us a chance to celebrate our knowledge and our talent in ways that were engaging and unbelievable (the bassoon studio's performance of "Thriller" on Renaissance sackbuts). Classical musicians are always up for a good time. I know that, you know that, your friends who are classical musicians all know that. But somehow the party gets lost in translation.
So why does it seem that the classical music /comedy niche is so empty these days? It wasn't always so. In fact, it has been steadily occupied for generations before ours. Even in pre-Nazi Germany, The Comedian Harmonists lit up the scene before being destroyed by Hitler's racial laws, giving audiences funny lyrics and performances paired with–crucially– fine voices and master song-writing abilities. Later there was the incomparable Gerard Hoffnung, whose drawings turned into a series of comedy concerts that have never been forgotten. Dudley Moore and his biting take on Peter Pears's singing, Anna Russell's "Wind Instruments I Have Known," and Victor Borge's unbelievable piano riffs on everything from Mozart operas to "Happy Birthday" all combined world-class playing talent with side-splitting comic instinct, and their audiences held everyone from the classical music enthusiast to the next-t0-clueless layperson.
Only, there weren't a whole lot of clueless lay-people about in earlier generations. Classical music was more of a mainstream cultural institution, and people knew enough, by and large, to get the jokes. Looney Tunes's immortal "What's Opera, Doc?" short even uses melodies from the real Wagner operas, because people knew them. Igudesman and Joo are fantastic examples of what today's generation can produce, but you don't see them as PBS pledge-drive fodder. All of these acts marry fantastic playing skill with humor, and this is hard, world-class work. My mom always said when she watched Victor Borge with us, "You have to be really good to mess around like that," and she's right. These are talented people and they're making us laugh. Everybody loves that. So what gives? Where's the funny these days?
It seems that a good time and popularity go hand-in-hand. People want to have a good time just as much as they want to be emotionally transported, and they want to have a good laugh at themselves as much as they want a good second-movement cry. It seems that the dearth of classical music comedy today is the product of a classic chicken-and-egg situation. The greats of classical comedy existed, for the most part, in a society that was more imbued with classical music (Borge even had a TV hour), and their humor, which simultaneously taught about real music, poked fun at the institution, and entertained, made the real thing more palatable, accessible, and fun. Being in the audience at a concert was now like a big inside joke that everyone could be a part of. But times are different now. The bloom of classical music as a mainstream cultural force has been rapidly supplanted by thumping beats, electronic music, and mindless pop songs, and the chasm between what is pop culture and what is classical music is much greater than it was, say, fifty years ago. No wonder the funny people in classical music keep it to themselves–who's going to watch them? Who's going to get the joke? If no one but your own family understands your humor–and we're a big, big classical music family–you might not want to put yourself out there to entertain the rest of the world.
But it's this very reticence, this reluctance to take up the legacy of the Borges and the Russells and the Moores, that has helped push classical music, ever so quietly, into its staid little corner in the popular consciousness. When the universal appeal went away, the comics went away, and now there's not enough fun in classical music…which keeps the masses at bay, when we want them in our audiences and in our hearts. Maybe it's time to let the comedy come back into classical music. Maybe it's time to have a good time, look a little ridiculous, poke fun at ourselves, and in doing that, bring some new bodies into the community by making them laugh and teaching them a little something through the jokes. After all, you catch more flies with honey then with vinegar, and you'll make more friends with laughter than with lectures. Funny musicians in the world, please stand up and make yourselves heard!
We want to hear from you about this topic. Share your thoughts with us by completing this short survey: