Interview with Tokyo String Quartet Cellist Clive Greensmith
Part 1 of 2
Cellist Clive Greensmith has been a member of the Tokyo Quartet since 1999. A graduate of the Royal Northern College of Music and the Musikhochschule in Cologne, his principal teachers were Donald McCall and Boris Pergamenschikow. He has held the position of principal cellist of London's Royal Philharmonic Orchestra. As a soloist, he has appeared with the London Symphony Orchestra, the Royal Philharmonic, English Chamber Orchestra, Mostly Mozart Orchestra, Seoul Philharmonic, and the RAI Orchestra of Rome. He has collaborated with distinguished musicians such as András Schiff, Midori, Claude Frank and Steven Isserlis, and has won several prizes including second place in the inaugural "Premio Stradivari" held in Cremona, Italy. His recording of Brahms Sonatas with Boris Berman was released on the Biddulph label. Mr. Greensmith has served on the faculties of the Royal Northern College of Music, Yehudi Menuhin School, San Francisco Conservatory of Music, Manhattan School of Music and is currently on the faculty of the Colburn School in Los Angeles.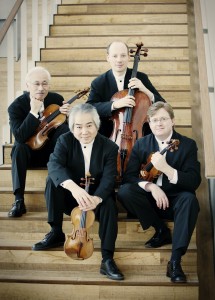 The Tokyo String Quartet
Note: This interview was conducted by Dr. Nick Curry, Associate Professor of Cello at the University of North Florida, on behalf of Ovation Press. Dr. Curry's biography can be found below. 
Ovation Press: What was it like starting out as the principal cellist of a major orchestra? What did you take away from the experience of settling into the job?
Clive Greensmith: Well, I remember it was a tough period for me. I was in my late twenties when I won the job with the Royal Phil. My approach with virtually every new work was to learn and then internalize the entire score. I was so worried that I was going to commit all manner of different mistakes that I'd sometimes memorize the whole score. Before receiving tenure, I was on trial for several months. The music director at that point was Daniele Gatti. And so having won the chance to lead the section for him, I was up for my first rehearsal at the Barbican Hall in London. We began with Mahler Fourth. I was so glad that I'd prepared well because he was just relentlessly picky right from the first note. Zeroing in on the cello section, he wanted different fingerings to produce all kinds of different colors. He wanted different bowings and articulations. He was testing me, and if I hadn't done that preparation, I would have been at sea. Several years later I saw him publically berate a violinist who was in for a co-principal job, sending him home because he just wasn't prepared. The other thing I would say is, learn first how to play with the section. The section does not like it when you come in and act like a sort of 'Young Turk', imposing your will. I think it's better to seek consensus and to accept the fact that many people are much older than you and more experienced. They've certainly played these pieces a lot more than you have. So, learn to play with the section–that's hugely important. Another thing for the principal player is to be prepared for the short two-bar solos. There's nothing more frightening for the orchestral principal cellist. The long ones are actually easier, because you have a chance to settle into them. I never found the William Tell solo too tricky, but for example, Elgar–the Enigma Variations–the big solo is hard enough, but there is a little three-bar solo earlier on in the piece, which has the octave shift going up to the E. It seems small and insignificant on the page, but it's actually really hard. So practice everything, not just the stuff that seems hard. Perhaps this seems like an obvious point, but I often found myself thinking, "I wish I practiced this a little bit harder."
And it's fun. You'll enjoy it all the more if you know the whole score. You become kind of like your own conductor, with a heightened sense of awareness of everything that is going on in the score and that's surely a great thing. It could be the second bassoon or the tambourine – anything that gives you a sense of where you are in the piece, particularly with complicated scores. If you know what to listen for, then you'll be okay. Another overlooked subject, which caused me some grief early on – leading pizzicati. There is an art to a well-timed pizz and one's ability to follow a beat, and bring the section with you. Experienced principal string players seem to have a sixth sense, a kind of radar that senses danger and helps the conductor avoid an accident before it's too late! I have to say Frank Miller was extraordinary in this regard, at least from what I can tell having studied several films of the NBC and Chicago Symphony.
Ovation Press:  You started your career as Principal Cello in the Royal Philharmonic, and you've just finished 14 seasons as the cellist for the Tokyo String Quartet. Did you make changes to your playing style when you moved from your position in the Philharmonic to the quartet?
Clive Greensmith: I don't think I changed on a fundamental level as an instrumentalist, but looking back, I now see that my outlook as a musician really evolved. I'd played a good deal of chamber music before I joined the ensemble—so I actually felt very at home in the Tokyo Quartet. It suited my style more. I had sometimes questioned whether I really had the resilience to be an orchestra principal in London, with it's famously demanding working routines. I felt a tremendous sense of responsibility in the orchestra, leading the section knowing that I had to be completely on top of things at all times. I recall a lot of a stress from that fact that we were typically given very little rehearsal time in London. In the quartet, there were different kinds of challenges. My wife was kind enough to say that my intonation improved, which was a good thing! The purity of the sound, the clarity of the articulation, the clarity of passagework, the reliability of your playing securely is heightened in a string quartet. There's nobody else there on the bass line. Also the sort of subtle nuances that you make in your playing are multiplied. You have to become more flexible, malleable, more sensitive with your sound, and you have to be very good at knowing when to come in and out of the texture. My natural default mode seemed to be in a quartet. Perhaps the biggest musical development I felt was when the quartet began to tackle the more profound works in the repertoire i.e. the late Beethoven Quartets, the big Schubert works and of course the Bartok cycle. One of my high school teachers always told us that any great novel that we read changes us, and I really felt the same impact as I began to experience the inner world of these composers, revealed to us through such powerful, yet intimate music.
String Visions: You said that your intonation improved when you started playing with the quartet. Once you joined the quartet, how did you work on intonation as a group?
Clive Greensmith: By the time I joined, the quartet had already been going for 27 seasons, so former members of the group could have provided you with a clearer answer of how they began the life long challenge of fine group intonation. However, I can certainly share with you some of our common practices. There was of course a lot of slow work, building up of chords, using the drone, and I have to say, even just tuning the instrument changed. I realized I had to tune with tighter fifths. We used to play at A 443, and over the first couple of seasons I asked if we could bring it down because I didn't think that the Strad cello that I'd been given to use resonated well at A 443, especially in the dry New York winters. We came down to A 442 – big deal! There was a lot of debate about expressive intonation. Our approach was perhaps rather middle of the road, but we did devote a lot of time also working in pairs. The balance and cooperation between the two violins is really crucial. Of course I heard it in our quartet, when the viola and cello weren't quite in tune, but when the fiddles weren't in tune one really heard it. I hasten to add, we were all equally guilty, but it's a question of tessitura. So there was a lot of work involving the two violins pairing off together and sometimes just turning up early and taking 15 minutes to work with a colleague alone, or staying behind after the rehearsal. Vibrato is crucial. That's one thing that changed [when transitioning to quartet playing] – from the last question. The width of the vibrato: it became more and more apparent that I needed to provide a truly centered sound. I think in a way it purifies one's tone, playing in a string quartet. If one likes to use a lot of open strings, one has to be so careful not to apply vibrato in a casual way. Damn those Mozart unison themes!!
Ovation Press: Speaking of vibrato, what about matching vibrato or different bow strokes: did you work on that in specific ways or was it mostly by just listening?
Clive Greensmith: I think when the group's working well and everybody's sensitive to the environment and to their colleagues, a lot of it takes place subliminally. You're automatically adjusting to the sonority and the character of the music, adjusting your sound. There were periods of conflict, I remember. Four people can easily have a completely different concept of a passage and even the innate character of an entire movement. After musical disagreements there was inevitably a lot of soul-searching. I think we had to work very hard to agree on left-hand nuance. People have habits that go back many years. I remember one of my colleagues and I discussing vibrato, and he told me that at one point he had a rather fast, narrow vibrato and that he'd worked very hard to overcome that, and I had no idea about that before he joined the group. Then it came up in a rehearsal in a Shostakovich Quartet, and it quickly became a very personal matter. Perhaps it's like the baggage that finally arrives when you meet somebody midlife, and that happened in our group. There was no right or wrong way; just an approach to sound and nuance that makes players true individuals. Vibrato – maybe that's the most personal trademark of any string player, or one of the most personal, so we worked a lot at that. And my vibrato changed as I explored many new colors as the group endeavored to refine the tonal picture. I am still horrified to look back at times when I thought my left hand color was perfectly controlled, only to listen to a recording the next day when the evidence told me otherwise!
Ovation Press: What are some of your own impressions from the work you've done with the quartet over the years?
Clive Greensmith: The overriding feeling is of deep gratitude to have had the chance to work on this sophisticated, challenging repertoire. You're getting the very best, the crown jewels, from all the composers that decided to work with this medium, and so I like to think you're going to grow as a musician no matter what, and the chance to have many repeat performances is a luxury that I'd never experienced before in a chamber group. You gradually realize things after performance number 10, 15 or 20, that you might never have discovered if you weren't given that broad expanse of time. And then, the rehearsal process can sometimes seem laborious and time-consuming, but it's also really intriguing. You learn a lot about the craft of playing the cello, the craft of playing with others, the social aspect of living together so closely in this monastic lifestyle shared with only three other people. You learn how to cope onstage with the stress of maintaining your form. You learn how to prepare quickly, rehearsal technique, time management. You learn just about everything you could possibly need as a musician. You learn in the study of these pieces and the presenting of these pieces and communicating them to an audience. You also learn how to explain yourself in rehearsal. You learn how to defend an idea, you learn how to listen to somebody else's idea, and you learn how to compromise. And you also learn some very practical things, like how to look at an edition, to compare an old edition to a new edition, and when there are inevitably questions that aren't answered by either edition, how to solve a particular problem. All the skills you learn playing chamber music: tuning, timing, control of sound, understanding of harmony. You learn about what works in a hall, which is such an important thing.
Ovation Press: You're moving from New York to L.A. to join faculty of The Colburn School teaching cello and chamber music. Are you thus making teaching a more important part of your career now?
Clive Greensmith: Yeah, I'm really excited about that. I'm so lucky to be moving to Los Angeles to be at the Colburn School. We went to the school as a quartet three years ago and had a wonderful time. I studied with Ronald Leonard – former principal cellist of the LA Philharmonic and one of the founders of the Colburn School, for a month at Aspen in 1985, and I have always respected his playing so deeply. I've always marveled at his craftsmanship as a player and his dedication, his commitment to music and to the instrument, to teaching and his knowledge of the orchestral rep, solo rep, chamber music and his tremendous experience. There's a sense of excitement in finding an older colleague, a great artist from whom I can learn so much. I feel like I'm the lucky one to be able to still keep learning from new colleagues. The school is still undergoing some exciting changes. It's just 10 years old, and there's a sense of idealism there–and my colleagues really want to see the chamber music program evolve. It's already very good. The school already boasts wonderful ensembles – the Calder and Calidore Quartets. I'm also really looking forward to working with my own students and having my own studio. I'll still perform a good deal, but I know already that the schedule there will be more…humane–and I'll be able to devote more time to everything that I do. I'm very excited. I love Los Angeles, and I love the downtown area. I'm very excited to be part of a school that's really still developing. We were at Yale for 14 years in the quartet, and it was a great feeling to be part of such a well-established institution. The Colburn School is different. It's much younger, and so there's a sense of almost being a pioneer, with an emphasis on creativity, innovation and idealism. I like that. I feel ready to teach–to be a better teacher. I would like to share everything that I have learned in the quartet with younger players, and I'd like to give them the strength and the confidence to become better musicians. I love teaching, I really do. I might even say that in the long term, it's more rewarding than performing, because you are hopefully able to make a lasting difference to other people's lives.
Ovation Press: Your time is more available now, of course, because of the end of the quartet as an entity. How did you go about choosing the program for the last concert?
Clive Greensmith: Well, we had to be quite practical because we were very busy that last season. The whole year was crammed full of different dates and a wide variety of different repertoire. We had a cycle of Bartók to finish, and we had requests from promoters and festivals all over the world to play specific pieces. There were new commissions. So in the end it boiled down to, what had we been playing for most of the season, but also what did we feel strongly about from that pool of pieces? Our group always enjoyed Bartók, and we'd performed the cycle at the 92nd Street Y in New York. The 6th Quartet, which we'd been playing a good deal, was a natural choice. We'd toured with it in Australia and in Japan. We also had profound pieces such as the Schubert G Major and Beethoven op 131 – terrific ending pieces and arguably the most sublime in the entire repertoire. So in the end we decided that Bartók 6th had to be there, because we loved the piece and felt so strongly about it. The work seemed so appropriate for the final moments of our own quartet, the final quartet of Bartók's cycle. It has a sense of melancholy to it, a sense of looking back. Not to try and sound too clichéd, but there's something kind of bittersweet about it, and that seemed very appropriate for the quartet coming to its 44th season and then finishing. We've always played a lot of Haydn, and there's no better Haydn Quartet than Opus 77 No. 1, a late work from a composer who was at that point in his 60s – the same time of life as our wonderful middle voices, Kazu and Kikuei. And then, following some rather heated discussions, we settled on the Debussy Quartet.
Keep watching for Part 2 of this enlightening, thoughtful interview.
About Dr. Nick Curry
Dr. Nick Curry is the Associate Professor of Cello at the University of North Florida. He is a founding member of Trio Florida with violinist Simon Shiao and pianist Gary Smart, featuring new compositions as well as timeless classics. From 2004-2007, he served as the professor of cello and the cellist in the Rawlins Piano Trio at the University of South Dakota.
Nick received his Bachelor of Music from Vanderbilt, where he studied with Grace Mihi Bahng. While at Vanderbilt, he served as Professor Bahng's teaching assistant and was the recipient of the Jean Keller Heard Award for Excellence in string performance. Nick then served as Hans Jorgen Jensen's teaching assistant for five years at Northwestern University, where he earned his Master of Music and Doctoral degrees. He also was the teaching assistant to Professor Jensen at the Meadowmount School of Music for four summers.
Nick has played in master classes for Lynn Harrell, Ralph Kirschbaum, Paul Katz, David Geber, the Emerson String Quartet, the Pacifica String Quartet, and the Blair String Quartet. Private studies have also included lessons with Harvey Shapiro, David Finckel, and John Kochanowski. He has presented in national conferences for both ASTA and CMS as well as regional and state conferences and is a sought after clinician, adjudicator and plans special projects for the state chapter of the American String Teachers Association. In 2012, he was awarded the Collegiate Leadership Award by Florida ASTA.
In the summers of 2012 and 2013 Dr. Curry was visiting faculty at the Meadowmount School of Music and was full-time faculty at the Tennessee Valley Music Festival. In February 2014, he will be on faculty at the Tennessee Cello Workshop.