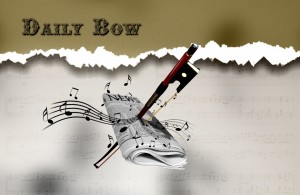 We've looked at how classical music is a powerful force for change beyond the concert hall, but we're not the only ones exploring that same idea. The Atlantic recently ran a great piece looking at the impact classical music can have on society more broadly.
History is replete with examples of classical music acting not as a passive reflection of the times, but as a force for social change. Dmitri Shostakovich, arguably the greatest composer of the 20th century, so frightened and infuriated the Soviet regime with his works that according to biographer Elizabeth Wilson, "he waited for his arrest at night out on the landing by the lift, so that at least his family wouldn't be disturbed."

If classical music has declined in cultural influence, nobody has told the concert hall. The tradition of Beethoven and Verdi and Shostakovich is set to continue at the Kennedy Center on May 22nd, when the Choral Arts Society of Washington and the Tampere Philharmonic Orchestra present the world premiere ofSeven Songs for Planet Earth by Finnish composer Olli Kortekangas.

Now, it seems, more than ever, it is impossible to consider the natural world without thought to the BP oil spill in the Gulf of Mexico, or the ongoing nuclear catastrophe and tragic loss of life in Japan. Seven Songs for Planet Earth is a reflection on nature and its fragility, and is a call to action.

"Any work of art," says Mr. Kortekangas, "whether it's realistic, abstract, or even conceptual, is an act in itself, more than doing nothing, and can serve as an example, can stir the listeners' imagination, evoke emotions."
What do you think?
What is the role that classical music should have in transforming and empowering communities?
What else is classical music ideally suited to do?
Send us your thoughts via the comments section below