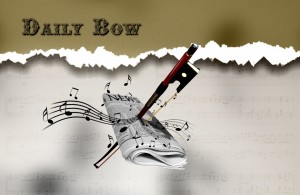 A classical record label still holds great power in the professional world of music, despite an age of the Internet and free downloadable music.
Recently, classical record label RCA further immortalized the legendary violinist Jascha Heifetz, releasing yet another "complete" collection of Heifetz's work… now consisting of "103 CDs, one DVD and a 310-page hardback book with essays, indexes and photographs…"
RCA has mined its Heifetz discography many times over, most recently in 1994 when it reissued his entire commercial output in a 65-CD omnibus called "The Heifetz Collection." Now that the RCA and Columbia vaults have a single owner, Sony Classical, an even bigger storehouse of Heifetziana has appeared: "Jascha Heifetz: The Complete Album Collection…"

…It's enough to transport fiddle fanciers to an extended stay in musical Nirvana.

Of paramount interest are three CDs of recordings Heifetz never approved for release. These include a noble Brahms Violin Concerto from 1937 conducted by Serge Koussevitzky; a 1945 Chausson "Poeme" withPierre Monteux conducting; and chamber works by Bach, Beethoven, Schubert, Dvorak and others. (One hopes these eventually will be released singly.) The only missing items are two CDs' worth of encore pieces Heifetz recorded for Decca from 1944 to 1946; these DG has reissued under separate cover.
The premier authority on record-breaking achievements (Guinness World Records) calls the new collection of Jascha Heifetz the "greatest number of audio discs in a boxed set of classical recordings by a single instrumentalist."
One of RCA's competitor isn't standing still. Just two days ago Naxos of America announced it would start distribution for three labels in America and Canada.
Navigator Records – home to many ground-breaking artists on the UK roots and folks scene today.

Grammy® Award-winning Yarlung Records – brings fresh musicians to the classical music world using minimalist audiophile recording techniques to deliver sound as close to live performance as possible.

K&K Verlagsanstalt – the publishing house of the German producers and artists Josef-Stefan Kindler and Andreas Otto Grimminger, specializing in acoustic music, concert recordings, and visual art.
The Internet, iTunes, and mp3s are growing, but don't count the classical record label out yet!