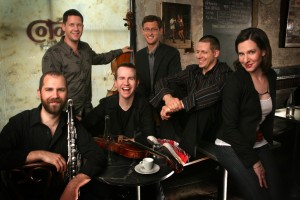 As we move into the summer season, String Visions will begin showcasing feature articles on artists (individuals and groups) who embody Visionary. These are professional musicians, educators, thinkers, and entrepreneurs who are transforming their communities and the lives of those they touch. They have much to offer, including mentorship for us to learn how we can make a bigger impact.
Contemporary music takes flight under the care of eighth blackbird (their name purposely spelled lower case). Founded in 1996 at the Oberlin Conservatory of Music, the Grammy award-winning contemporary music sextet has made a name for itself as a premier commissioner of new works and ideas. They remain steadfast in their mission to "(debunk) the myth that contemporary music is only for a cerebral few."
eighth blackbird takes its name from Wallace Stevens' poem "Thirteen Ways of Looking at a Blackbird." Through its virtuosity, skill, and excitement, the ensemble has brought in fans of all ages, a not-so-inconsiderable challenge in modern times. eighth blackbird offers "new music that you can bring home to your mother." Their ability to appeal to wide audiences through the sparkle and energy of their playing, along with theatrical flair, makes them indispensable in today's classical music scene.
The Chicago-based sextet has been featured in the New York Times and NPR's All Things Considered, as well as a number of other outlets such as Weekend America, CBS News, and The Next Big Thing. Last month the Washington Post ran a music review on eighth blackbird:
If you thought contemporary classical music was thorny, academic stuff — well, okay, a lot of it is. But there are plenty of serious composers writing exciting and accessible music as well, as the hip, young ensemble eighth blackbird proved on Friday night at the Library of Congress. The group had titled the program "Still Life," but it was hard to find anything still or even slow-moving about it; this was some of the most kinetic, exuberant and purely pleasurable music to be found anywhere.
Winning a Grammy says enough, but even that doesn't represent the full scope of eighth blackbird's significance. The New York Times piece linked above states that "you can measure a new-music group's success by the composers it commissions." eighth blackbird's growth and development is reflected in who it collaborates with, indirectly a sign of who has chosen to honor the group.  As a major promoter of new music, eighth blackbird has premiered works by prominent composers such as George Perle, Joseph Schwantner, and Stephen Hartke. Recently, musical organizations in eight different cities joined together and commissioned composer Jennifer Higdon to write a concerto specifically for eighth blackbird.
For a new music ensemble there is perhaps no greater honor, and flautist Tim Munro played an instrumental role in the project's creation and development. Higdon herself had some uneasiness about the project early on:
Higdon said she was "terrified" to take on a project with almost no precedent or model to follow. But between the allure of writing for Eighth Blackbird, a group she admires… she had little choice but to plunge into the unknown.
eighth blackbird is a group willing and eager to be a part of the unprecedented, which is what has made them successful. It was this artistic entrepreneurship that these musicians displayed in managing themselves early on until they hired Chris Richardson as a separate manager. They apply this self-sufficiency, drive, and passion in their extensive collaboration with students and professionals all over the world, including Chicago, Liverpool, and Melbourne.
Outside of its exceptional reputation as performers, the ensemble is also in high demand as educators. eighth blackbird is very active in teaching young artists about contemporary music. They have conducted master classes, festivals, and outreach activities around the country through the Aspen Music School System, La Jolla Chamber Music Series, and more. The sextet served as Music Director of the Ojai Music Festival in 2009. eighth blackbird also has an impressive residence program with experience and networks at the Universities of Richmond and Chicago.
A true front-line champion, eighth blackbird is a transforming the way audiences young and old(er) understand and appreciate contemporary music.
—————
Lessons to learn:
Don't wait for someone to come along and promote or manage you or your group. In order to get anywhere, you have take matters into your own hands. You are responsible for getting out there and making yourself known. Once you have established a degree of success, you may consider hiring a separate manager (like eighth blackbird did).
Be willing to experiment with things that haven't been tried before. Part of being a visionary is seeing where trends are going and taking risks on them.
eighth blackbird is so successful because they brought in new audiences. Find a way to connect with people who have not been captured by traditional styles, groups, or marketing.
Networking with the big fish in your industry is always important. In this case, the New York Times piece said it perfectly: "you can measure a new-music group's success by the composers it commissions." When you grab the attention of a major established composer, you can ride the coattails of their success and reputation. One of the reasons Kronos is so highly-regarded is because they are in the position where everyone wants to have that quartet commission their works… in other words, they can (and do) turn people down.