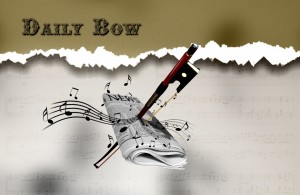 The seduction of classical music… a powerful phrase indeed. In their book The Art of Seduction, authors Robert Greene and Joost Elffers talk about the power of attraction and how a successful seduction works.
Successful seductions rarely begin with an obvious maneuver or strategic device. That is certain to arouse suspicion. Successful seductions begin with your character, your ability ro radiate some quality that attracts people and stirs their emotions in a way that is beyond their control. (pg. 23)
The laws of seduction in this passage highlight something very powerful, that people are attracted and stirred "in a way that is beyond their control."
What is it about the music that draws us in? Sometimes it is the innocence and purity of the melody; other times perhaps the excitement and vigor of the rhythm.
But there can be no denying that we are also attracted to that which is disturbing. In their most recent issue, Strings Magazine has a fascinating article on a new album from visionary Julia Wolfe. Wolfe co-founded Bang on a Can, which we mentioned in last Friday's Daily Bow, and is known for drawing upon a range of contemporary styles and fusing them together in her music. Her latest album, Cruel Sister, embodies just the sort of darkness that ironically appeals to human nature.
Haunting and disturbing, yes, but decidedly captivating. In the hands of the Hamburg-based Ensemble Resonanz—a supremely gifted 13-piece string orchestra—this richly textured 30-minute piece is taken to the edge of madness and carried on a sonic wave of seemingly endless glissandi, plucky pizzicato, and machine-gun repetitions.
Julia Wolfe's Cruel Sister is a perfect example of how music is used to explore a variety of complex subjects. In this case, the name Cruel Sister comes from an old English ballad of the same name. The story is one of two sisters, representing the polar opposites of light and dark. Although the dark sister drowns her good counterpart, she lives on in music when two minstrels who find her dead body washed ashore create a harp out of her breast-bone. Cruel Sister embodies the human qualities of greed, jealousy, love, and hate.
Cruel Sister, from Wolfe's website
New York Times article on Cruel Sister
The seduction of classical music refers to a power that the music has to give life to a human story with human emotions.
In what ways does classical music draw you in?
What are you attracted to (or repelled by) when listening to the music?
How can this power of classical music be used to promote, expose, explore, or decry certain topics?
How SHOULD that power be used?