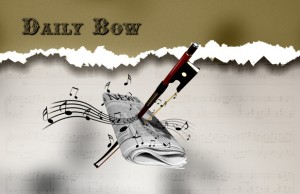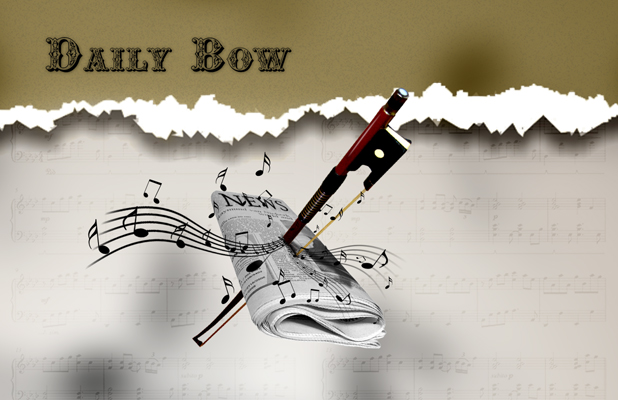 In yesterday's Daily Bow we linked a piece of particular interest about violinist Rupert Guenther. Described as a "a rare combination of classical musician and revolutionary who has pioneered a new style of playing that has gained the rare accolade of being accepted by the musical establishment," I felt that this story deserved its own treatment and exploration.
Here at String Visions, we've been very interested at the idea of the musical visionary, one who is impacting classical music through innovation and impacting the lives of others through classical music. These visionaries come in many forms.
Is Rupert Guenther a revolutionary as he has been described? Or rather, is he somewhat of a reactionary? And if so, what is it (if anything) that makes him a visionary?
"I am able to show new possibilities in classical music," says the violinist, who will demonstrate his new technique in a concert of impressions of Gustav Klimt's Beethoven Frieze with his sister, cellist Penelope Gunter-Thalhammer, at the National Gallery of Victoria on Friday as part of the Winter Masterpiece exhibition, Vienna: Art & Design.

Guenther specialises in musical improvisation, a technique usually associated with jazz. "It is the fruition of many years' fermentation that is geared around a unique process," he says. "It allows classical concert artists to create new work from scratch, provided they are well prepared."
The idea of improvisation may be famous from jazz, but it has much more ancient roots, going back to pre-Medieval music when music was rarely transcribed onto hard copy. Improvisation was the standard for many chamber musicians and keyboardists during the Baroque era. And for the solo performer of the early classical, one of the most striking marks of musical creativity was the cadenza of a concerto, of which one was expected to showcase improvisational skill. Although mandatory improvisation in concerti and other early works is no longer widespread, the roots of such a skill far predate the more contemporary movement of jazz.
So when Mr. Guenther combines musical improvisation with the modern classical concert, is he a revolutionary or a reactionary? And whichever one, is he a visionary?
A self-confessed maverick, Guenther grew up in Melbourne listening to pop and classical music, sneaking into the Rolling Stones' 1973 gigs at the Kooyong Stadium one week, watching Yehudi Menuhin perform the next.

While studying violin at the Victorian College of the Arts he became interested in improvisation. He began experimenting – first with a guitar, then with the violin – while his traditional classical education continued, including several years studying in Vienna and playing in the Vienna Chamber Opera.

"I developed this technique out of a journey that started with my dissatisfaction with classical music," he says.
The last phrase could be considered key: "dissatisfaction with classical music." After all, isn't that why String Visions is here, to fulfill an unsatisfied gap in the world of classical music?
Yet perhaps at times we are too quick to jump on anything that perhaps looks shiny and new and label it "revolutionary." Bringing back older styles and labeling them as new might be better thought of as a reactionary move. But reactionary has a implication of "backwardness" which isn't at all what Mr. Guenther's efforts should be thought of as. And when one integrates something old, the result can be something completely new, a synthesis of ideas from different points in time that now — because of context — form a modern innovation.
And in the end, if we are true to definition of visionary, the measure of its worth is best judged by how much it impacts classical music and to what degree it touches others.
What do you believe are the essential qualities of a revolutionary musician? A reactionary musician? A visionary musician? Are they all one in the same? Or are they only one in the same in certain contexts?
Do you think that Rupert Guenther's musical pioneering is truly unique and revolutionary?
If so, why?
If not, why not?
These are open-ended questions. There are no right answers in this because it is a matter of perspective, much like art and music.