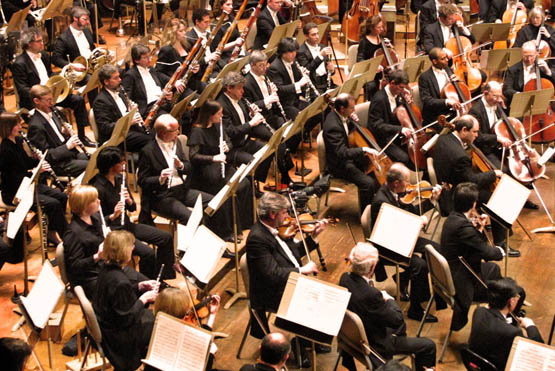 One of the most important places to be proactive about injury prevention is in the orchestra.  When you are part of a large ensemble, you don't always get to decide when to take breaks, relax your aching muscles, or go on tour.  When it comes to preventing injury and maintaining your health, you have to be twice as vigilant as you might be on your own – because, let's face it, you're not in charge.
In the words of Janet Horvath, author of Playing (less) Hurt, the conductor "is in the driver's seat."  If you are in a car, you are at the mercy of the person who is driving.  In the orchestra, the conductor holds this position of control and authority.  Just to be clear, that does not mean that it is the conductor's fault if you get injured.  He or she has a lot of other things to worry about.  But it may take extra effort to gainsay this authority when you are trying to prevent an injury.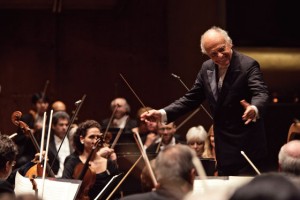 When you arrive for a rehearsal, what do you do?  If you have the good fortune of arriving 20 minutes early, you may have time to warm up, arrange your music, and do a few stretches.  But what if you get stuck in traffic, or have to drop off your child at school beforehand?  You slip into your seat as unobtrusively as possible, and start playing.  Even if your hands are cold and you didn't get a chance to prepare your body, it is time to begin a symphonic marathon.
Why?  It is part of being a member of an ensemble.  Sometimes you have to sacrifice your own needs for those of the group.  But that does not mean you have to give up ALL of your personal needs.  It is important to stand up for yourself and your rights as a musician.  If you do not take care of yourself and your body, you will have a hard time keeping up with the group.
Here are some tips for staying healthy in the orchestra:
If your ensemble does not have a union, form one.  Having a union is the best way to have an influence on the decisions being made by those higher up in the chain of command.
Arrive to rehearsals and performances early so you can warm up and prepare your body for the demands that will be placed on it.
During rests in the music, feel free to stretch from where you are seated.  There are a number of stretches you can do that will allow you to loosen up your muscles without drawing attention to yourself.
When you have a scheduled break, take advantage of it.  Get up out of your chair, stretch, and walk around the room.  Don't use this time to do passage work – your mind and body both need to rest!
You can also modify your environment to make it more comfortable:
Adjust the placement of your chair and stand so that you can see the music and the conductor without having to twist or strain your body.
Make sure you have a comfortable seat.  Many orchestral players add back support and extra cushioning to their chairs to ease long hours of playing.
Protect your hearing.  Hearing loss is a serious issue among musicians.  Plexiglass shields should be placed in front of percussion, wind, and brass players to protect the hearing of those in front of them.  This is especially important if you are sitting near the back of one of the string sections!  You can also acquire custom-fitted earplugs for musicians that will dampen noise levels while still allowing you to hear the music.  The orchestra's management should be providing this protection.  If you are in a union, hearing protection needs to be part of your contract.
For more information about preventing injury in an orchestral setting, I highly recommend reading Janet Horvath's Playing (less) Hurt.
Can you think of any rehearsal or performance situations where you placed the needs of the group above your own?  What are some ways that you can help yourself and your fellow musicians stay healthy in an orchestral setting?