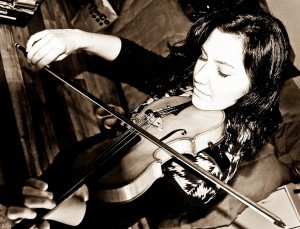 Kriszti Bunica: A Musician
's

Health Activist

As discussed in "Musicians' Health Promotion: A Grassroots Effort", the actions of one individual can make a difference in a community.  Violinist Kriszti Bunica is a fine example of  such a person, whose abiding interest in the field of musicians' health is paving the way for other musicians to learn more about rehabilitation and injury prevention. Bunica is currently studying Music Education at Pacific University in Forest Grove, Oregon, and in the last few years, she has become deeply involved in the field of musicians' health.  In the interview that follows, Bunica tells how her first exposure to this field has led to a career in which the passionate focus of her efforts is the health and well-being of musicians.
Kriszti, how did you first become interested in musicians' health?
Bunica: I first became interested in musicians' health when I realized that there was a discipline titled "Performing Arts Medicine."
 How did you foster this interest?  What resources did you access to find out more about musicians' health?
Bunica: I fostered this interest by researching various terms to find any type of information that I could about my medical condition and my injury. I had visited many doctors and specialists who all had some idea of a diagnosis; however, the treatments were addressing symptoms rather than the source of the pain. I read books and researched the authors.  In some cases I would email them directly asking for their advice for both my personal rehabilitation and for my career options.  The research led me to conversations with experts in the field, and ended with me returning to school to finish my degree in Music Education.
Tell us about what you've done to promote musicians' health at your university and in your community.
Bunica: I have joined a number of clubs at my school to advocate for musicians' health.  I try to bring awareness into each of these already recognized and established clubs by representing musicians and the need for musicians' health. For example, I am a member of the Exercise Science club, the Pre-OT club, Music Club, and am part of the MENC local chapter. Each of these clubs has something they can offer musicians' health, and I participate actively to encourage growth in musicians' health awareness.
What advice could you give someone who wants to start an injury prevention program?  What's the first step?
Bunica: First step, research what is already happening locally. You will be surprised at how much information is already out there and there is no point in trying to start something from scratch when you could be furthering and helping manage and develop what is already available.
Back in February 2011, you attended the MENC (National Association for Music Education) Northwest Division Conference in Bellevue, Washington.  Could you share some of your impressions about the conference?
Bunica: One very important mission I had for the conference was to seek out health–related workshop lecture topics and try to find health professionals offering their services for music educators. What I found was one vocal health workshop topic and a chiropractic booth. I was disappointed to not see any workshops addressing health for instrumentalists, even as an awareness issue, let alone a prevention plan. I did not find any booths set up with information about injury prevention or injury rehabilitation. I was able to find a few books in the bookstore addressing the health of playing instruments or singing. However, I feel that I was only able to find it because I was seeking for it specifically. Something about how hard I had to work to gain this information made me uncomfortable about the opportunity for gaining knowledge for musicians' health at such a conference. Perhaps this is because injury prevention aims to target seemingly healthy musicians who do not understand the importance of preventative medicine in direct relationship to their occupation. What I would like to see is more of a proactive approach from both the medical and musical worlds to addressing the awareness of musicians' health. This is something that I will continue to address proactively wherever I go, as a current rehabilitating musician and a future music educator.
In Part 2 of this interview we will find out about Kriszti's current projects and her vision for the future of musicians' health.