This is a guest post from Jaakko Ilves, Violin Department at Sibelius-Academy in Helsinki, Finland
Some thoughts about Florian ZaBach one of the great violinists of the 20th century, specializing in pop and jazz styles…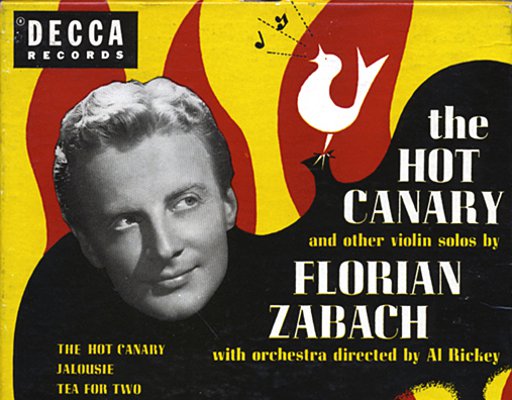 Florian ZaBach (1918-2006) first studied with his father (a clarinet player with the Vienna Philharmonic). He would later study in the Chicago Chicago Conservatory and in Prague. His debut came at the young age of 12 with the Chicago Symphony, performing the Mendelssohn concerto.
ZaBach appeared regularly on widely-viewed television shows, including Ed Sullivan, Milton Berle, Red Skelton and the Tonight Show. After moving to Hollywood he filmed his own program, the "Florian ZaBach Show," which earned him a star on the Hollywood Walk of Fame.
ZaBach was one of the great violinists of the 20th century, specializing in pop and jazz styles. After hearing his recordings in New York, I, with the kind help of Professor Jensen (a Juilliard student in the early 1970's) wrote him a letter of admiration and soon received a kind reply-note and his famous version of "The Hot Canary."
There are a number of interesting aspects and qualities in ZaBach's playing. One of the most striking is that his clarity of articulation is on the same level as Oistrakh, Heifetz and Milstein. On the other hand, he also has some very personal dimensions to his playing. Aided by his famous 1732 del Gesu violin, ZaBach played with an expressive, clean, and mellow sound which almost seemed to talk to the listener. His romantic melodies evoke thoughts of Bing Crosby and Dean Martin. And along with his mastery of rubato, his style resembled that of Stephan Grappelli – not in the perfect intonation of Grappelli but in his technical flair and the variety of rhythmic liberties. Ironically, some of ZaBach's playing is slightly out of tune, yet somehow seems to fit the mosaic of colors in his palette.
Certainly this was not something I minded at all! His skills as a violinist are those of a prodigy: speed, control, articulation, sound… it's all there, along with fantastic pizzicato technique and harmonics.
His recording of "The Hot Canary" sold a million copies and reached the top 15 on the Pop charts in 1951. Ripley's Believe It or Not timed his performance of "The Flight of the Bumblebee" and discovered that he played 12.8 notes per second faster than any known violinist in history!
ZaBach's other instrumental talents included a mellow singing voice and virtuoso whistling! For today's violinists, listening to ZaBach means stepping back in time to the age of personal violin playing: freedom of expression including sound, dynamics, rhythm and even intonation, all guided by great musicality and intuition.
Most of ZaBachs recordings can be heard on YouTube!
"The Hot Canary" performed by Florian ZaBach
[vsw id="WrojPd_7gA4″ source="youtube" width="425″ height="344″ autoplay="no"]
It is interesting that one of the most famous tangos ever written, "Tango Jalousie," was composed by the Dane, Jacob Gade. Here is Florian ZaBach's great recording of the work.
[vsw id="iRXMG2Di9nY" source="youtube" width="425″ height="344″ autoplay="no"]