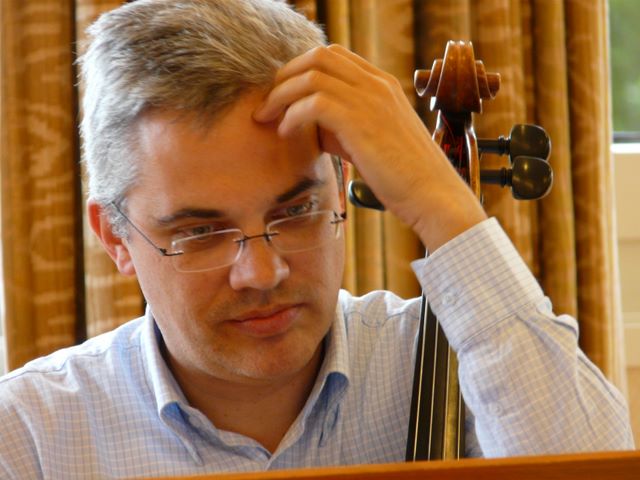 This is the final installment of our interview series with Lucas Fels. Mr. Fels wraps up our discussion on contemporary music, sharing his thoughts on his personal challenges with genre. He concludes by offerring some advice for future professional musicians interested in new music.
SV: As an expert in contemporary music, you are constantly doing things that are new and different. Are some things still really challenging for you? What kinds of challenges have you come across recently?
LF: This Sixth Quartet by Ferneyhough was a really big challenge. It was great. It was marvelous, in every sense. Of course, other times it can be silly. I got a piece by a younger composer, a solo piece. Lots of it is just silly. But then you have to find a way to discuss it with him or find a solution. Because sometimes it's physically not possible. I mean, you know, sometimes you can't play a low or a very high note. Sometimes I play with my chin. Last year, I played a piece by James Dillon, from Minneapolis. And there was a double stop: D on the C string and a high A on the G string, which is impossible. So I played with my chin! But I saw it on a video. It looks very funny.
SV: There is so much new music being written these days— how does your quartet go about picking repertoire?
LF: Lots of it is picked by promoters. Of course, there are composers that you hear or you know, and you say, "Oh, we would like to have another piece of yours." So we work to get a commission for him or for her, but normally a lot of it is the promoters. And then, of course, you do have classics of the second half of 20th century: like Ligeti, like Xenakis, like Nono, Lachemann, all these kinds of pieces are already classics. So they are standard repertoire now for us, we play them a lot all the time. We do a lot of work with young composers in all sorts of places, everywhere in the world we go. Sometimes not concerts but just reading pieces or workshops so they have the chance just to show us things and we try them and we discuss pieces. You really meet lots of young people and interesting people then.
SV: Do you have any advice for the next generation of cellists, especially for those of us interested in new music?
LF: Be open to try things or explore things you have never done before. That's the main thing. Just recently a friend of mine asked, "why would you recommend to young musicians to play contemporary music?" And I said I think it is quite boring nowadays not to play contemporary music because always in music history till the beginning or middle of the 19th century, musicians took up always new pieces, and they had no idea what it was about in the first moment. It was like always exploring the instrument, like developing something new on the instrument.
Suddenly, in the second half of 20th century, people just played repertoire and always went down the streets people had gone down before. And I think we too should be able to do something which is new, which we do for the first time. Why only play things or do things people have done before as a musician? I mean, if you go to a museum, you see pictures you have never seen before, or if you read books, you read about things you don't know. But as musicians very often now, people play the same repertoire, and they have heard it many, many times and they know it very well, which is fantastic. It's fantastic repertoire, of course it is. And you find new ways of doing it, but I think we should be able as well to explore our musical wisdom and everything in our technical abilities to do something, if not new, at least different. Outside of what we already know.
It's great if we have the chance to work with composers. Very often, composers say, "I'm going to write for him or for her, and so I'll try to add something he or she will really struggle with, something really difficult or something I think he'll be able to do well." It's the tension of doing something challenging you've never done before and you never thought you would be able to do. I mean, if you look for the first time at a Ferneyhough quartet like this, you think it's perfectly impossible. Just forget it, you know? There's no way. But then you start working with it and you find a way… you never come to a hundred percent result but there's a point you can really feel, that's the music.
This concludes our interview series with Lucas Fels. Having taught regularly at various conservatories and recorded over 30 CDs with solo and chamber music works, he remains a highly renowned artist and champion of new music. You can learn more about him and his work on the main website of the Arditti Quartet.
If you wish to start this interview series from the beginning, please see part 1.