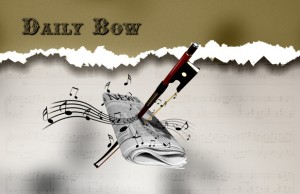 Salastina Music Society Reinvigorates Classical Music with Innovative New Approach
I'm a music major. Naturally, I love going to concerts. The problem is I can't go to all of them. If Hilary Hahn, Yo-Yo Ma, and the Emerson String Quartet all come to town and  give recitals, I can't go see all of them. One of the reasons is that I just don't have that much time to spare. The concerts themselves are so long that I can't really justify going to all of them. If I have a paper due the next day in Music History, there's no way I can get to the concert hall, watch the two-hour long program, and get back to campus in time to do the homework. The pace of modern life, unfortunately, requires us to make scarifies.
But what if most of the pieces on the program were under 15 minutes? The Salastina Music Society sees the length of concert programs and other features of classical music performance as obstacles to the genre's popularity. As a new up-and-coming group, they seek to make classical music accessible to people of all ages by breaking some of the boundaries that, in their view, are shrinking audiences. They play pieces that are part of the masterworks list, but also modern ones that they chose for their accessibility rather than their complexity; they love to interact with the audience rather than keep them out of the performance entirely.
A great example of their new approach is a concert they gave last week in California. The only work on the program was Schubert's String Quintet in C Major, D 956. Between each movement, they provided audience members with information that they might find helpful for connecting with the coming music: a modulation, where a new theme comes in, what Schubert might have been thinking or trying to illustrate when he wrote that particular movement. Audience members were also free to clap whenever they want, as to avoid the awkward feeling of not knowing what the proper concert etiquette might be.
Salastina is leading the way for the future of chamber music. With audience numbers shrinking and a general lack at interest from youth in classical music, String Visions has always applauded those who are bold enough to break with tradition. Practices change. The way we go to a concert now is very different from how it was in the 18th century. If classical music is going to remain relevant to our entire culture and not just a select portion of society, then we need to modernize the concert hall so that audiences won't feel intimidated. Salastina does just that, and they're not afraid to try just about anything to bring classical music to a wider public. Check out their touring schedule to see when you can try a different kind of concert!