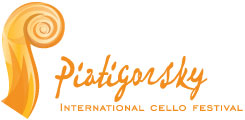 On Friday, March 9, the Piatigorsky International Cello Festival kicked off with a phenomenal opening concert featuring seven distinguished international artists "coming together" (the theme of the festival) with a festival orchestra comprised of musicians from the Los Angeles Chamber Orchestra, USC Thornton School of Music and The Colburn School.
Dr. Lars Hoefs is on location at the festival and provided a fantastic report about the opening concert:
---
The University of Southern California's Bovard Auditorium was the scene for tonight's spectacular opening concert of the inaugural Piatigorsky International Cello Festival. Celebrated by his former students and honored by the University where he taught, the influence of that storyteller of the cello Gregor Piatigorsky resonates as fully today as when the great man put bow to string.
Artistic director of the festival and USC Piatigorsky chair Ralph Kirshbaum has managed to bring together the University of Southern California's Thornton School of Music, the Los Angeles Philharmonic, the Colburn School, and the Los Angeles Chamber Orchestra in this extraordinary collaborative event, running from March 9-18, injecting Los Angeles with a welcome overdose of cello artistry in the form of 22 big-shot cellists as well as young artists from every continent save Antarctica.
Tonight's festival opener offered Vivaldi's Double Concerto, both Haydn Concerti, Saint-Saens #1, and the American premiere of a Double Concerto by Thomas Demenga, all magnificently accompanied by the festival orchestra made up of players from the Los Angeles Chamber Orchestra and students from USC and Colburn, conducted by maestro Hugh Wolff. After an opening address by Kirshbaum and a cell phone warning for KUSC's radio broadcast, the festival kicked off with Vivaldi's Concerto for Two Cellos in G Minor, RY 532 featuring a pair of local soloists, LA Philharmonic principal cellist Peter Stumpf and UCLA cello professor Antonio Lysy. Ensemble between the two was impeccable, and both supplied lovely ornamentation in the Largo. Stumpf impressed with remarkable physical strength and ease.
Second on the program was Haydn's Concerto in D Major featuring Chinese cellist Jian Wang. Performing the Maurice Gendron edition, Wang was spellbinding in the outer movements, changing on a dime from rhapsodic extroversion to inner calm and simplicity, and exhibiting glimmering technique. Less successful were the Gendron cadenza at the end of the 1st movement, which Wang raced through, and the Adagio, where Wang frequently indulged in juicy vibrato and romantic tone which simply don't make sense in Haydn in this day and age, especially when accompanied by an orchestra so stylistically irreproachable, as was the case tonight.
Rounding out the first half was the Saint-Saëns Cello Concerto No. 1 in A Minor, Op. 33 performed by Armenian cellist Narek Hakhnazaryan, gold medalist of the 2011 Tchaikovsky Competition. It was a revelation to hear this work in the context of a chamber orchestra. The development section of the 1st movement, and the entire second movement, came to life as genuine chamber music-making. Hakhnazaryna possesses excellent technique and lightness of touch and is at his best in faster tempi, as the lightning-quick finale illustrated. His youth and inexperience were most evident in the drooping second theme of the first movement, which lost all line and phrase; but with his quicksilver technique and confident boyish charm, Hakhnazaryna easily won the crowd and returned for numerous curtain calls. Near the end of the second movement, a light above the first violins blew out with a boom, leaving a small cloud of smoke in its wake. The musicians weren't fazed in the least. If only the production crew could rig a light to blow out in synch with the opening orchestral chord of the Saint-Saëns – that would make for a dramatic entrance of the cello…
After an intermission of celebrity cellist sightings, where I spotted Frans Helmerson and Ronald Leonard on my way to the men's room, the second half of the program began with more speeches. A representative from the American Classical Music Hall of Fame officially inducted Gregor Piatigorsky, the award accepted by four of Piatigorsky's most distinguished students: Terry King, Laurence Lesser, Jeffrey Solow, and Raphael Wallfisch. Lesser spoke graciously, and read a brief statement from Piatigorsky's 100+ year-old widow, Jacqueline Piatigorsky, who understandably was unable to attend. Next on the bill was another Double Concerto, but a marked departure from the Vivaldi. The American premiere of Thomas Demenga's "Relations" Double Concerto for two cellos, percussion and prepared piano was a breath of fresh air on an otherwise traditional non troppo evening. Swiss cellist Thomas Demenga composed the work for himself and his brother Patrick, but Patrick was unable to attend the festival due to an illness (I heard the rumor of strep throat at intermission) and so Sayaka Selina played in his place. The work makes use of a variety of rarely-heard cello effects: alternating pizzicati behind the bridge with left-hand pizz produced an intoxicating mbira, or African thumb piano texture; both cellists played large sections in unison without vibrato and astoundingly precise intonation; and perhaps most striking, each cellist occasionally sustained a double-stop while singing a third pitch with straight tone voice. Demenga demonstrated his unique and fantastic technique, and Selina proved the ideal substitute partner. The orchestra had in fact relatively little to do, while USC Doctoral student pianist Nic Gerpe and LA Chamber Orchestra percussionist Wade Culbreath were kept quite busy, Culbreath even shouting nonsense syllables.
The program ended with Haydn's Concerto in C Major performed by French cellist Jean-Guihen Queyras. This was an extraordinary performance, some of the best playing I have ever heard or seen, anytime, anywhere. Queyras was in such command of the instrument and the work, creativity and freedom radiating out in a joyous celebration. He seemed so at ease, so carefree, as though improvising his phrasing, while at the same time maintaining absolute technical perfection. His cadenzas were sensational, dramatic and potent – I can only assume he composed them himself. The Adagio movement kept moving along at a brisk pace, and the final Allegro molto lit up an already ecstatic USC crowd. Queyras himself jumped off the cello podium at the end to assail concertmistress Margaret Batjer with kisses, an attack she couldn't disdain in the least.
Dr. Lars Hoefs is a guest contributor at String Visions. Check out one of his previous articles for String Visions – Brazil, Bach, and the Cello. You can learn more about him at his website – www.larshoefs.com