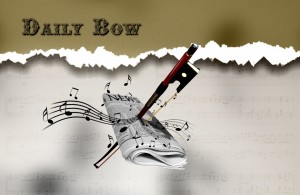 If you are a parent who has desired to see your child(ren) play a musical instrument, you already know a great deal about the nuances and complexity of going about this. NPR Classical recently had a fantastic story that breaks down the issues of walking the fine line of encouraging an appreciation and interest in classical music without turning into the drill sergeant they are only looking to rebel against.
Today we're asking a delicate question: What's the line between nurturing a kid's innate love of music and morphing into the classical music version of a mom on Toddlers and Tiaras?

The potential for parental overdrive lurks in every extracurricular activity. You don't need to go any further than your local T-ball or soccer field on any given Saturday morning to see that. But when it comes to making music, and maybe even classical music in particular, it feels like the level of competitiveness can rise even higher. (Thanks again, Amy Chua!)

Some From the Top families have lived in those trenches — and emerged with good advice.

…

16-year-old From the Top pianist Hilda Huang says that some of the best kind of familial support isn't necessarily the obvious kind, like helping to finance lessons and instruments or shuttling kids to rehearsals. "Parents are best as cheerleaders and, of course, as loving parents," Huang says. "But some support, like the not-so-obvious things like providing quiet during practice, is always nice and comforting."

However, Hilda offers a note of caution as well. "Often, parents who are musicians themselves can get too caught up in their child's musical development," she says. "Living vicariously never did people too much good."

The other side of the coin is when parents don't play an instrument or sing themselves, but still want to be an active presence. Maybe then it's about sharing recorded music you love (in any genre), or going to concerts to learn more together; in the Suzuki model, parents are actually encouraged to learn the instrument along with the child.

…

So how do you help the child see making music as a great creative outlet rather than as fuel in an (imaginary) ascent to the top? Judy Merritt has some wisdom that elevates performance from feats of rote muscle memory to a higher plane.

"My two very different musically gifted children have taught me that if the child feels the emotional expression, then playing and practicing will be about learning and perfecting the language of the heart. Playing will have more meaning," Merritt says. "The best musicians, whether children or adults, are the ones whose heads, hearts and bodies are all connected in musical expression."
Read the full article – How Do You Encourage Your Kid Without Being A Crazy Stage Parent?
Other stories from the classical music world
From the Violin Channel's Facebook page:
'Young Artist of the Week' | 20 year old Japanese virtuoso Tatsuki Narita is quickly building a reputation as one of classical music's brightest young rising stars | A student of Svetlin Roussev at the Conservatoire Nationale Superieur de Paris, Tatsuki is a former grand prize winner at the RNCM Manchester International Violin Competition – and was last month awarded 2nd prize in the prestigious Queen Elisabeth International Violin Competition