Today I have the pleasure of presenting the first of a two-part interview with Helmut Lipsky, conducted by String Visions and Ovation Press co-founder Hans Jensen. Mr. Lipsky is an extremely accomplished musician and a fantastic editor at Ovation Press, and we are very excited to have the opportunity to share his thoughts with you.
This interview is broken up into two parts. In addition, it is part of a longer four-part interview cycle featuring Mr. Lipsky and his work. The third and fourth installments will be an exclusive interview with Duo Philia, an up and coming violin duo that has recorded several of Mr. Lipsky's scores. We hope you enjoy this series!
—Colin Cronin, Creative Director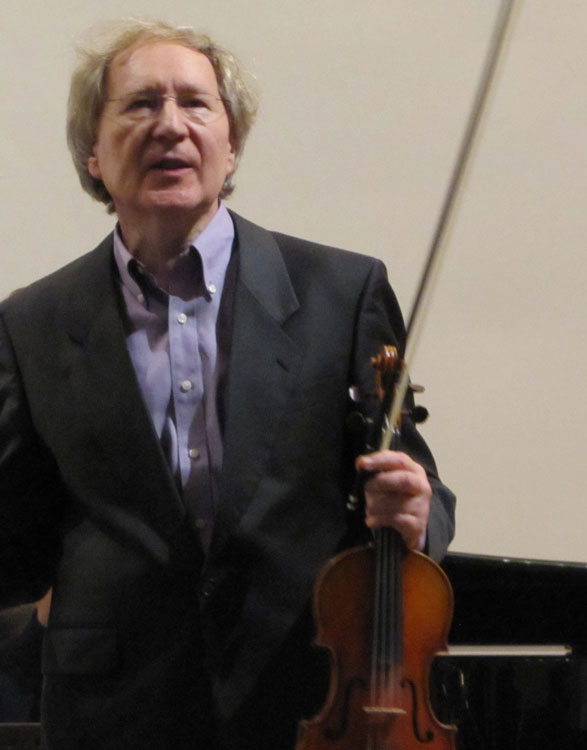 Born in Germany, Helmut Lipsky studied violin with Abraham Comfort at the Zurich Conservatory in Switzerland where he received degrees in performance and pedagogy. He continued his studies in New York, working for three years with Professor Ivan Galamian, and would later become a pupil of Itzhak Perlman at the Brooklyn College Conservatory, obtaining a Master Degree. Graduating with the highest honors, he was awarded the Presidential Scholars Award from the Council of the City of New York. Shortly after, he toured the US with chamber music ensembles and as a soloist with orchestras in Switzerland and the United States.
A resident of Montreal since 1980, Helmut Lipsky is very active on the national and international music scene as a violinist, composer and teacher in the realms of classical music, jazz, world and contemporary music. As violinist and composer, he has recorded many radio and television programs and has participated with his own ensembles, among them MÉLOSPHÈRE, at numerous important festivals in North America and tours regularly in Europe. He recorded many critically acclaimed CDs and has collaborated with reknowned artists like Andreas Vollenweider, Gilles Vigneault, Karen Young, Michel Donato and André-Gilles Duchemin. He has also written music for cinema, the theatre, multimedia exhibitions, as well as for special events: like his Harbour Symphony for violin, ship sirens and churchbells performed at Montreal Harbour.
He has won several prestigious awards, among others First Prize of the Worldwide Community of French Language Radio Stations. In 2011, he won the prestigious OPUS Prize for Best album for his CD MÉLOSPHÈRE – Tempi con Variazioni, featuring the renowned soprano Suzie LeBlanc. He was twice nominated for Best album to the ADISQ Felix Awards, Best concert by Les Prix OPUS in 2006, Best violinist by the National Jazz Awards in 2006 and was invited as Speaker at the coveted Idea City Conference in Toronto. He has received several funds from the Canadian Arts Council and the Quebec Cultural Ministry.
String Visions: I'm delighted to be here with you, and thank you for doing this interview for String Visions. You have had such a fantastic career with so many different aspects, and I would like to talk to you about a few of those.
Helmut Lipsky: It's my pleasure to be here with you at Meadowmount!
String Visions: You are a teacher, a composer and a performer. As a performer you are very versatile, able to play in a great variety of styles from classical to jazz to contemporary. Additionally, you are also very experienced with improvising and teaching improvisation.
Let us first talk about your role as a composer:
As a composer you have many roles. You compose instrumental music. You write music for film, theatre, multimedia installations and important special events. You also compose music for your own groups, in addition to writing educational works: I think of your duos for 2 violins, Voyage à deux (Trip for two). And you are a great improviser.
Could you tell us something about how you handle all these different musical aspects?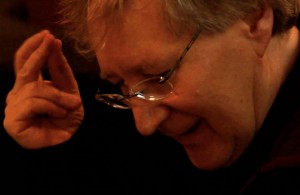 Helmut Lipsky: I started composing very early on, and actually your reference to improvisation is interesting because I find improvisation is like the chemistry lab where you try out things, develop your language, which then crystallizes into written music. That's why I think it is no coincidence that composers like Bach, Mozart, Beethoven and Chopin were very well-known as being great improvisers. I believe that many of their works were the result of ideas they discovered and developed through the process of improvisation. Improvisation and composition are very much connected.
By my early teens I was already improvising. For example, while practicing a work by Mozart, I would take a few minutes to improvise on ideas I had heard in the piece spontaneously or simply in a style related to that composer. Later my sources of inspiration were composers like Bartok, Prokofiev, Szymanovski. But I would also receive influences from genres outside the classical domain. I listened to popular music, for example the Beatles, or Frank Zappa. I got into jazz music, traditional and at that time contemporary jazz fusion. So these colors also found their way into my musical language and enriched it.
Soon I was founding my own ensembles and the kind of original music we were playing was quite structured: melodically, harmonically and form-wise; but improvisation was a part of it, inside of a pre-defined musical framework.
String Visions: So improvisation is obviously an important part of you as a composer. When did you first perform a concert as an improviser?
Helmut Lipsky: In middle school, I think it was during my second year of gymnasium in Winterthur, Switzerland, where I lived at that time. There was a band, called the "Omelette Surprise" that wanted a violinist, and so they invited me. This was the first time I improvised in a group formation. Soon after, we had our first concert at the gymnasium, which was a huge success, and we continued performing with this band all over Switzerland. Other groups were also interested in playing with me. I became a member of the band "Fragments", which was already more fusion oriented. And I did my first commercial recording at the age of 16 with the well-known Swiss band "Toad", which was recorded in London at the De Lane Lea Studio by one of the leading producers of the time. A second recording with the same band happened in the same year. And it's funny, about two years ago these recordings came out again in CD format. It's making quite a successful comeback, especially in Japan among other places.
String Visions: That is exciting!
Helmut Lipsky: So it was in Switzerland that I did my first recordings, and then I moved to New York, to study with Ivan Galamian and later with Itzhak Perlman, continuing my creative musical explorations there as well. Once in a while I would put my classical studies aside to play with musicians in improvisational settings, in places like the West End Jazz Club, the International House Hall, Studio 54, etc.
String Visions: Can you tell us about some of the projects that you're working on at the present time as a composer?
Helmut Lipsky: Now I'm working on a second suite for the chamber ensemble La Pietà by Angèle Dubeau – a fabulous and well-known violinist living in Montreal, and her all-female ensemble of 9 musicians. For the first suite, I had transcribed some of my violin duets, both Ovation Press and Doberman editions, under the name The Blue Suite, choosing primarily the pieces which are jazz-, blues- or tango-flavored. The new suite I'm working on now for them is a kind of a triptych, three different portraits of myself, illustrating my classical-romantic rooted side, my contemporary side and a more jazzy, fusionistic side.
And of course I always continue writing new material for my various groups, among others my Montreal-based ensemble MÉLOSPHÈRE. In Oktober I will do a European tour with musicians from Germany, with whom I have collaborated on many recording and touring projects since 1995. Our program will be called "Berlin-Montreal" and will have a very cosmopolitan sound, a reflection of the rich and varied cultural texture of these two great, and in many ways, similar cities. For the occasion, I'll do some new instrumental arrangements of music by Canadian artists such as Leonard Cohen and Joni Mitchell.
I'm also writing a third volume for two violins in the Voyage à deux collection for the marvelous violinists Caroline Chéhadé and Ana Drobac who are playing my duets in videos (see below). These two prominent young Canadian artists are playing all over the world as part of various projects, and they recently joined forces by forming the Duo Philia. which is performing my music and an eclectic, but accessible repertoire in a wide variety of genres.
String Visions: I think your duets that are published by Ovation Press are just fantastic, and we have to have the whole world know about them because they are not only very skillfully done and outstanding as an educational tool, but they are also incredibly attractive as concert pieces to perform in front of an audience. If you can have something that's educational for the people playing it and entertaining for the audience to listen to – combining two skill sets – then you have something that is very important to and valuable for musicians.
Helmut Lipsky: Absolutely. This was my goal. I wrote them in that spirit, and I'm happy that both the players and the public enjoy them. At the same time, I wanted to give to young string players material that's a bit out of the ordinary, introducing them to different musical languages. I never try to imitate a style – it is my own musical language – but I take inspiration, for example, from my travels to Japan or through experiencing the movements of the waves of the sea. These are two examples which influenced Volume 1, which is accessible almost from a beginner's level.
String Visions: …and then Volume 2, which is more technically challenging, for intermediate and advanced levels…
Helmut Lipsky: Yes, when I wrote Volume 2, I thought about the world of today's young people, what they are exposed to and what they like to listen to, inside and outside of the realms of classical music. And I thought about how my experience could be useful to them to express themselves in a broader way on the violin: my experience as a composer of music inspired by various cultures, including jazz, tango, film music etc.;  my experience as a violinist,  having assimilated many techniques associated with baroque music, swing jazz, tango, etc.; and as a pedagogue, having learned to communicate the skills necessary to execute these styles. I wanted to challenge them with developing a wider palette of tone colors and articulations, which are not commonly used in the classical repertory: the use of various types of vibrato (including non-vibrato) and glissandi, playing in layered double-stops, developing a swing feel, and a groove-oriented rhythmical sense or rhapsodic rubato-playing.
String Visions: Could you give a few titles of Volume 2? Can you describe a few pieces, and explain about the creative process behind each work?
Helmut Lipsky: One of them is called Latingo. The title of this piece comes from what was actually a stylized tango, but then I found that it sounded better at a faster tempo, and that the rhythmic syncopations were close to jazz and Latin music, so I thought, "Tango, Latin music, tango, Latingo!"
And there's another, which is called Tango in Blues. It also combines two different genres. It has the melancholic character of a tango, but it follows the standard chord progression of the blues. I like the interaction of different styles and genres, which usually happens by itself and which I do not do on purpose when starting to write a new piece. Other duets make reference to Irish Folk music, Kletzmer music, Spanish Folklore, Minimalism, impressionistic colors, Swing Jazz…
String Visions: That's great. Yes I truly love those pieces. And I think they would also sound great arranged for two cellos.
Helmut Lipsky: Definitely. Actually, one already has been transcribed for cello and violin and recorded on CD by the terrific duo Bareil-Lépine. And of all the duets in the second volume, there is a two-viola version. For the first volume, there's a version for violin and viola. So I'm working on further adaptations, and there is of course now the chamber orchestra version for Angèle Dubeau's La Pietà of some of the pieces.
String Visions: I just watched the video movie that you produced in Montreal with the Duo Philia. What was the title for that video clip?
Helmut Lipsky: The piece is called Fiesta! and it's again a kind of a Latin-music-inspired piece. It is also very "funky". The main theme sounds like it could have been written for electric bass. Fiesta! is a very joyous piece, very exuberant, makes references to both rock and baroque music and has a climax which is very festive and pompous, but in a humorous sense.
We had lots of fun doing this video clip, which starts out with me the composer finding a musical idea and playing the initial phrase, which is then caught up and developed by the duo. They go on a trip with this music through Montreal, and wherever they are, they transform their surroundings into a happy environment. And at the very end I join in for the last phrase, like a rat coming out of the sewer… [Laughs]
String Visions: Oh, that was your idea.
Helmut Lipsky: [Laughs]
String Visions: That's funny. I was laughing at the end of it. The two violinists, they're terrific, Can you tell us about the Duo Philia?
Helmut Lipsky: Yes, Caroline Chéhadé and Ana Drobac… Ana grew up in Serbia and studied the violin there. Then she came to Montreal, where she got a scholarship to study at the Université de Montréal in the doctorate program with Anne Robert, a very distinguished teacher, violinist, soloist, chamber musician and a dear colleague of mine at the Conservatoire de Musique de Montréal.
Caroline also studied with Anne Robert, she was a student of hers enrolled at the Conservatoire. A few years ago I had the pleasure of coaching them in the Prokofiev Sonata for two violins in my chamber music class. Two years ago Ana discovered my duos and she and Caroline asked me to coach them on the duos. These duets became the basic stock repertoire of their duo, to which they have added music from composers of various epochs and styles.
Our project is to do a CD of my music once there is enough material for them. Both are also very active independently. This past summer, Caroline went to Brazil to perform the Philip Glass violin concerto. Ana also was in South America recently, concertizing there. And she played with Philip Glass and his ensemble last year, performing a piece by him under his direction. I'm really very happy about our fabulous collaboration.
String Visions: Yeah. That's terrific. They do a great job! And this video is fun and very creative. I love it!
Helmut Lipsky: Yes, me too. I'm very pleased with it.
---
In this first installment we introduced both Helmut Lipsky and Duo Philia to you. In the next part Mr. Lipsky discusses teaching, pedagogy, and education. Next week the series will shift to an interview with the two members of Duo Philia. Also, be sure to check out Mr. Lipsky's extensive list of scores he has edited and published with Ovation Press.