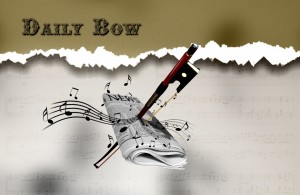 Entrepreneurship comes in many forms. The focus of entrepreneurs is not in 'starting a new business' per se, but rather in serving as the catalysts and innovators behind economic progress. Social entrepreneurs, are those who are focused on serving as the catalysts and innovators behind social progress… through similar means of the "creative-destructive" process found in economics.
Classical entrepreneurship is about harnessing the power of classical music in creative ways, both for the benefit of the art form and as a means to effect change in the lives of others and society.
From the efforts of Classical Music Across Cultures and Community MusicWorks to the Citizen Musician Initiative, classical entrepreneurs are making a difference and an impact in classical music.
Below are excerpts from an interview with Richard Owen which recently appeared in Forbes. Mr. Owen lives in New York City and is a both a financial advisor and the founding director of Camerata New York Orchestra.
What is your personal story?

I have been a classical music lover since birth—lying on my mother's lap and listening to her sing. She sang for the Metropolitan Opera in New York and many other opera companies. My father was a federal judge, and he also wrote nine operas. As a child I studied piano and voice, and sang at the Met as a boy soloist.

…

What exactly is Camerata?

Camerata is a fully professional chamber orchestra (up to 35 players) that gives between six and eight annual concerts in various venues throughout the New York area, including Carnegie Hall, St. John the Divine, and Lincoln Center. We also provide free concerts and outreach to local schools. We perform a wide variety of music from baroque to modern. Among others we've collaborated with Alec Baldwin (narrated Peter and the Wolf), Alvin Ailey, and soloists from the Metropolitan Opera and New York Philharmonic.

Founders of entrepreneurial enterprises start with a need and see an opportunity. What need is Camerata filling?

The only way musicians can achieve a professional status following conservatory is by performing professionally and gaining exposure to the community. As a result of ongoing funding cuts to the arts, highly trained young musicians have practically no opportunities nowadays to perform in a professional ensemble and make a living as professional musicians. We provide badly needed performing opportunities to the best and most worthy young musicians, as well as cultivate greater musical appreciation in society. We hope through these opportunities to help our young musicians make the transition to professional status.

…

What do you think prepared you to take this on?

I grew up in music. My parents ran an opera company for ten years and produced numerous musical productions in New York. I've also had direct experience in the business of music in the U.S. and Europe, so I know about fundraising in the arts. Working at a bank in my role as a financial advisor has been fortuitous, as it has offered me relationships with wonderful people who have a heart for philanthropy and the importance of the arts.
It's fantastic to see a story centered around innovation and creativity in classical music appear in a publication like Forbes.
Read the full interview – Entrepreneurship and Classical Music?