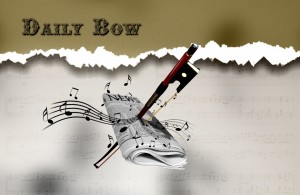 It's Thanksgiving week, which means great food, company, and music.
Well that might be qualified statement. The radios have already started blasting the typical seasonal Christmas tunes, which sends some of us into a state of glee… and the rest of us running for the hills!
The holiday season is actually a great time for classical musicians.
Historically, Christmas has been an immensely prolific time for composers, especially (and obviously) for those writing for the Christian church. But this trove of musical riches is astonishingly easy to lose sight of, even in so artistically sophisticated a place as Boston. It can seem as though holiday offerings are confined to endless renditions of the "Hallelujah" chorus and an all-too-small group of holiday favorites.

How to break out of this rut? One strategy is to explore a Christmas distant in time and space from our own, and this is an experience that early music ensembles are especially skilled at providing. Two such groups are Boston Camerata, an ensemble of instrumentalists and singers, and the vocal group Blue Heron. This year, the former is presenting "The Brotherhood of the Star: A Hispanic Christmas," while the latter is offering a sampling of music for Advent, Christmas, and New Year's from 15th-century France and Burgundy.

"There's a reason we hear 'Messiah' and 'Nutcracker' every year — because they're so great," said Scott Metcalfe, Blue Heron's music director. "But doing these sort of alternative, 15th-century Christmases, there's no sense that they have a holiday anything like ours."
The Boston Globe's article goes on to discuss the format of the holiday concert and what role it fulfills for both performers and audiences alike.
These are, nevertheless, holiday concerts, which means that an audience, no matter how adventurous, is going to want something that resonates with their own experience, even if the music is unfamiliar. How to construct an emotionally satisfying concert from obscure material?

One important point, said Metcalfe, is to not lose sight of the fact that Christmas isn't all about comfort and joy. It comes around the darkest time of the year, and in places like New England — and the Northern European climes his program explores — the world is cold and unforgiving. "I remember, as a kid, going to school in the dark, and you'd come home late and it would be getting dark," said Metcalfe, who grew up in Burlington, Vt. "There's this feeling that the world has changed a lot and it's less generous than it is in the summer. You get a sense that the winter is threatening to human life — it's dark and it's scary."
What themes resonate most with you during the holidays? What are your personal experiences and how do you express them? When it comes to classical music, finding the right works that enhance the spirit of the season can go a long way to making those experiences that much better.
Other stories from the classical music world:
From the nearby (to Chicago) town of Rockford, a story details classical violinist Rachel Barton Pine's strong love of heavy metal. That explains this (video below).