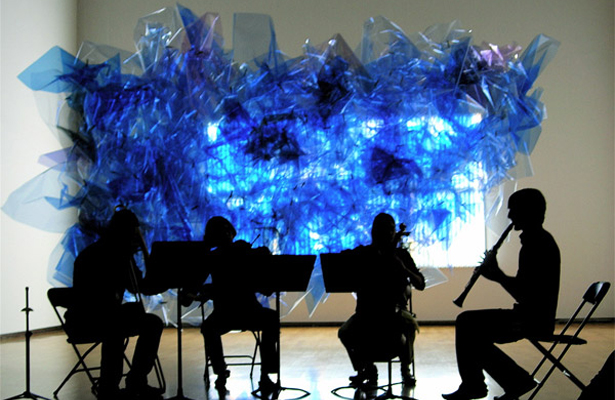 When the "Bang on a Can" music festival was first founded, over two decades ago, it exploded onto the scene with a groundbreaking mixture of acoustic, amplified, and electronic instruments. Much of what it brought to the stage seems to have become the norm in today's musical paradigm. Yet, the Massachusetts Museum of Contemporary Art (MASS MoCA) remains a musical utopia for innovative musicians to explore "adventurous contemporary music." In a three week time period, musicians attending Bang on a Can immerse themselves in this music for three weeks… writing, performing, creating, and experiencing.
Last week, MASS MoCA announced its acceptance of its summer fellows: 37 selected from a pool of over 250 applicants from 17 countries. Fellows this year hail from all over the United States – Portland (OR), Nashville, New York, Chicago, and elsewhere – as well as from other countries including Australia, France, Brazil, Ireland, Hong Kong, and Canada. They join a class of young musicians emerging as leaders in new frontiers of music: many alumni have gone on to found new ensembles, festivals, record labels, and bands.
2013 Bang on a Can Festival Highlights
The Bang on a Can All-Stars and special guests will perform Julia Wolfe's mesmerizing evening-length art ballad Steel Hammer on Saturday, July 27 at 8pm. Steel Hammer is inspired by Wolfe's love for the legends and music of Appalachia, and culls from both the music and oral traditions of the region. The text is taken from over 200 versions of the John Henry ballad – based on hearsay, recollection, and tall tales – and explores the subject of human vs. machine in this quintessential American legend. Steel Hammer was runner-up for the 2010 Pulitzer Prize and stretches the standard instrumentation of Bang on a Can All-Stars with wooden bones, mountain dulcimer, banjo, and more, to evoke the rich instrumental colors of Appalachia. The New York Times calls it a "wild hybrid" and an obsessive study of the song's many versions."

The Composer Premiere Concert on Monday, July 29 at 4:30pm will showcase ten world premieres by a terrific range of up-and-coming composers including Adam Cuthbert, Erik Ian DeLuca, Alex Dowling, Stephen Feigenbaum, Ben Hjertmann, Finola Merivale, Emma O'Halloran, Brendon Randall-Myers, Max Stoffregen, and Liza Jane White. All are writing brand new music commissioned especially for the Summer Festival ensembles, to be rehearsed and then premiered at MASS MoCA on July 29.
See the full article – Read more about Bang on a Can Announces 2013 Summer Music Festival at MASS MoCA Fellows
To learn more, visit the Bang on a Can website.