This story is cross-posted from our main site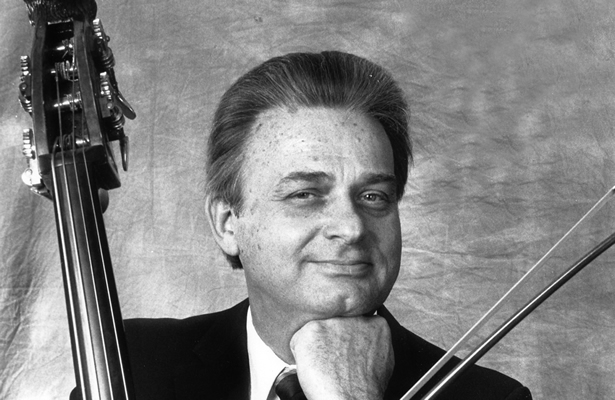 Professor Emeritus Lawrence Hurst at Indiana University's Jacobs School of Music has been awarded the 2013 Distinguished Achievement Award from the International Society of Bassists (ISB)!
The award was presented last month by Professor Hurst's former student DaXun Zhang – also an Ovation Press editor – at the ISB's recent convention at New York's Eastman School of Music. This prestigious award is the society's highest honor, given only to a select few who have demonstrated not only the highest level of excellence, but also who have led a career of significant influence on the global community of double-bassists.
Speaking at the convention last month, Mr. Zhang had these words to say about his mentor:
I have always known that Mr. Hurst is a great teacher, but it was not until I started teaching, that I truly understand and appreciate the greatness of Lawrence Hurst," said Zhang, an assistant professor of double bass at the Butler School of Music, University of Texas at Austin. "For me, what distinguishes Mr. Hurst is that he did not just teach me how to play music, but he guided me on how to live a successful life.
At Ovation Press we are proud to collaborate with the leading minds in the field of classical music. We look towards those musicians who serve as an inspiration and example to follow. Lawrence Hurst is one such musician: responsible for shaping the lives and careers of many others in the field of music.
We are honored to have published a number of Mr. Hurst's orchestral excerpts for double bass with the hope that bassists worldwide can benefit from his detailed fingerings, bowings and other editorial commentary included with each excerpt:
About Lawrence Hurst
Though Lawrence Hurst's first official musical studies were with the piano accordion at the age of 4, it wasn't until 13 that he started studying the double bass through the public school system of his hometown, Norfolk, Virginia. His professional career began as a principal bassist with the Dallas Symphony Orchestra under Sir Georg Solti. In 1964, he returned to the University of Michigan, his alma mater, where he began a long and distinguished career as performer, clinician, and pedagogue.
Mr. Hurst's students may be found in numerous orchestras: domestically in the United States including Chicago, Philadelphia, San Francisco, St. Paul Chamber, Atlanta, Indianapolis, and Pittsburgh; internationally including Canada, Puerto Rico, Greece, Hong Kong, Israel, Spain, and Germany.
A gifted administrator, Hurst was an associate dean and chair of the string department at the University of Michigan School of Music. He also was a member of the National Endowment for the Arts scholarship panel, director of the University of Michigan Division of the National Music Camp, and chair of the American String Teachers Association National Solo Competition from 1986-92.
Since 1986, Hurst has been Professor of Music, and chair of the String Department at Indiana University School of Music. In 2005 he was given the American String Teacher's Association Artist/Teacher of the Year Award, and, in 2006, the International Society of Bassists (of which he is past president) gave him the Distinguished Teaching Award. The ISB's Distinguished Achievement Award is the latest in the long line of honor Mr. Hurst has earned over his career.
In 2007 Contrabass Conversations conducted an interview with Lawrence Hurst.