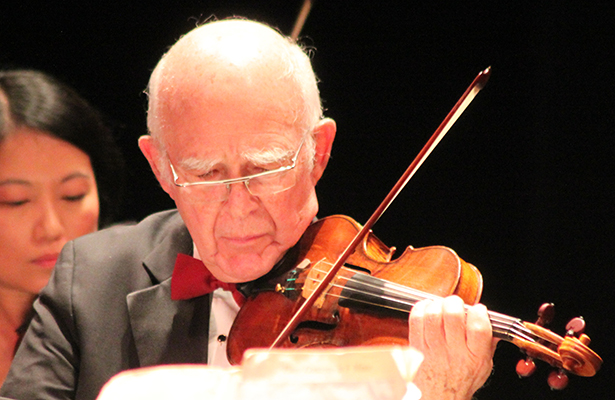 Last week saw the passing of renowned violinist, respected conductor, and revered teacher Joseph Silverstein.
Born in Detroit in 1932, the American violinist achieved a tremendous legacy in the classical music world which includes a silver medal at the Queen Elisabeth Competition and the Naumberg Award before the age of 30, joining the Boston Symphony Orchestra as its youngest player, a 22-year career as concertmaster of the ensemble, and a tenure as its assistant conductor from 1972 to 1984.
Silverstein began his musical studies at the age of three with his father, Bernard Silverstein. He later studied with Josef Gingold and Mischa Mischakof, and with Efram Zimbalist and William Primrose at the Curtis Institute of Music. He would go on to serve on the faculties of both Yale and Boston universities, the New England Conservatory, and he also joined the faculty of the Curtis Institute of Music in 2000.
Over the course of his professional career, Silverstein recorded a number of works by Beethoven, Mendelssohn, and many others, including his famous recording of the Bach Sonata in G Minor and Bartok Solo Violin Sonata which earned him the prestigious Naumburg Prize. He also left his mark in the field of Jewish music, with two notable recordings for the Milken Jewish Music Archive. Silverstein's conducting background with the Boston Symphony and later his position as the acclaimed conductor and music director of the Utah Symphony Orchestra crafted him an instrumental role in bringing Joseph Achron's little-known Violin Concerto No. 1 – the first-known concerto based on Jewish biblical cantillation – to audiences and out of obscurity. It is now regularly performed by soloists, often as an encore.
As a highly respected teacher, Silverstein held numerous teaching and mentorship positions outside of his regular university faculty appointments. These included the Tanglewood Music Center and the Meadowmount Summer School. Ovation Press co-founder Hans Jensen was fortunate to have had an opportunity to sit down with Mr. Silverstein last year during the Meadowmount program for one of his last interviews.
My father was a very kind, gentle and gifted teacher. I was not forced to practice many hours, so the violin was always a source of joy to me. I grew up with the recordings of Jascha Heifetz and Fritz Kreisler, so I've had a great love of the violin from the time that I was a child.
Joseph Silverstein was a true embodiment of the spirit of classical music. On a more personal level to us at Ovation Press he was a fantastic editor, as well as a joy to work with and learn from during master classes at Meadowmount and elsewhere. Our heartfelt condolences go out to his family. He will be missed.