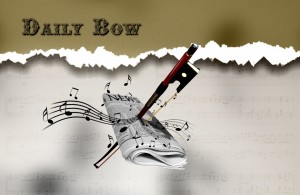 From Białystok to Memphis…
Australian conductor Daniel Smith was awarded Orchestra's Choice Prize for Best Conductor at the 5th Witold Lutosławski International Competition for Young Conductors, held in Białystok, Poland once every 5 years.
After 3 elimination rounds, competing against 184 conductors from 43 countries, Daniel was awarded the Orchestra's Choice Prize for the Best Conductor, decided after a vote by all the musicians in the Orchestra.

Daniel was presented with a one-metre-high prize statue and an honorary Diploma of Music with Distinction and, as a result of his performance, he has been invited to conduct several European orchestras.

Originally a flautist and Principal Flute with the SBS Radio & Television Orchestra, Daniel studied conducting and took a Master of Music degree at the Sydney Conservatorium of Music in 2005-6 with Professor Imre Palló, who says:

"I've kept in touch with Daniel ever since he left The Con and I saw him in Sydney just before he left for this competition. He has a fine musical talent and he has also the vital ability to manage and build up his future career as a conductor."
The overall winner of the competition was Germany's Daniel Huppert, who took home a €5,000 award. Check out the full list of winners!
Here on this side of the Atlantic, the Memphis Symphony Orchestra International Conducting Competition successfully pooled significant winning talent from its pool of applicants.
Ken Lam's first-place win Friday at the Memphis Symphony Orchestra's International Conducting Competition got the spotlight at the event.

But it wasn't the only remarkable achievement.

Such European-style competitions don't happen in this country. But the MSO wanted to find talent, and when it was announced four months ago, it pulled a solid response of 236 applicants from 36 countries and 30 states…

…It's especially precious since he (Lam) probably couldn't have competed anywhere else.

Most such competitions are open only to conductors under age 35. Lam is 40, having given up a career as an attorney specializing in asset finance to belatedly pursue what had always been his passion.

But the organizers weren't playing by Euro-rules. The Memphis competition was open to conductors regardless of age or prior experience.