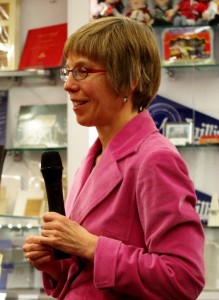 Angela Myles Beeching, author of "Beyond Talent: Creating a Successful Career in Music" published by Oxford University Press, has advised hundreds of musicians on every aspect of career advancement. These overarching strategies are a sampling of what readers will gain from "Beyond Talent."
The first edition of the book quickly became a favorite among classical and jazz musicians, and has been used in courses at scores of conservatories and universities. The expanded new edition of Beyond Talent, has a companion website, see www.oup.com/us/beyondtalent. Violist and past president of Chamber Music America, Phillip Ying describes the new edition as, "packed with savvy insights, sage advice, practical ideas and inspiring examples," and says, "this comprehensive guide delivers the tools to navigate a successful path in music."
Beeching offers Five Keys strategies below especially relevant to string players.
With the proliferation of new online DIY strategies, social media tools, and affordable recording and self-promotion tools, there are more entrepreneurial options than ever before to help musicians create their own career success. But changes in technology and the economy have also led to budget woes and closings at record labels, radio stations, orchestras, and opera companies across the US. Confronted with a dizzying array of online tools and an explosion of conflicting career information, many musicians find themselves confused, frustrated, or stalled in their careers.
Now, more than ever before, musicians need to focus on the essentials, to take the big picture view of their careers. To get musicians to think big picture, I recommend they imagine their own career paths from above, taking the 30,000 foot airplane view, and looking down to see the route and the terrain. The big picture is about clarifying your priorities. First clarify what you want to accomplish so you can focus your time and energy on what matters most. From there, it's about organizing goals into projects. I like to explain to people that I'm in the dream business: but in the tactical division. My job is to help musicians turn dreams into action plans that lead to success.
With a background as a cellist, I originally wrote Beyond Talent to use with the musicians I was advising at New England Conservatory, where I was director of the career services center. Although there were other books that covered the mechanics of music careers, I found these didn't address the range of issues musicians actually encounter. And they didn't address holistically why musicians get stuck in their careers.
For string players (and others) I recommend a number of key "success strategies, including the five below, to help musicians cut through the clutter and make essential choices about how to advance in their careers. These, plus many more, are detailed in the expanded edition of Beyond Talent:
1. Be Mission-Driven. Know what really matters to you in life, as a musician, and as a human being. For most musicians, what's driving them is not the desire for fame and fortune; it's about the love of the art form and connecting with audiences, bringing forth something good in the world. If you're simply considering income, you're not tending to quality of life issues. Clarify your sense of purpose: who is the person you intend to become? This will help you focus on how you can best put your full range of skills and talents to use being of service to your community and the world.
2. Be Goal-Oriented. Music careers are actually built project by project. Short-term goals inevitably lead to connections, to new ideas and collaborators, and to new projects. They are the stepping-stones to your long-term career goals. Whether the project is to book performances for your band, expand your private teaching studio, record a demo, or launch that new outreach program, you need to "plan the work and work the plan."
3. Be Relationship-Focused. The music profession is incredibly relationship-driven. This means you need to give as good as you get. It's about building a community of supportive colleagues, collaborators, fans, and friends. Re-connect with people you've lost touch with—you may find ways to support each others' goals. "DIY" (do-it-yourself) should really be read as "DIWO" (Do it with others). It takes a team if not a village to build a career. In terms of attitude and mindset—be grateful and be kind to yourself and to others. Tough times demand resilience and a positive, ambitious, and realistic approach.
4. Get Your Online Game On! You need to be "Googleable." Social media is great for musicians. Make it easy for people to find you and your music online. Create a Facebook fan page, a MySpace music page, a Twitter account, and a profile on LinkedIn. Get your performance clips up on YouTube and have all these hyperlinked to your website or blog. With any online presence, make sure you have the basics: sound clips of your music, your bio, upcoming performances, and a way for people to contact you. If you don't have anything now, start small and easy with Facebook. If you're unsure how to proceed, get a young person to help.
5. Think Like An Entrepreneur. Take charge of your life and your career: be a change agent. Entrepreneurial musicians create opportunities for themselves and others. It's about finding a need for a product or service and then creating something of value to fill the need. So whether it's flute lessons or French lessons, it's starting a sideline business venture, creating something of value that generates its own audience or demand. Spend time brainstorming with friends and colleagues. You may find collaborators for new ventures. Look for the sweet spot in the distance between your aspirations and opportunities.
But underscoring all five of these strategies is your attitude. It can be a challenge to remain positive in a competitive field and a down economy, but attitude is key. We always have a choice: whether to see the glass half empty or half full. A winning attitude is part of your reputation, and one of the most valuable attributes you can offer.
As for what it actually takes to build a successful music career, Beyond talent—I like to say—it takes the courage to dream, the power to plan, and the will to get things done. It calls for more than the artistry; Beyond Talent explains the rest of it: what Elvis referred to as 'taking care of business.'
Beyond Talent is readily available on Amazon.com Trained as a cellist, Ms. Beeching formerly directed the Career Services Center at New England Conservatory and is a consultant to the Indiana University Jacobs School of Music. Angela maintains a thriving private practice based in Boston and is committed to helping musicians and institutions build paths to success through project-based coaching and consulting.
Copyright, Angela Beeching, May 10, 2011. http://angelabeeching.com