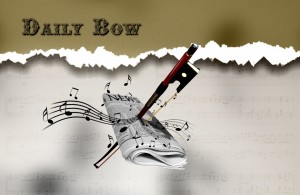 Someone is at least looking for it…
Yesterday, I went on WNYC's Soundcheck to talk about which orchestras, amid all the dire news of bankruptcies and strikes, might represent a new model, a way of doing things right. I'm not sure my views on the subject were suited to the rubric of "let's talk positive," because, as the field is learning very painfully right now, there are no right answers, and there certainly isn't an answer that fits every orchestra. The problem with orchestras as an institution is that they can create the illusion that art can be institutionalized, when in fact it remains as individual as the people who create it. If you have a visionary, charismatic music director, you're going to do better than if you have one who isn't charismatic, however great his ideas are. If you have a terrible board, either too passive or too hands-on, the best artistic agenda in the world isn't going to pull you out of the hole.
As the author points out towards the end, all the successful initiatives have a few key things in common: "smaller administrations, more flexible concert formats, and higher-than-usual job satisfaction from their musicians."
What are your thoughts? What do orchestras need to be successful today?