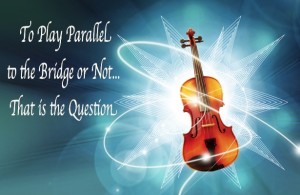 To play parallel or not?
Hans Jørgen Jensen is constantly pushing the boundaries of what we know about classical string music. His latest endeavor is taking on the fascinating, yet controversial, topic of whether or not the bow should be parallel to the bridge when playing.
The first part of this is understanding this concept and its implications. Hans has written two articles that explore the topic and the scientific research behind it.
Should the bow be parallel to the bridge? Hans introduces us to a question that has caused controversy over many years.
Hans shows us a ground-breaking scientific study that could change the way you think about and play your instrument!
—————
Check back for more on this topic because the next article will be interactive! We will be asking for YOUR IDEAS and YOUR CONTRIBUTION to HELP US learn more and empower classical musicians!