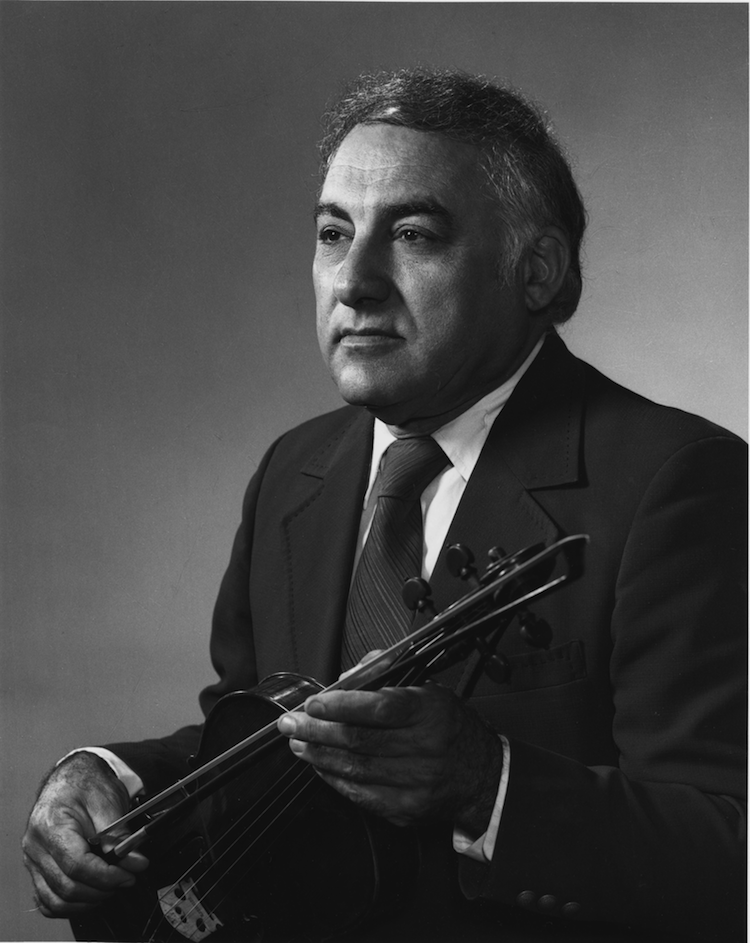 Joseph de Pasquale is a legendary violist and Ovation Press editor who has studied with Louis Bailly, Max Aronoff and William Primrose. He also prizes his association with Jascha Heifetz and Gregor Piatigorsky, with whom he recorded and performed in Carnegie Hall. Mr. de Pasquale joined the Boston Symphony Orchestra in 1947 and later the Philadelphia Orchestra as principal viola in 1964, a position he held until his retirement in 1996. He has appeared frequently as a soloist with the Philadelphia Orchestra, and has also made numerous appearances as a soloist with other orchestras in the United States and abroad, including the Hanover Symphony under Aldo Ceccato and the Hamburg Symphony under Klaus Tennstedt.
As one of our editors, Mr. de Pasquale has contributed expertly crafted arrangements of a variety of works, including the Mahler "Titan" Symphony and Mozart Symphony no. 40. His popular contributions are a great addition to our exclusive orchestral excerpts and parts for viola.
String Visions: What inspired you to play the viola?
de Pasquale: That's a difficult question. I was a violinist first and I was advised to take up the viola because I'm built for it. My hands are fairly large which is good for the viola. That's the reason why I was told I would be very good at the viola.
String Visions: You come from a very musical family. How involved were your parents in your musical education?
de Pasquale: They both were very involved in our musical education. My father was a violinist and he was very involved with us being successful at what we did. He started my three brothers and me–all on the violin–with one exception. He started one [brother] on the cello because he was dreaming of a string quartet–the de Pasquale String Quartet. We formed this string quartet when I was approximately fifteen years old and [we] played together until just a few years ago.
String Visions: How important do you feel chamber music is to orchestral musicians?
de Pasquale: I think it is very important to play string quartets because every part is alone and is heard more readily. Because of the number of strings in an orchestra, you can't hear individuals, and so string quartets are very, very important for orchestral musicians to play. It is good for ensemble, good for tone production, good for many aspects of playing, which is very good for the orchestra.
String Visions: Throughout your career were you able to maintain the de Pasquale String Quartet?
de Pasquale: My brothers William, Francis, and Robert and I, had the de Pasquale String Quartet in which we played together for many years until Francis died many years ago, and I retired from playing. [Early on, maintaining the quartet] was difficult, because I was in Boston, my brother William was the concertmaster of the New Orleans Orchestra, my brother Francis was a member of the Philadelphia Orchestra, and my brother Robert was a member of the New York Philharmonic. We used to get together during the summers as much as we could, until eventually we all became members of the Philadelphia Orchestra. We all tried to become a member of the Philadelphia Orchestra.
Of course, Ormandy had to like all of us to take all of us which is what happened. That's when we played quartets seriously because we were together in the same city. As quartet musicians it is important to rehearse hours and hours and hours to be as perfect as you can [be], and to come to the point where you think of a musical phrase together as one. Musically you have to play together and it takes hours and hours so that you become accustomed to play[ing] with the same musicality and phrasing. Of course, we had differences of opinion but they were resolved in a friendly manner.
String Visions: What are some of the most important responsibilities of being a principal violist in an orchestra?
de Pasquale: If you're principal, naturally, you have to lead your section. You have to be authoritative. You follow the conductor, of course, and then you have body movements that guide the people in back of you. They observe what you're doing and they will follow you. If I heard a fingering in a passage that I didn't like the sound of, I turned around and told them to change the fingering in a certain spot for a different quality of sound. You have to put in the bowings that you would like. If the conductor likes what you're doing he doesn't bother you. I was never bothered by Mr. Ormandy and Mr. Muti because I put in good bowings and fingerings and they liked what they heard.
For example, I always like my section to play a certain passage not on the A string but on the D string for a certain quality of sound that I like, and that the conductor likes also. I also played solos and concertos–it's very wonderful for the principal player to play concertos with the orchestra. I was a soloist every year with the Boston Symphony. I was in the Boston Symphony before the Philadelphia Orchestra.
String Visions: How important are excellent bowings in orchestral music?
de Pasquale: I think bowings are important when there is a solo part for the section. When it's in the turmoil of the orchestral fortissimo, I don't think it matters when you change the bow. Stokowski, the conductor, was very influential in asking people to play different bowings. He was famous for that, but I always thought that in section solos where you have to play with the violins sometimes, we should try to take the same bowings and fingerings.
This concludes part 1 of our interview with editor Joseph de Pasquale. In the next installment, Mr. de Pasquale continues our discussion on orchestras and share with us his personal and professional experiences with conductors. Stay tuned!