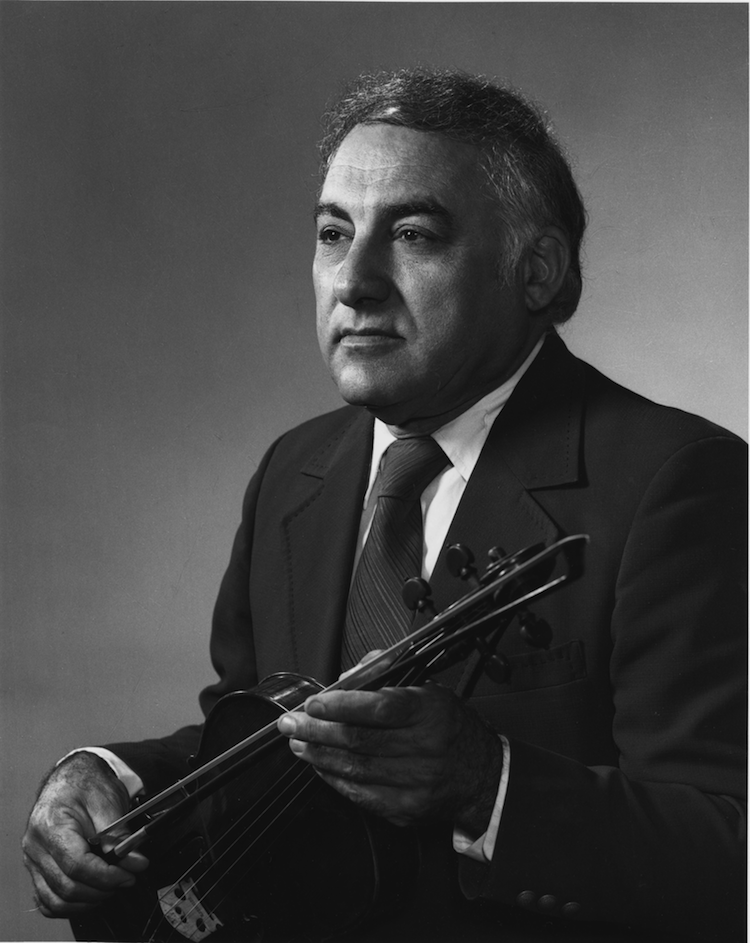 This is a continuation of our interview with professional violist, Joseph de Pasquale. In part 1, Mr. de Pasquale shared this thoughts on chamber and orchestral music. Here, we continue our interview in an orchestral context. First, Mr. de Pasquale discusses his interactions with conductors over the course of his career, then he focuses on other opportunities and challenges in orchestral playing.
String Visions: What are some of the most important lessons you've learned from various conductors over the years?
de Pasquale: I've learned the different interpretations of the master works that they have conducted. Every conductor is different, and you have to follow what they say and what they do if you want to keep playing. They're the supreme boss. Of course they ask, "is this bowing all right, is this fingering all right?" I may tell them I would rather do the one I suggested, but it doesn't mean they always agree with my choice of fingerings and bowings.
String Visions: Do you have any stories about the various conductors that you would like to share?
de Pasquale: Ormandy was Hungarian, and when he came [to the US] he had difficulty with the English language. He was very funny in the way he tried to explain some of the things that he wanted. We understood what he meant, but were amused at what he said many times, and that's the way [it was] with many European conductors. They had their problems with English. I was amused many times. I have so many experiences with different conductors–Koussevitzky with the Boston Symphony and Stokowski, Ormandy, and Muti in the Philadelphia Orchestra. I had wonderful experiences with these conductors.
String Visions: Which conductors inspired you the most?
de Pasquale: Stokowski, Ormandy, and Muti. I thought they had very inspiring interpretations, including what they said and thought about the music, and how they explained what they wanted in a certain passage. They also explained the history of the compositions to us.
String Visions: What have been the biggest changes in orchestras, over the years?
de Pasquale: Well, they gained in size. For years and years they only had the small orchestras and then they got large, over a hundred people in an orchestra. In terms of repertoire, it is very important to have a balanced program, because you have to have a box office, and if you play all contemporary music, you won't have much of an audience except for the people who love contemporary music.
String Visions: In your career, did you have the opportunity to premiere any concerti?
de Pasquale: Oh, yes. I have a wonderful concerto written for and dedicated to me by Walter Piston, the Harvard composer in Boston. I've played many performances of the Piston. I gave the first performance of the Walton viola concerto in Boston and when I came to Philadelphia, I gave the second performance of the Walton and other works that weren't played too often by principals before me. It was always very exciting to give the first performance of those concertos or works for orchestra.
String Visions: What advice do you have for a young principal violist starting out for the first time in a new orchestra?
de Pasquale: You have to play damn well! You have to be a fine, wonderfully talented technician and with a beautiful sound. Sound is very important. We were always concerned about the sound in the orchestra. That's why the orchestra is so great. Ormandy and Muti worked on a sound they liked very much, so we had a wonderful sound in the orchestra.
String Visions: Do you think it is important for today's orchestral musicians to understand and be able to play new contemporary music?
de Pasquale: Of course they have to be trained to play all kinds of music. Not just classical music and the old masters but also the contemporary composers. We have a program at Curtis in which students play a lot of contemporary music, and that's very good for them.
String Visions: Do you feel that one teacher in particular, had an especially large impact on you as a musician?
de Pasquale: Yes. I was influenced greatly by William Primrose. He was a great violist and he inspired me quite a bit in everything–technically, artistically, and with his interpretations. Max Aronoff who was also a wonderful teacher, stressed technique quite a bit in my early years. Primrose also stressed technique and played so fantastically that you could not try to imitate him, his artistry or interpretations. You could not do that with an artist of that caliber, but I learned quite a bit from him and his great master, William Berlioz.
String Visions: What are your thoughts on teaching?
de Pasquale: I love to teach young people, especially the really talented ones. I always had wonderful students at the Curtis Institute of Music and also the New England Conservatory when I was involved with the Boston Symphony. Naturally, I try to teach the way I play. I tell students about my experiences with different conductors and about the different interpretations of the concertos which I am teaching them. Also, students should listen to all kinds of repertoire, and that includes different instruments playing that repertoire. They should listen to as many different instruments as possible.
String Visions: What audition advice do you have for students?
de Pasquale: First of all, you must know the orchestra repertoire. You must work on orchestral pieces just as much as you work on concertos, if you want to be an orchestral musician. Or, if you want to be a quartet player, work on your quartet parts. If you want to be a soloist, you work on your concertos. Not too many soloists emerge in today's world so most of them will eventually become orchestral or quartet musicians, and a very select few [will become] soloists. I train my students to not only play concertos but also to work on their orchestral parts so that they'll be ready for auditions.
String Visions: Mr. dePasquale, to conclude, please tell us about the most enjoyable aspects of your career.
de Pasquale: Playing in the Philadelphia Orchestra and the Boston Symphony were the most wonderful parts of my career. Studying with Aronoff and with Primrose were just great, great experiences for me and playing different concertos with the orchestras, both Boston and Philadelphia, were great experiences for me. I have had so many experiences. All I can say is that I have enjoyed every one of them and it was a great life, a great life to be a musician and to be a member of the Boston and Philadelphia orchestras. I had years of delightful moments, playing with my brothers in the de Pasquale String Quartet. Great experiences that I enjoyed very much–it was my whole life.
We hoped you have enjoyed this interview with Joseph de Pasquale. Be sure to check out his and Ovation Press' other exclusive orchestral excerpts and parts for viola, with the bowings and fingerings of current and former principal violists of the world's premier orchestras.