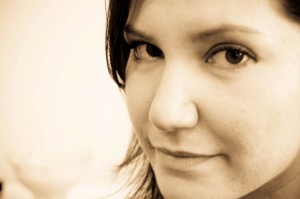 A Vision of Possibilities
In Part 1 of this interview, we learned how Kriszti Bunica  used her own experiences as an injured violinist to increase musicians' awareness of injury prevention and make a positive impact on the well-being of her community.  We now return to learn more about the focus of her efforts and her vision for improving the field of musicians' health.
What projects are you focused on right now, while recovering from your injury?
Bunica: My biggest project right now is working on rehabilitation so that I can return to performing. In that, I am including all the people involved in my journey to help me promote awareness. I ask a lot of questions and I listen carefully to what works and what seems to be needed.
What ideas do you have for increasing people's awareness of injury prevention?
Bunica: I would love to work out a network of communication between health professionals (including insurance coverage)  and musicians (including music educators) that connects the gap  between medicine and music so that injury prevention plans can have a language understood by both sides.
What changes need to happen to improve the field of musicians' health?
Bunica: I am constantly revising my ideas for addressing prevention and rehabilitation as I learn from my personal experience and listen to others' experiences. I believe that no injury should be ignored nor under-addressed, so as to avoid discouraging musicians from pursuing a love for music-making and the sharing of it, and that no music student should neglect the issues of musicians' health education and awareness in their studies.
What are your plans for improving the existing system?
Bunica: My goals for the future are to utilize resources and programs already in place to bring musicians' health awareness into the current structures, both in music education and the medical health field. In this, I hope to stimulate enough interest to foster growth into a program that will provide a place for developing and nurturing a common language between the world of music and medicine.
Where is a good place to start?
I personally see this plan as being most productive at the beginning of music learning, with music educators, be it within a classroom in a public school system, or with a private tutor in an after-school program. With this in mind, addressing musicians' health by making it a vital part of music education is where I see musicians' health advocacy making its largest impact.
What about other professionals? What do you see as their role?
There could be an integral branch of music medicine existing as a hybrid of a musician and a medical doctor or specialist, which would function similarly to a special branch of occupational medicine, somewhat like that of sports medicine today.  In my vision, a physical assessment of students participating in musical activities, would be a requirement in schools. If various elements were not met to satisfaction, a plan that identified areas needing improvement would be provided to the student. Resources would be made available to help students meet their health goals in direct relationship to their performance tasks.
Kriszti, your abiding interest in and commitment to promoting improvements in the field of musicians' health will undoubtedly serve the musician community at large; any last thoughts?
Bunica: I will say that what I have encountered is two seemingly different worlds with differing vocabularies, yet one goal. As individuals take initiative to pursue a common language between these two worlds, the common goal that each side hopes to achieve is that of fostering healthy musicians — and for them, a brighter and better future experience.